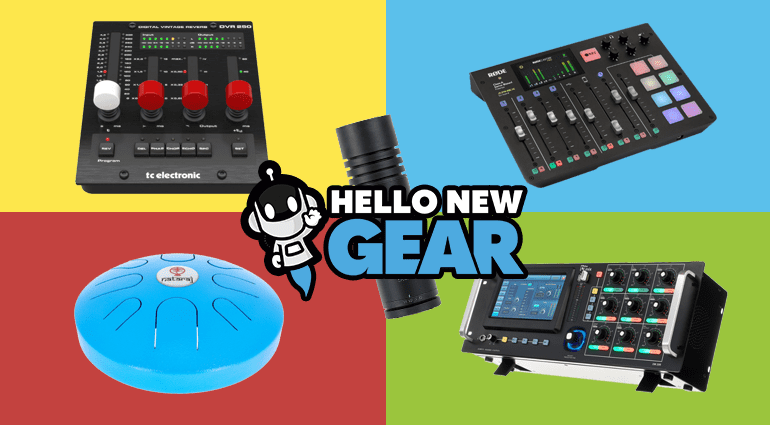 Hello New Gear – January 2019
Hello New Gear – January 2019
Welcome to a New Year, welcome to Hello New Gear! It's 2019 and that sounds really futuristic! The future is now and therefore let's talk about new stuff. So without further ado, "out with the old and in with the new"…
---
Nope, it's not a vintage arcade video game, although the joysticks look like something out of the early 90s… This is actually a very cool hardware controller for a plug-in that simulates the EMT 250 hardware unit from 1976, arguably one of the best reverb effects ever made. Additional effects like delay, phasing, chorus, echo and space are available and are fully customisable via the plug-in though your DAW. The possibilities are endless with this hardware and software combo!
Price: €199
---
Aston Microphones Stealth is a dynamic cardioid microphone for broadcast, studio and stage applications and offers 4 selectable voicings: Vocal 1, Vocal 2, Guitar and Dark. It's built-in Class A preamplifier with automatic activation thru +48Vphantom power and high off-axis damping reduce unwanted environment noise. This sleek mic contains a unique Sorbothane internal shock mount for even more noise reduction and can be used in "active" or "passive" mode. No mic is more stealth than that!
Price: €339
---
A portable podcast studio, audio interface and mixer in one? You betcha! This Rodecaster Pro has 4 XLR mic inputs (with 48V phantom power) and corresponding faders, 8 programmable sound effects pads for jingles and FX, instant mix minus for phone or app calls, a 3.5mm TRRS cable, USB and Bluetooth connectivity,  high-resolution touchscreen; four headphone outputs and stereo speaker output, recording directly to microSD card or via USB to your computer. What more could a podcaster need?
Price: €649
---
This is the future of digital mixers: 20 inputs: 8 x XLR, 4 x XLR / Jack combo, 2 x stereo, 1 x SPDIF, USB, 8 outputs, 16 buses: 4x mono, 4x stereo, LR + headphones, 7″ Touchscreen display, 100 mm motor fader, FX section with 2x Modulation (chorus, flanger, rotor), 2x delay (6 delays), 2x reverb (6 reverbs) and so much more all in a rugged construction. Click the link above for all the specs. This mixer is a must for sound engineers in 2019!
Price: €595
---
OK, we're supposed to be talking about new, innovative gear here… This type of instrument has been around for hundreds, maybe even thousands of years, BUT it has never been so accurately tuned as it can be in 2019. Plus the materials used are of top quality and the paint job has never been as pristine as this Stairville Sky Blue. This latest 12″ model's "tongues" are tuned to the Japanese Akebono scale (A3, B3, C3, E3, F3, A3, B3 & C4) and can be played with your fingers or with the included mallets. A carrying bag is also included.
Price: €195
---
There you have it folks, what do you think of the first Hello New Gear gadgets of 2019? January is a crazy month for new musical gear… Be sure to check out our coverage of NAMM 2019 by clicking on THIS LINK. Happy browsing and see you next month. ?