Hello New Gear – December 2019
Hello New Gear – December 2019
Hello there, December's edition of Hello New Gear is here for you gadget freaks and audio gearheads! It's the time of the season for sharing and giving, and giving something that is at the forefront of musical innovation is sure to produce big smiles. Have a look at our selection of 5 new products release this month, we're sure you'll be inspired.
? ?
---
Behringer has been on a roll lately and they've just taken it to a whole new level by recreating famous polyphonic synthesizers! The first one to arrive is the Poly D, an analog synthesizer with four voices, 37 velocity-sensitive keys, four-voiced design with poly-, mono- and unison modes, 4 analog VCOs (triangle, saw and pulse waveforms), a noise generator (white and pink noise), a 32-step sequencer, 24 dB ladder-filter with resonance and so much more. It's very hard to put all of its features in one paragraph so you're better off watching the video below ?
Price €699
---
This little devil is hot on the market for gamers, podcasters or anyone interested in live streaming audio. It's a 4-channel audio interface with individual volume faders, practical LEDs per fader, individual track muting, integrated high-quality Midas preamp and much more. This product is the little brother of the TC-Helicon GO XLR which came out earlier this year. The features of the MINI are compared to those of its big brother, in detail, in the video below ?
Price: €149
---
These two new USB-C audio interfaces are revolutionary in a few aspects. What sets them apart are the full-colour LCD level meters on the front of the devices with accurate metering as opposed to most meters that only show you signal is clipping. Another useful feature is separate phantom power switches on channels 1 and 2 allowing you to, for example, record a condenser mic and a passive ribbon mic simultaneously. Also, the monitoring buttons can be set to mono or stereo for stand-alone stereo monitoring. Its loopback recording capability allows you to record the sound of your computer's soundcard into your DAW, for example from YouTube or any other source. Practical indeed!
Prices: €195 –
€
249
---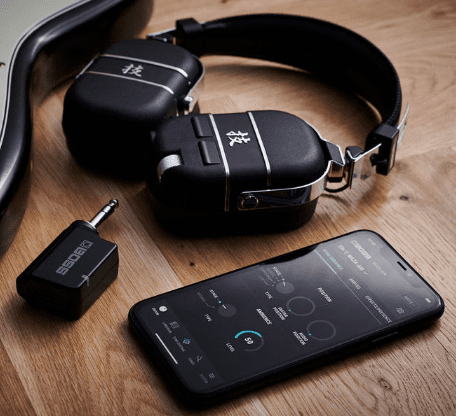 This is an over-ear headphone guitar sound system with 2,4 GHz wireless connectivity, projecting premium audio quality with rich, full sound (and premium amp and effect tones) through large, custom-designed 50 mm drivers. Your guitar playing can be combined with Bluetooth audio streaming and sound editing can be done via your smartphone! Advanced BOSS spatial technology and integrated gyro sensor deliver a natural "amp-in-room" sound with 3D ambience and dynamic sound localization! You simply have to try this out!
Price €429
---

Looks like a fancy CD wallet from the early 2000s… Nope it's actually a portable MIDI- and MPE-controller with an illuminated high-resoulution LED surface; 5D touch technology (Strike, Press, Glide, Slide, and Lift), wireless MIDI via Bluetooth LE with up to 15 meters range; built-in rechargeable battery (4 hours battery life, 2 hours recharge time). With this gadget you can make beats, bend and shape drum sounds and build your tracks, all at the touch of a finger. It now comes bundled with ROLI Studio software.
Price €229
---
That's all for this month, and for 2019, in fact! What an impressive list, don't you think so? Which products have you tried already? Let us know about your experiences in the comments and see you in 2020. ✌️