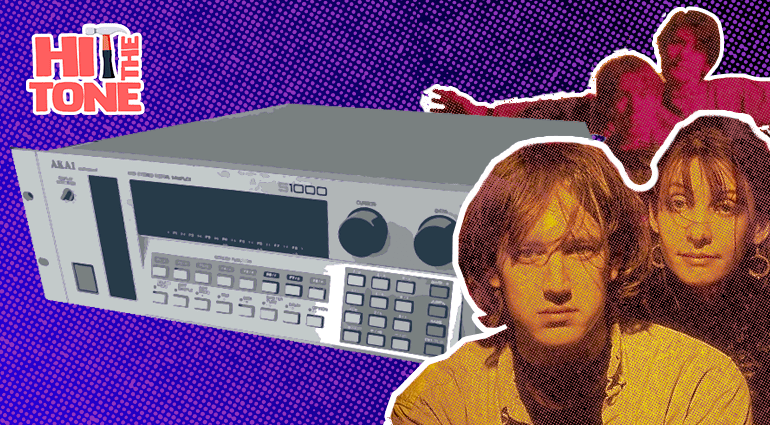 Hit The Tone – My Bloody Valentine & AKAI Samplers
Hit The Tone – My Bloody Valentine & AKAI Samplers
My Bloody who?
My Bloody Valentine, for Pete's sake! We're talking about one of the most iconic bands of the last 30 years and one of the greatest milestone albums of the shoegaze genre: Loveless (Creation, 1991). Yes: shoegaze, the genre that emerged in the United Kingdom in the late-80's and that was characterised by mixing noise rock and dream pop: walls of tangled guitars, feedback, on which melodies were raised on melancholic stories or, straight-up sad lyrics. The name of the genre stems from the fact that the guitarists played while looking down at their own shoes -in fact, their guitar pedals– and not at the audience. Ride, Slowdive, Lush, The Boo Radleys or Pale Saints are some of its greatest exponents, without forgetting, of course, the band we're dealing with here, the Dublin quartet led by the brilliant Kevin Shields.
---
I understand, but why is this band so important?
In February 1989, a year after releasing the remarkable album Isn't anything (Creation, 1988), My Bloody Valentine went to Blackwing Studios in Southwark (London) to record what would be their second album. The rest is history. Few albums in the genealogy of popular music combine such a troubled process of creation with an influence in later decades similar to that of Loveless. Kevin Shields, leader of the band, wanted, directly, to create "a new sound". The recording took 2 years. The quartet changed studios several times, hired and fired engineers (a total of 16 participated), and was only a week away from bankrupting Creation, one of England's biggest alternative music labels at the time. But the result was worth it. Although it wasn't a bestseller, Loveless was welcomed warmly by the critics. Twenty-seven years later, My Bloody Valentine's second album is considered one of the greatest albums of all time. In it, the guitars scream louder than virtually anyone's and the melodies shine brighter than anyone's. In a way, My Bloody Valentine showed that you could still do something modern in guitar music. One last, but very significant, detail: Kevin Shields waited 22 years before releasing another album with My Bloody Valentine! The reason? He said he didn't want to publish anything inferior to Loveless. Big words.
---
How was it done?
I know, I know: you were waiting for this up here to be a guitar. The thing is that every time you talk about Loveless you analyse the treatment of the guitars, but you forget a crucial element in the recording: the use of samplers. The drummer, Colm Ó Cíosóig, couldn't be present for most of the process – he only played on two songs, Only Shallow and Touched-, so the drum tracks had to be sampled. For this, Kevin Shields used, fundamentally, the AKAI S1000 sampler, a digital 16 bits / 44.1 kHz stereo sampler. This is one of the first 16-bit samplers in the professional category. Its main virtue was its versatility when it came to cutting, splicing, crossing and assembling high quality sound loops. Alan Moulder, the engineer Shields worked with the most, says: "Sampling was unknown to us. We barely knew the S1000, so it was all a continuous process of exploration and learning. From time to time we would hear the sounds being cut and mixed against our will. Now we know why: we abused polyphony. I remember we didn't know how to fix it, and Kevin fell in love with some of those sounds and found room for them on the record.
---
Understood, how do I do it at home?
Unless you find an AKAI S1000 at a Russian flea market, it might be difficult: AKAI stopped making this sampler in 1993. Luckily, the Japanese firm has continued to create very good quality samplers adapted to various budgets: surely, the best of all of them is the MPX16, the improved version of the MPX8. This is a sampler that can play and record WAV files on SD cards. There are two options for triggering the samplers: directly from their pads (MPC type) or from an external MIDI controller, via USB or standard MIDI inputs. This means that the MPX16 can, at the same time, be pad-based and trigger sounds or clips.
Like its predecessor, this sampler picks up sound at 16 bit/44.1 kHz. It does so through its quarter-inch inputs or with the included stereo microphone. They are then saved directly to the SD card. Another option is to assign clips to each pad and adjust them individually. Other features: LCD screen and back-lit pads, USB or power supply included, ability to load sounds with an SD or using the sampler itself as a card reader. Akai also provided users with software to manage the sampler. Here is an example of what can be performed with a few samples:
---
More alternatives, please?
Of course. Putting aside AKAI, there are many alternatives from other brands. Let's start at the highest price and work our way down:
Above 1000 euros we have two main candidates:
The excellent Pioneer Toraiz SP-16  and Elektron Octatrack MKII:
In the average price range (from 400 to 500 euros) we find the very versatile Roland SP-404A and the Korg Electribe Red:
In the lowest budget category, which includes samplers for less than 200 euros, we find the very juicy ones in terms of quality-price: The classic Korg Volca Sample and the cheapest option, the Teenage Engineering PO-35 speak, for the low price of 90 €: 
---
Conclusion
The odyssey of recording Loveless teaches us several things. One of them is, as we pointed out at the beginning, the idea that you can always create something new with traditional tools, no matter how impossible it seems. The second important lesson is related to the use of technology: historically Loveless is related to the work on electric guitars and, therefore, to the use of analog instruments. However, an attentive study of the process of recording the album reveals what an important role samplers played in its creation and its uniqueness: My Bloody Valentine was not afraid to use technology to realise the ideas they had in their heads. The last big lesson is related to this: before this album the Dublin quartet was a promising band that was moving smoothly towards a solid career. However, this was not enough for Kevin Shields. In his head, he was aiming much higher, creatively speaking. "Creating a new sound" is a goal that is common among all great musicians and stems from these personality traits: curiosity and the desire for experimentation and learning. Without these, rock 'n' roll would not even exist and this is important to remember to keep rock alive for generations to come. 🤘