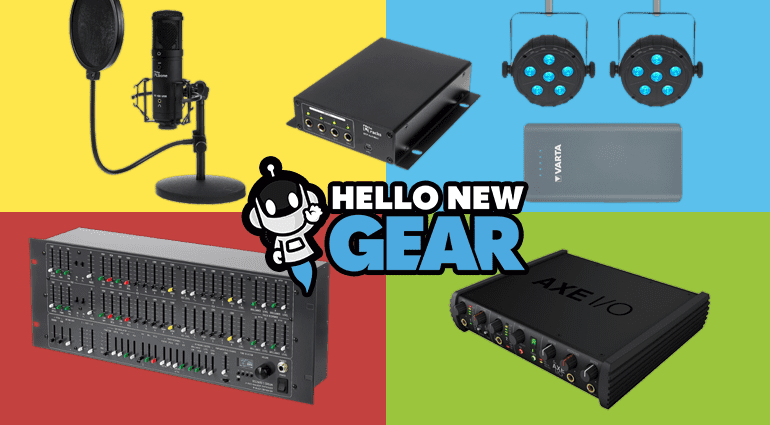 Hello New Gear – March 2019
Hello New Gear – March 2019
🤓 Hello New Gear

March 2019 edition

is here! Have no fear, we haven't run out of hot new gear! Lots of innovative gadgets, have a look at what this month brings us…. 🚀
---
The people at t.bone have really thought of everything when it comes to this innovative condenser mic set. It's the perfect way to get the job done quickly and without hassles. Simply plug the mic, via USB, into your computer (skip the audio interface altogether), plug your headphones into the microphone's casing for direct monitoring and you're ready to go. The mic also has a handy mute button on it and includes a sturdy PVC case, pop filter, table stand, shock mount and foam windscreen. All this for an unbelievable price…
---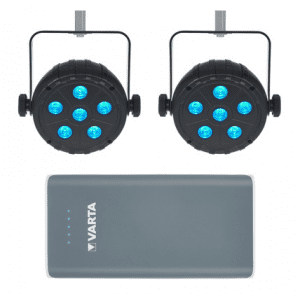 Whether you're throwing a small- or medium-sized event or just like to experiment with different lighting this bundle is indispensable! The 6 multi-coloured RGB LED lights can operate in 3 different modes: music control, fade programs or automatic program flow. Not only are the lights powerful and versatile but you can run the whole operation without plugging it into the wall socket, the 16000 mAh Varta battery pack can take care of that! Just plug it in via micro USB. You can also buy the Battery Pack on its own and use it for any purpose you want, including charging 2 smartphones at once.
---
This is a modern replica of the world-famous Yamaha CS-80, a polyphonic analog synthesizer released in 1976. There are many comparison videos online and it must be said that the difference is barely noticeable. The CS-80 has been used by some of the best composers in the world, especially ones that work in cinema like Vangelis and Giorgio Moroder. Not to mention pop, rock and electronic artists such as Daft Punk, Africa, Bruce Springsteen, Brian Eno, Michael Jackson and Paul McCartney just to name a few. With the Deckard's Dream you have the option to mount it to a rack, to plug it in via USB, and to use any controller via the MIDI in & thru. A truly fantastic piece of machinery. See it in action below:
---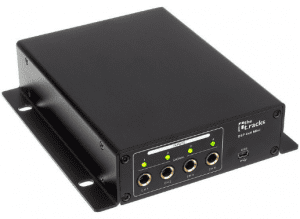 This compact DSP (Digital Signal Processor) comes with features you would normally only find in larger and more expensive devices. Due to its compact dimensions it can be used in rental and touring as well as in fixed installations. With compressors, noise gates and graphic 7-band EQs in each of the 4 channels, even acoustically difficult situations can be mastered. Thanks to its flexible routing and finely adjustable delays, the DSP 4×4 Mini becomes a wonder weapon in the PA sector, beating many analog crossovers in terms of technology and price.
---
A high-end audio interface with guitarists and bassists in mind? Yup! Two inputs, 5 outputs, adjustable impedance, re-amping, high-end mic convertersand pre-amps (and you can choose between Class A Pure and JFET types), support for external controllers (such as volume pedals and wah pedals), and MIDI connectivity. The sounds are provided by the excellent AmpliTube and T-RackS series. Check out this video for more info…
---
What did you think of the new gadgets released this March? Have you tried any of them yet? Which ones would you like to try most and for which application(s)? Please let us know in the comments below or on the Facebook post. Until next month! 🚀