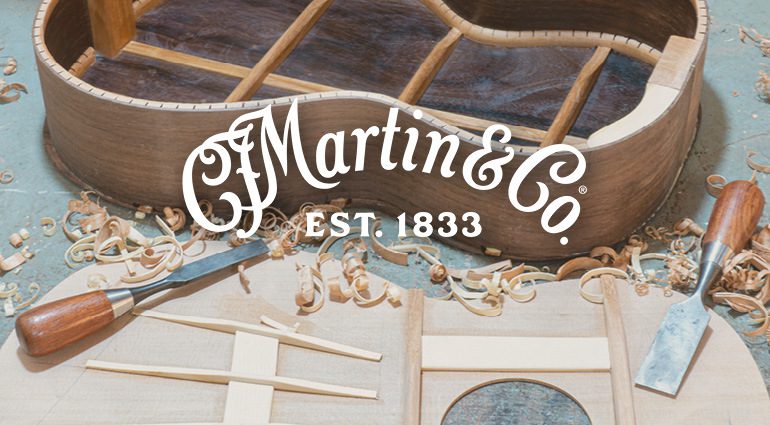 Martin Guitars – Back at Thomann
Martin Guitars – Back at Thomann
F. Martin & Co, Inc. is one of the oldest and most famous guitar makers of the USA. Recently, the various models by Martin Guitars returned to the Thomann shop. We took this opportunity to visit the company, get an inside view of the factory, and learn about Martin's philosophy. Join us on our trip to Pennsylvania! Let's go!
---
Martin Guitars – 190 Years of History
Martin Guitars was founded in 1833 by Christian Friedrich Martin Senior. That sounds like a German name – and it is! He was born in Markneukirchen, Germany, and emigrated to New York after experiencing some issues with the local guild. After founding a guitar shop in New York, he eventually moved to Nazareth, Pennsylvania, in 1838 in order to focus exclusively on guitar making. The company grew and he soon had several employees. In 1857, CF Martin Sr. built his first factory on North Street in Nazareth. After his death in 1873, his successors took over the company, which now employs about 500 people. Over the years, Martin have released many new models and instruments. Besides the popular all-solid classics from Nazareth, Martin has also been making more affordable models for many years, which are now produced at the company's factory in Mexico. In addition to guitars, the family-owned business also makes ukuleles, strings, and used to make mandolins until 2006.
Innovations by Martin Guitars
Martin produces various models in a variety of body shapes like 000, 00, or jumbo. You can find out more about the shapes, their characteristics, and their sound in the video below. The company is most famous for two inventions. Firstly, Martin perfected the X bracing pattern that supports the top, which made the top much more stable and improves the distribution of sound inside the body compared to previous models. Secondly, Martin pioneered the Dreadnought body shape, which has become the epitome of acoustic guitars and is now offered by many manufacturers. To this date, Martin continues to innovate and often offers new, innovative models in addition to the classics.
Countless Artists play Martin Guitars
The list is in fact quite long. Many well-known musicians swear by Martin Guitars and contributed to the legendary status of certain models. This is especially noteworthy because the company didn't have an official endorsement program until the 1990s, apart from occasional collaborations, for example with country legend Gene Autry. Elvis Presley played several models; his D-18 and D-28 are true classics.
And Eric Clapton immortalized the J-40 on his Unplugged album. Both had bought their guitars themselves in the shop, as Martin's Executive Chairman C.F. Martin IV once told us. Today, they collaborate with many well-known guitarists through a permanent endorsement program.  
Among the best-known Martin artists are Shawn Mendes, Rich Robinson of the Black Crows, singer/songwriter Brooke Ligertwood, James Valentine (Maroon 5), John Mayer, and Willie Nelson. Ed Sheeran, Paul Simon, and Mark Knopfler also received their own signature models.
What makes Martin Guitars special?
First and foremost, there is the aforementioned bracing system, which was optimized by Martin for the various body shapes and varies slightly depending on the model. In addition, Martin uses carefully selected woods with a very even grain, which guarantees an optimal sound. And last but not least, the all-solid guitars are still meticulously crafted in Nazareth with great attention to detail. Although Martin has been using modern machinery for a long time, much of the work is still done by hand. This also helps to explain why it sometimes takes a bit longer for a Martin guitar to be delivered, and why we're not always able to stock large quantities of all models. 
Today, we have over 330 products from Martin Guitars in our lineup, including classics like the D-18, D-28, HD-28, and the ultimate flagship, the D-45.
We also offer 00-, 000-, or Modern-Deluxe models, as well as more affordable options from the X-Series, ukuleles, strings, and high-quality accessories. Much of it is available for immediate delivery from our Treppendorf warehouse, or at very short notice. We recommend checking out our Martin product pages for a comprehensive overview at this link.
Behind the Scenes at Martin Guitars: Thomann's Visit to Nazareth, Pennsylvania
Our Thomann team recently paid a visit to Martin Guitars. During our visit, we gained valuable insights into this family-owned company, learned many details including what to look for when repairing a Martin guitar, took a factory tour, and even had the opportunity to visit the first factory opened in 1857.
Johannes Spielhagen and Jonas Dorsch from the guitar department were there for training and to get acquainted. Lea Maria Göbel from our guitar workshop learned to perform repairs in the hallowed halls of the Martin workshop, following Martin's methods. Justus from the marketing team was present to explore potential future collaborations. Guitarists probably know Kris from the Thomann Guitars and Basses YouTube channel.
He filmed videos on-site, including an interview with CEO Thomas Ripsam and one with tips on maintaining Martin guitars.
Interested individuals can find Kris's videos below as well as some photos from the trip. 👇
---
Are you interested in a Martin guitar or do you already own one? What's your experience? Let us know in the comments!