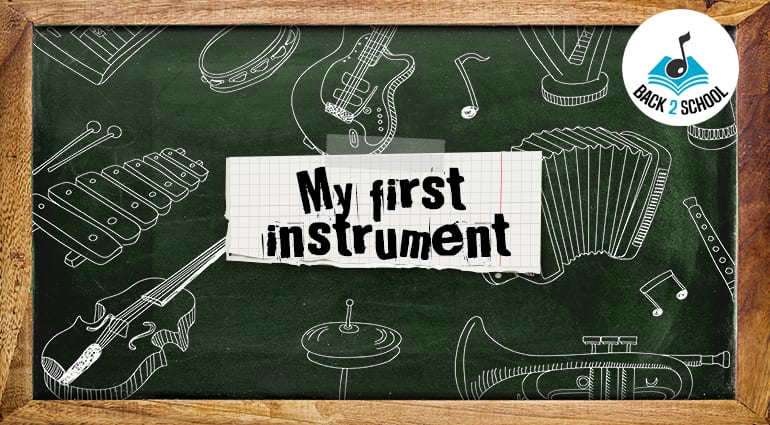 My First Instrument – Elementary School
My First Instrument – Elementary School
#BackToSchool #GearUp
It's "Back to School" for your elementary schooler, and while their brains will be stimulated throughout the school year why not start music lessons too! Parents who are thinking about music lessons (or independent learning) for their child will receive tips about the first instrument and entry into music making.
---
While music still plays a relatively large role in kindergarten and pre-school, it usually gets put on the back burner when children start elementary school. In addition, the preoccupation with instruments in schools is tending to fade into the background these days. It is therefore all the more important to offer children the opportunity to play an instrument outside of school and thus give them all the developmental benefits of making music.
The primary school age between six and ten years is ideal for the beginning with most instruments. Children who have already started music lessons before starting school usually need instrument sizes adapted to their physical development during this time.
Otherwise the choice of an instrument is an individual matter, which should depend on the preferences and wishes of the child and must correspond to his/her physical and mental development. Professional instruction is essential for the serious learning of an instrument. Many music schools offer test courses and in some music classes it is also possible to choose between individual and group lessons. Ideally, the teacher will help with his/her experience in finding the right instrument, but of course the Thomann departments are also available for advice and assistance.
We have selected a number of instruments that are ideal for children starting primary school or that can be adapted to the child's development as instruments for advancement if music lessons have already started before school.
Drum Kit
If a child obviously enjoyed rhythmic playing or even in pre-school showed that percussion instruments are among his/her favourites, then a drum kit could lay the foundation for a musical career. Usually the starting age is between 7 and 10 years and a complete, age-appropriate drum set like the inexpensive Millenium MX218BX Combo Set  with 18″ bass drum meets all the requirements. All stands, drum stool and even a cymbal set are included. Don't forget: Whoever sits at the drums needs hearing protection, whether child or adult. For children we offer the Peltor Kid Earmuff, which not only serves well on drums but also at concerts by optimally protecting the hearing of kids.
Guitar
Time to switch to a larger instrument or to get started with an age-appropriate guitar? For children who have already had their first pre-school experiences with a guitar with nylon strings, this now means changing to a 1/2 size or 3/4 size. Complete sets like the Thomann Classic Guitar 3/4 Bundle with footrest, tuner, one set of strings and a gigbag make the decision easier, without a set we recommend the VGS Pro Arte GC75A. Children may feel comfortable on one of the popular 7/8 sizes at the end of primary school, sometimes even on a normal sized 4/4 concert guitar.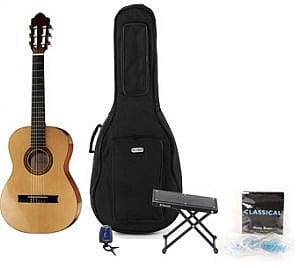 Electric Guitar
From about the age of eight, the fascination with the electric guitar often starts to buzz. For the youngsters with smaller hands the Harley Benton ST-Junior has a scale of 492 mm, which is somewhere between a 1/2-scale and 3/4-scale guitar, perfect for making their way to a full scale guitar. The next step would be the Thomann Junior Guitar Set G2, which contains everything the budding rocker needs: full-scale guitar, amplifier, gig bag, strap, cable, picks and even a beginners' music book all at an unbeatable price. With appropriate physical development, a full-scale electric guitar should be considered towards the end of primary school. Our department offers a wide range of electric guitars in all shapes, sizes and price ranges.
Keyboards
From earliest childhood to old age, the piano is an instrument that offers the possibility to start playing music. A grand or upright piano an acquisition for generations and not only a musical instrument, but also a piece of furniture that can become a lifelong companion. Our piano department offers a huge selection in every price range and design.
The modern brother of the classic piano is the digital piano, in which the sound is generated electronically and can also be played quietly or silently to others via headphones. In many cases, these instruments offer much more than just piano sounds. Among many others, our wide range includes the Thomann DP-95 WH, which is not only visually similar to a classic piano, but with its 88 weighted keys with hammer action also offers an authentic playing experience.
"Piano or keyboard?" is a question of faith for many parents. However, even inexpensive versions with extensive equipment, great sounds and lots of extras have a motivating effect on many children and promote the joy of making music. In addition, many music schools offer keyboard lessons in groups to keep tuition fees low. The Startone MK-300 is such an inexpensive keyboard, which addresses beginners as well as advanced users with its possibilities. If you want to invest a little more in equipment and sound, the Casio LK-280 is a fully equipped keyboard that leaves nothing to be desired.
Recorders
The recorder not only plays a role in kindergarten and preschool, it is sometimes also the only instrument that is integrated into primary school music instruction. Here you may have to take into account the school's specifications regarding construction, tuning and fingering. Instruments, especially from traditional German manufacturers such as the Moeck 1210 soprano school recorder, are standard.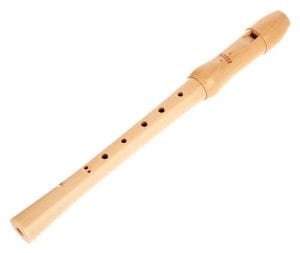 Wind Instruments
From about 10 years on, wind instruments are also available. Children who want to start with trumpet, trombone or other brass instruments, for example, should normally have their permanent teeth already, ideally also with saxophone and other woodwind instruments. We have a large selection of both types of instruments in all price ranges and sizes. The Thomann TR 400 G Bb trumpet, for example, is a full-fledged gold brass instrument with mouthpiece and case for less than 200 euros. Also the Thomann TAS-350 alto sax offers a lot for a small price, also with mouthpiece and case.
Bowed Instruments
The violin with its various sizes is suitable for beginners of all ages. Children between 6 and 8 years old usually start with a 1/4 violin. The Thomann Classic Violin Set 1/4, which contains all necessary accessories as well as a case with backpack straps, is inexpensive and trouble-free. The violins for children and adolescents can be found by clicking here.
This also applies to the cello, where the length of the arm determines the size, whereby instruments in 1/4 or 1/2 size are usually used in the age group from 6 to 10 years. Our range of children's and youth cellos includes the Roth & Junius RJCE 1/4 Student Cello Set, but also the inexpensive Thomann Student Cello Set 1/4 with bag, bow and care set. All children's and adolescents' cellos can be found under this link.
Incidentally, all string instruments of our own brands are checked and made ready for playing by our specialist workshop before dispatch.
If you have any questions about instruments for children or special instruments, our specialists from the specialist departments are always available for advice and assistance, whether online or in our shop in Treppendorf.
Address:
Thomann Music
Hans-Thomann-Str.
96138 Burgebrach / district of Treppendorf
? To the blog article "My first instrument – Pre-School" (click)
? To the blog article "My first instrument – 10 years and up" (click)