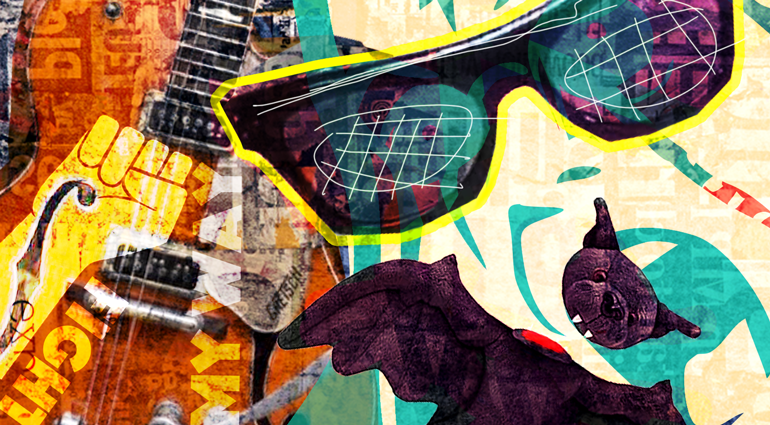 10 Bizarre Events in Music History
10 Bizarre Events in Music History
Every day there are new stories that enrich the history of music with their own particular curiosities. Some are true, others are urban legends resulting from exaggeration or from bending of the truth. And then there are the ones you would never expect. We have collected some of these stories, here are the 10 most bizarre events in the history of music!
---
1. "Fight For Your Right" by the Beastie Boys – a misunderstood joke
The song was intended to be a parody of party songs. The Beastie Boys made fun of this genre of music in a video where they showed off their tricks and clichés. Unfortunately, the irony was neither noticed nor understood by most fans. And so a number of fans sang along with "Fight For Your Right To Party" blind to the fact that the song was just fooling them. Despite – or precisely because – the irony eluded fans, the song was known to be a smash hit and many covers were done thereafter.
2.Randy Bachman experiences a musical miracle
In 1976, then 32-year-old Canadian rock musician Randy Bachman had his beloved guitar, an orange Gretsch 6120, stolen from a Toronto hotel. A bitter loss, after all, he had babysat, delivered newspapers, mowed lawns and cleaned cars until he raised the $400 for his first guitar. He later wrote hits like "American Woman". Then in 2021, 45 years later, a fan spotted a Gretsch in a YouTube video, compared the grain and texture of its wood and confirmed that it was Bachman's! It turns out that the Japanese musician Takeshi bought it in a Tokyo shop. Bachman – moved to tears – and Takeshi agreed to an exchange with an identical model of the guitar and played a few songs together before getting his guitar back. After 46 years, Randy can play his "first love" again. A truly miraculous musical event!
3.The Nokia ringtone is a Chopin piece
Here the bizarre event mixes with musical plagiarism. The original Nokia sound has long been a cult classic, being simultaneously irritating and nostalgic. But where does the melody come from and who composed it? Indeed, the Nokia melody is the melodic line of a piece by the Spanish composer and guitarist Francisco Tárrega. The piece dates back to 1902 and is called "Gran Vals", which is why Nokia named the ringtone "Grande Valse". However, this is only half the truth, because Tárrega was directly inspired by Frédéric Chopin's composition of the same name "Grande Valse". The melodic line is found near the end of the video below, and was composed in 1833.
4. Ozzy and the bat
There is at least some truth to this story, even though it has been repeatedly misrepresented. Ozzy Osbourne, the self-proclaimed Prince of Darkness, used to throw calf liver and pig intestines at the audience during a 1982 tour. However, at some point the audience began to react. The legend took its course at a concert in Iowa. A fan threw a bat on stage. Ozzy mistook it for a rubber toy and bit off its head. What an extremely bizarre sight for the audience, and more than a memorable night!
5."You Ain't Seen Nothing Yet" was never supposed to be released
Unthinkable today, but times were different then. Although his intentions were not bad, "You Ain't Seen Nothing Yet" was recorded to make fun of a stutterer. The stutterer was Randy Bachman's brother, Gory, and Bachman Turner Overdrive recorded the song to tease him. The song was never intended for a commercial release and Bachman later re-recorded it without the stutter. However, the record company insisted on releasing the original. The result: it became a worldwide hit and the band's only number one! A weird-themed music hit!
6. The "My Way" Murders – the deadliest song in the history of music
Who doesn't know the phrase of the verse of "I Did It My Way"? In the Philippines this way seems to be cruel; actually a social phenomenon. The phrase "My Way" Murders refers to a series of deadly fights in karaoke bars. Officials say at least 12 people died singing Frank Sinatra's hit song between 2002 and 2012. Nobody knows if there is an aggressively interpretable connection with the text or if the connection is purely coincidental. Out of context, "My Way" is apparently one of the riskiest songs out there.
7. Debbie Harry kidnapped by serial killer Ted Bundy
In the '70s there was news that Blondie singer Debbie Harry was taken away to New York by a mysterious boy who later tried to kidnap her. Later, Debbie is said to have learned that he was the infamous serial killer Ted Bundy. But the facts may not be entirely correct. Bundy had never visited New York and lived in Utah at the time, which is thousands of miles away. Although the marketing ploy was obvious, many people fell in love with it. But the goal was achieved, hype around Blondie increased, and so did her sales.
8. The Beatles aimed to outdo The Who with "Helter Skelter"
The Beatles never tried to hide their influences. At the beginning of their career they almost exclusively played covers. When they later started writing their own songs, it required a bit more digging to know who their influences were. But the band continued to approach the subject rather transparently and were not afraid of the big names. Same with "Helter Skelter" in 1968. Shortly before, "The Who" had released a track that was the dirtiest, roughest and noisiest they had ever done. The Beatles then decided to do the "(…) loudest, meanest, sweatiest rock number" they could. "Helter Skelter" was the long screaming attempt to surpass the Who as hard rock icons.
9. The "Sweet Child o 'Mine " riff is a guitar exercise
Everyone thinks that the "Sweet Child o 'Mine" riff is the fruit of Slash's elaborate ingenuity. In reality, the riff was born out of a guitar exercise that aimed to jump the strings. Slash was just warming up his fingers! Axl Rose was listening and started singing over him using the text of a poem he had written to his girlfriend at the time. An interesting curiosity: Axl's exclamation "Where do we go now?" it was meant literally, as he didn't know how to proceed with the text.
10. Roy Orbison was by no means blind
Roy Orbison, the singer known as "The Big O", was said to be blind. After all, dark, oversized sunglasses were his trademark. Somehow no one could imagine that anything could still be seen through those deep, dark glasses. But it is true that in normal life he wore ordinary glasses and one day lost them at a support concert during a Beatles tour. On stage he had to wear sunglasses as a backup. At first it was a gimmick, but later it was impossible to imagine his stage presence without them. Another bizarre event in the history of music.
---
Your Feedback
What was your favourite event from our list? Which others do you know about? Let us know in the comments.