Make Portable Recordings Possible With These Devices
Make Portable Recordings Possible With These Devices
Welcome to our #HomeRecordingDays  – everything you need to produce some awesome music 😉 Check out our blog articles, tutorials and deals and don't forget to follow our Facebook Page and Instagram Account to find out more.

Spontaneous sessions are often the best ones and it's great not having to record in your dark and messy bedroom. It can be exhilarating to record live gigs, visiting musicians, creating a new demo, interviewing people, recording on the road or simply collecting field recordings for your personal sound database.
If you're on the road, whether you're on holiday, on a cruise, or on tour, portable recording can save time and simply be great fun. But what equipment do you need and how do you get started quickly? Quite simple: Here are ten devices that can make mobile recording a breeze…
Audio Interface / External Sound Card
The audio interface, which is essentially an external sound card, is the central audio switch for your portable recording setup. It provides microphone and / or instrument inputs, converts analogue audio to digital audio signals and allows you to monitor what you are recording with headphones. These devices are available in all possible interfaces, namely USB, Firewire and Thunderbolt. This choice depends on the ports available on your recording device. If you want to use a laptop for your recordings check which available interface has the fastest data transfer, this should determine your choice. If you want to record with an iPhone or iPad a combination of a sound card (with USB bus) and the Camera Connection Kit is a good choice.
One point you should consider for your portable recording setup is the power supply. To be independent, audio interfaces with bus power are practical. They do not require any external power supply, they obtain their "juice" via the data cable. So you do not even need an outlet with these sound cards and are therefore completely free with them in the choice of your recording environment. However, sound cards with bus power have some energy-related limitations. They sometimes do not provide phantom power (a DC voltage of 11 to 48 volts) for condenser microphones, high-performance preamps or loud headphone outputs during operation without power supply. If you have one of these power-dependent devices make sure your audio interface has a phantom power switch, if not, a power supply.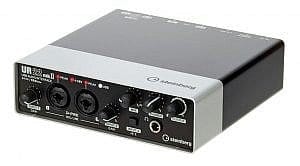 The UR22 mkII from Steinberg is bus-powered, but also allows operation with power supply. You can choose the type of power supply simply by means of a switch. This audio interface allows you to use your iPad without the need for an electrical outlet.
On-the-Go Microphones
Your portable recording setup also includes the right microphone. Choosing the right mic for you depends on the type of sound sources and surroundings of your recording, as well as whether your audio interface offers features such as phantom power or powerful preamps. Phantom power is important for condenser and active microphones and for preamps with over 60 dB gain for dynamic microphones. If you want to do without a separate interface and just take a microphone with you, which you connect to your iPad, it is also possible. You do not even have to sacrifice functions like Direct Monitoring by headphones. Almost all large microphone manufacturers now have USB microphones with an integrated audio interface built in.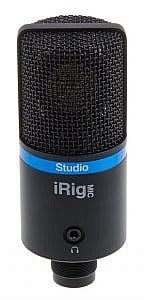 For example, the IK Multimedia iRig Mic Studio, is a large diaphragm microphone that has both a controllable preamp and an audio interface installed. A headphone output with volume control is also on board. However, you need an additional special 30-pin cable for the operation of your iPad, so that the power supply of the microphone is secured. But you don't need to spend more on a table stand because it is included in the package of the iRig Studio. Practical!
Ear/Headphones
The simplest way of monitoring on the road is ear- or headphones. They are easy to stow away, do not weigh much and do not require any power supply. It can't be simpler than that. If you are looking to save some space, in-ear headphones are the first choice for you. Among them, there are proven experts, such as the Shure SE215-CL. This kind of in-ears, because of their "sound isolating" feature, ensure that you are not disturbed by any outside noise when monitoring and you can concentrate entirely on your work.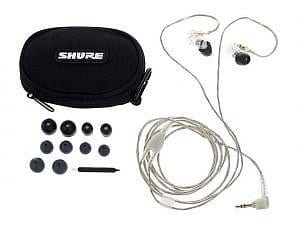 If you have enough space in your luggage and want a more comfortable monitoring experience, you can take the closed over-ear headphone route. They shield the outside noise very well and can be worn comfortably over longer periods of time. This classic choice now has a space-saving variant: foldable headphones and an excellent example are the Sennheiser HD-380 Pros with rotating and folding ear cups. They have a wide frequency response, a high isolation of sound from (and to) the outside world and they come with a transport bag.

Stands
For optimal microphone recording, you need to have the best placement and a table stand is not always suitable for every situation. Consider various types of mic stands. First of all, your stand should be stable and secondly, portable. Stands with a three-legged base are tried, tested and true. They can reliably compensate for ground unevenness and can be folded together thus saving lots of space.
If you do not mind size and weight, a tripod mic stand like the K & M 21070 offers you the greatest flexibility. It has a stable cast iron base, large folding legs for maximum stability and is ultra flexible thanks to its swivel arm. Since such a stand weighs more than 2 kg, you should consider whether your recordings could be done with a table microphone and some improvisation instead. For this purpose, several inverted empty milk crates stacked on top of each other can be a useful improvised solution. Portable recording is always synonymous with improvisation and experimentation!
Acoustic Screen
Do your recordings sound too "reverberant" when you record in closed rooms? Time and time again, do other sounds sources sneak into your mic when you press that red record button? Acoustic screens promise improvement in these situations. They reduce disturbing room reflections and can significantly reduce background noise from reaching your mic laterally. This is why you shouldn't complicate your life and add a Mic-Screen to your portable recording setup…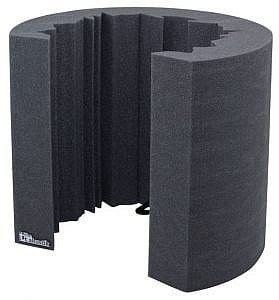 The t.akustik Micscreen flex can be transported very easily. This reverb absorber doesn't have a base plate and is therefore super lightweight. In addition, it can be mounted onto virtually any microphone stand. It is one of the cheapest solutions in its field.
Windscreen
When recording portably you should always keep one ear on potential background noise. A small, but paramount invention, which greatly improves field recordings with little effort and low costs, is a windscreen.  These little helpers are available in numerous sizes, shapes, colors and materials.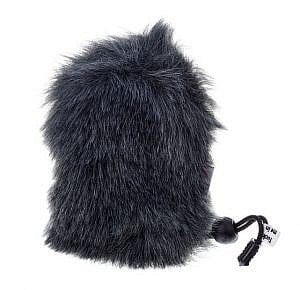 Especially if you want to be in nature, where it can be windy, you will rarely find a better solution than fur wind protection. It efficiently diffuses wind coming from any angle and is available for many microphones and mobile recorders in corresponding shapes. You can also find universal windscreens like the Rycote Mini-Windscreen 80, which, thanks to drawstrings, can be attached to various microphones quite easily.
Monitor Speakers
Still got for your recording setup? Good! Then you can take a break from your headphones from time to time. Because the audio outputs of portable audio interfaces do not provide enough power to amplify passive speakers, you need to rely on active speakers with their own power supply. Luckily, these loudspeakers come in various sizes and choosing small ones might be appropriate if you are on the road. Whether you need monitor speakers depends mainly on your recording objectives. One idea is to record your recordings on the spot and then later, in a quiet place or in your hotel room, mix them using a small pair of monitors.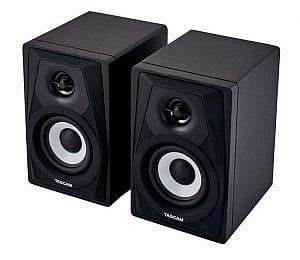 A great pair of particularly small, near-field monitors (and therefore well-suited for the road) are the VL-S3 from Tascam. The pair, together, are smaller than an A4 sheet of paper. It's an active/passive pair of speakers meaning that an amplifier is active in one of the two loudspeaker housings, which supplies the other loudspeaker (passive) with an amplified signal. This has two advantages: These types of monitors are usually not as expensive as a pair of active loudspeakers. In addition, you only need one power outlet for operation, and that can very handy on the road.
Mobile All-in-One-Recorder
Portable recorders have been able to offer a really high sound standard for many years. With these devices, there is no need to bring a laptop, tablet or audio interface to the recording location! They deliver everything from the palm of your hand (or mic stand if necessary).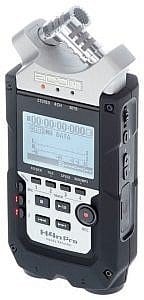 With the Zoom H4n Pro in hand, you're always carrying AT LEAST a quality stereo mic. With it, you can record MP3 and WAV files in studio quality and if necessary also use external microphones with phantom power. Multi-effects and a limiter are also available on board, making this portable recorder a real small studio for the road. A tuner, amp simulation and built-in speakers let you be creative wherever and whenever you want. With its rugged rubberized housing it is tough enough for the elements of nature and very safe for transporting.
Bags and Cases
Speaking of safe transport: No matter what your setup, you should be able to carry it all together and this precious gear should be well protected. You will find transport bags and cases for almost every equipment combination.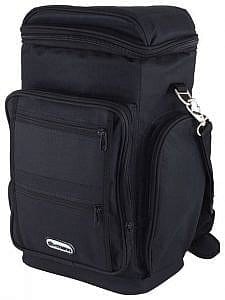 A particularly practical solution for recording on the go is the Thomann Producer Backpack. In this backpack you'll fit everything you've put together, from the laptop to the 25-key midi keyboard. This backpack is durable and provides sufficient protective padding. This even applies to the partition of the two inner compartments. And a few outer pockets let you organise all the little pieces you need for your on-the-road recording.
Bundles
Last but not least we have a tip for you to make the equipment assembly easier and save you money. Under the keywords "Studio Packages" we have compiled combinations of audio interfaces together with microphone and headphones for a quick start to portable recording. Many of these packages are ideal for being on the go because of their small size.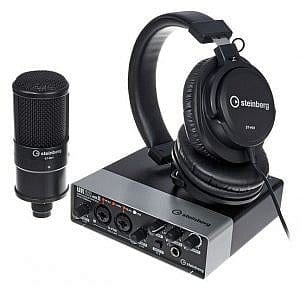 And some manufacturers also offer ready-made studio sets that you can use on the go. The Steinberg UR 22 mkII USB audio interface, mentioned earlier, is available in a Steinberg Recording Pack along with the ST-H01 microphone and the ST-H01 headphones for a great price. The icing on the cake is that you get a free download of Cubase AI, Cubase LE and WaveLab LE, all the software you need to get started immediately, on either a laptop or iPad!
So you've got portable recording covered, or at least we hope this article has helped in some way. Once you've decided on the location (indoor or outdoor) you'll be able to set up your portable recording gear in no time and at a minimal budget. Don't know about you but it feels great getting out of that bedroom or studio and into the open air where the possibilities are endless. After all, didn't music first develop from an imitation of nature?
?