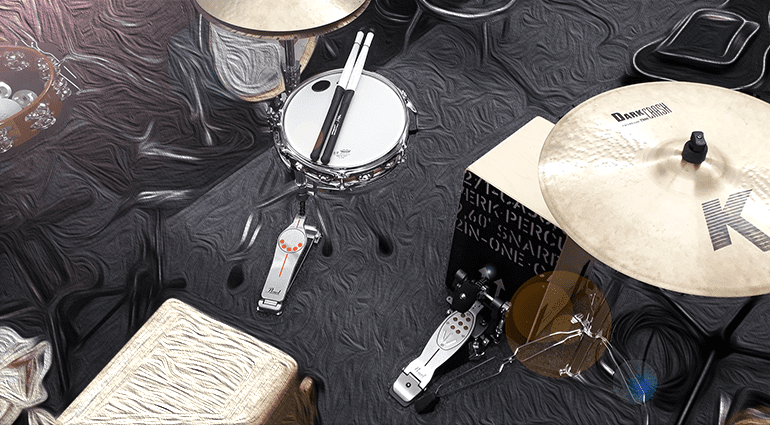 Turn your cajón into a drum kit
Turn your cajón into a drum kit
The cajón, which originally comes from South America, is now also used in Western Europe and North America, and not always as a folkloric instrument. Here we speak of its potential as a drum kit replacement, a quieter and more easily-transportable alternative. But not everything that a real drum kit offers can also be reached with a cajón. We will show you how you can get your cajón to sound very close to a full-fledged drum set. But you should answer the following questions first: What does your drum kit have that your cajón doesn't? What could you do without? Depending on how you answer these questions these tips may help you.
---
Tip 1: I have snare & bass, but I miss my cymbals!
Nothing easier than that: If you don't have cymbals and cymbal stands yet, you have a huge selection at your disposal. For explosive effects you can use Splash cymbals such as the Zultan 10″ Aja Splash. For rhythm figures and crashing effects, a crash/ride cymbal, such as the Schlagwerk 14″ Cajon Crash-Ride, is available, which can also sound very good with rods or brushes. The cymbal stand can be light, but should be low.
Tip 2: I also want to use my feet!
There are numerous solutions for this as well: Special pedals turn your cajon into a bass drum, while allowing you to still play it with your hands. The Millenium CP-777 Cajon Pedal is inexpensive and robust. If you don't want to compromise, check out the brand new DW CP 5000 CJDL Cajon Pedal that leaves nothing to be desired. A hi-hat machine also looks good next to the cajon. However, it must be possible to set it low, like the Meinl MLH Hi-Hat. The hi-hat cymbals should not be too thick or too small in diameter. A suitable choice would be the Istanbul Mehmet 12″ Medium Hi-Hats.
Tip 3: I need toms!
No problem. The Millenium MI-65 Mini Timbales Toms in 5″ and 6″ offer high and percussive sounds for you. Deeper tom sounds can be created with the LP 3012-SM Stanton Moore Pandeiro, which at the same time provides a tambourine sound. With the Gibraltar SC-LRAC L-Rod & Clamp, you can attach the Mini Timbales Toms or Pandeiro to a cymbal stand or hi-hat machine. If you like it a bit woodier – to match the cajón – then perhaps Schlagwerk WBM100 Bongoset with Woodface is more your style. These can also be mounted on a stand such as the extra low adjustable BSTL Bongo Stand by Sonor.
Tip 4: You need a real snare!
Why not? A real snare can also be played stronger and with sticks. Especially smaller snare drums like the Sonor 3007 10″ x 2″ Jungle Snare Drum with the matching JTH holder and the above mentioned Gibraltar L-Rod Clamp are suitable with a cajón, as they are naturally quieter and do not apply too thickly. For those who prefer to spend less money, the Millenium SD105 10″ x 05″ Steel Snaredrum is an affordable alternative that even includes a clamp for attaching to a tripod. In addition to hard sticks a real snare can also be played with hot rods and brushes." 
Tip 5: I'm still missing that certain something!
There are no limits to your creativity! In addition to numerous add-ons specially developed for mounting onto cajones, such as the Cajon Jingles and Castanets from the Thomann TCA series or the Heck Stick One striking mechanism, you can of course build anything else around your cajón.
A holder such as the Pearl PPS-82 Multi Percussion Holder, which you can use to your heart's content to mount cowbells, clamp rings, woodblocks – or simply anything with a suitable holder – in addition to the Tom and Snare solutions described above, can also be used.
---
For further inspiration check out what the ultra-creative Onkel does with his drum kit in the video below:
---
There you have it, suggestions on how to pimp your cajón. Let us know what you think of the ideas… Which ones have you tried? What other suggestions would you give? We wish you lots of fun with this!