Everything you need to know about the Cajon
Everything you need to know about the Cajon
This wooden box is extremely popular among drummers and percussionists, as well as others. The cajon is an instrument for all. Whether for musical education or corporate seminars, everyone loves the cajon. Stay tuned to learn more about this wonderful instrument.
---
Where does the cajon come from?
The cajon originated in Peru and was first mentioned in writing in mid 19th century, but dates two centuries earlier. When slaves, who were from Africa at that time, were forbidden to drum and so were forced to look for alternatives. The first cajon could have been something as simple as a fruit crate. It was Paco de Lucia, the Spanish flamenco guitarist, who introduced the now developed wooden box, to Europe in the late 1970s. As from the 90s and the big wave of "MTV Unplugged", cajons became increasingly popular.
Why does the cajon interest so many people?
The cajon is a very practical instrument, it's portable, doesn't take up much space and is relatively easy to learn, so the barrier to entry is low. You can play seated, and after learning the basic snare (upper edge) and bass sounds (middle), the first simple rhythms are well on their way. Playing with other drummers, together in a group makes the whole experience even more fun.
What are some common types?
Nowadays, cajons are mostly around 48 x 30 x 30 cm in size and primarily made of birch or beech plywood, while some high end models are made of solid wood.
In commercial cajons, you either have string-cajons or snare-cajons. String cajons have two or four guitar strings as a snapping element along the back of the striking surface. This model comes from Spain and has a sensitive snare response, as well as a rather dry overall sound with an excellent bass and snare separation.
For something a bit livelier and perfect for drum set grooves, take a look at a snare-cajon. These are equipped with snare wires against the back of the striking surface which rattle when struck.
Sela has significantly improved this mechanism with its switchable snares on the Casela Pro models, and the adjustable and detachable snares of the Schlagwerk Super Agile Cajons are a clear upgrade to the simple snare cajons.
The third version of the Cajon is less common and represents the original archetype. These Afro-Peruvian cajons have no strings or snares inside, and with their very woody sound are very popular in flamenco.
Travel-Cajons, Cajons for children and Cajon kits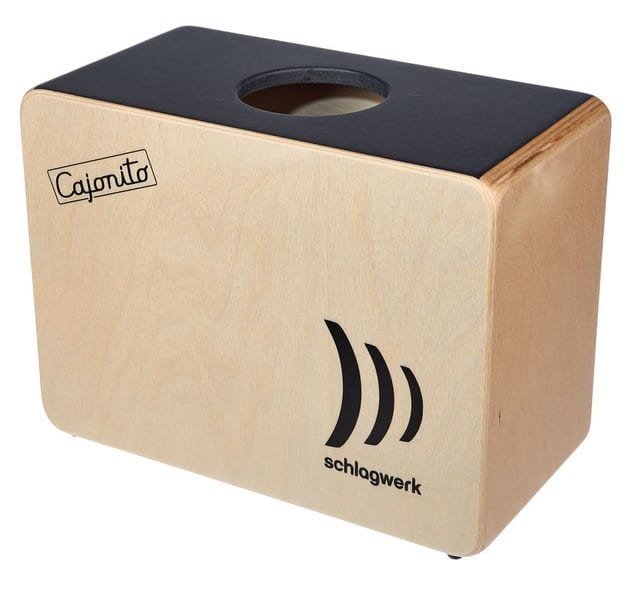 In recent years manufacturers have come up with some interesting variations, in addition to the above-mentioned cajons with standard dimensions. For children, there are special cajons in smaller dimensions. The Cajonito by Schlagwerk or the Meinl Slap-Top Cajon are great choices for those who love to travel. Those who'd rather DIY their own cajon, will find joy in Cajon kits.
Hybrid Cajons – acoustic play with electronic sounds
The latest developments mix the cajon's acoustic sounds with electronic samples. Behind the striking surface of the Roland EC-10 EL Cajon there are triggers, which in addition to the acoustic signal will activate sound depending on playing dynamics. The Spanish company DG DeGregorio has launched its own hybrid cajon called Centaur with three side-mounted trigger surfaces and the possibility of importing its own sounds. If you are interested in experimenting with electronic sounds and already have a cajon, take a look at Roland's EC-10M, a sound module with a clip-on microphone that easily mounts to the cajon.
Accessories
When traveling, always store your cajon in a bag. There are many practical and innovative accessories. If you like your hands free to play other instruments or wish to play a cajon in a percussion setup, consider a Cajon pedal. Add additional sounds with the Heckstick One or the Cajon Cabasa which can be easily attached to the Cajon with Velcro fasteners. You can use a Cajon brush made from nylon, against the surface to generate rich sounds, or play a shaker in one hand while the other hand plays the cajon.
Popular models