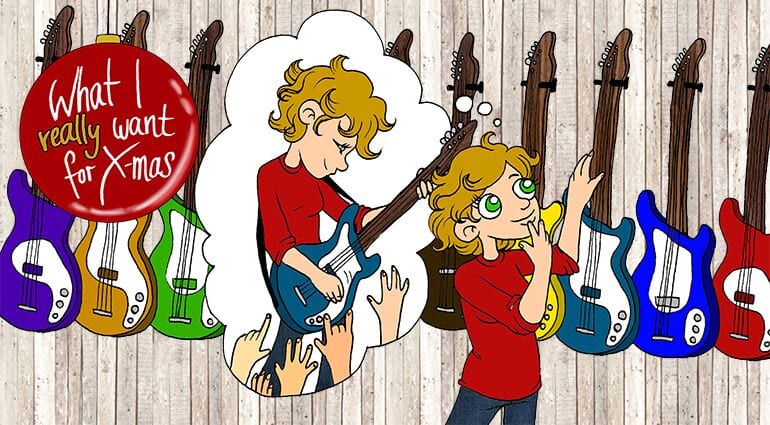 Our gift ideas for bass players
Our gift ideas for bass players
The role of the bassist is to transform the pure rhythm of the drums into a rhythmic melody that the other musicians can develop a tune around. This means the bassist is in charge of the link between harmony and groove and that's no small feat; his mission is crucial. And yes, playing the bass is cool! Here is our selection of present ideas for beginner or experienced bassists.
---
– Bass guitars –

Harley Benton JB-75NA Vintage Series
A well-made and very well-finished bass. The grip is perfect, the neck is smooth. The model is ideal for getting into the bass and making the most of a quality instrument without breaking the bank! → See more jazz bass models for getting started
Höfner Ignition Beatles Bass VSB

Marcus Miller V7 Swamp Ash-4 NT
The V7 is a blast! With its swamp ash body, a one-piece neck made of maple and C-shaped neck profile, we are talking about a classic among jazz basses. The finish is tidy and the impressive active system control panel makes this one of the versatile instruments around. → See all Marcus Miller models
---
– Accessories –
A pedal drum machine that always appeals to bassists! The sounds are of very good quality. Using it is simple: choose a rhythm and a tempo, and off you go. A genius idea for a present! → See more drum machines.
Electro Harmonix Bass Big Muff
A distortion pedal for bassists and only for bassists! Subtle highs, transparent bass notes, loooong sustain and a real fat, full-bodied, grungy fuzz sound – just the way we like it! → See more effects for bass
A training accessory for building finger muscles. This device will give you the authentic forearms of a guitarist and works as a good warmup before a concert. Great for endurance! → See more Gripmaster products
To quote a customer review: this isn't a strap but a barbarian's breastplate. Wrap it around your waist and you can carry two swords, two axes and your tribe's standard, no problem. Great value, comfortable and awesome! → See all straps
Ampeg SCR-DI
This preamp offers a wide range of authentic Ampeg sounds. You'll experience the genuine "crunch" sound of an SVT. You can also play through your headphones anywhere without disturbing the neighbours 🙂 Fans of Ampeg, jump at it! → See more effects for bass
Fender Urban P/J Bass Gig Bag Tweed
A high quality and solid fabric, and equally robust seams that will stand the test of time. The padding is thick so the bass is well-protected! A (very) good deal! → See all gigbags for bass guitars
A small, very handy Amplug. Plug in your headphones and play without an amp on your travels. Controls are limited to volume, tone and volume/tempo of the integrated drum machine.
The sound is transparent and without colouration; the compression is good and gives your sound a burst of energy! The compressor is the first pedal that every bassist should buy, and this one serves as a benchmark in the field. → See more effects for electric bass
Fender Performance Angle Cable 3m
Fender inspires confidence in buyers and is recognized as a sign of quality. This is the case with this robust, visually appealing 3m straight/angled jack cable. With the jack shielded at 90°, you will never hear interference again! → See more instrument cables