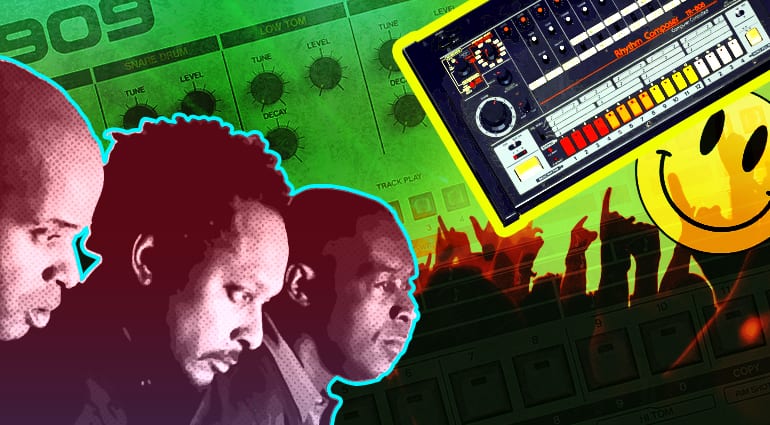 Evolution of Electronic Music – Part 3 of 3
Evolution of Electronic Music – Part 3 of 3
It's hard to describe the past and present of electronic music concisely. An immensely complex development over a span of decades is impossible to summarise in a few lines. There are an infinite number of styles, or genres, many of which developed parallel to each other. Various genres such as house, trance, synth-pop, dance, industrial noise and finally techno, with all their sub-genres, emerged. Only absolute insiders can keep track of all these new compartments. There are around 20 sub-genres of hardcore techno alone.
? If you missed them, here are Part 1 and Part 2 of the blog series ?
---
EDM melting pot
In the second half of the 1980s, several styles of electronic music emerged. House music with its minimalist facets forms the basis. Elements from European industrial, EBM (Electronic Body Music, not to be confused with EDM) or new beat to house music such as Chicago House, Acid House or the "House Sound of Detroit" are used as roots. Time and again, elements of synth pop, early '80s Italo Disco or electronically produced pop songs are included. The best example of the transition to techno between 1988 and 1991 is The KLF, who usher in the new era with several hits.
The KLF – What Time is Love
https://www.youtube.com/watch?v=OjL5uCMv9OM
The Belleville Three: Co-inventors of an entire genre
In Detroit, Michigan, USA techno begins in the suburb of Belleville. Three school friends spend their time together in the dreariness of their industrial hometown. They soak up the music from the legends of electronic music, Kraftwerk, the musical chameleon David Bowie and the funk and soul band Sly & The Family Stone. You will hear Funkadelic, also Giorgio Moroder, Yellow Magic Orchestra and the electro-pop pioneer Gary Numan.
Juan Atkins, Kevin Saunderson and Derrick May, the names of the three friends, write music history as "The Belleville Three". Inspired by the pioneers of cross-genre music, they began to experiment. In order to implement their creative ideas and their own sound, a technical development played into their hands:
The analog drum machines Roland TR-808 and TR-909 slowly became cheaper and more readily available. The TR-808 developed into one of the most legendary rhythm machines of all time, used, for example, by the hip-hop and electro pioneers of the Los Angeles scene Arabian Prince and Egyptian Lover. It is worth noting that the masters of these drum machines say that no 808 sounds like the other!
Roland TR 808 demo:
But back to Detroit Techno: The Bellville Three drew influence from Chicago, where the house scene was booming at the time. In addition, disco music had left strong footprints. They took all of their influences, mixed them up, and reinterpreted it all into what would become "Detroit techno".
Detroit Techno – The Belleville Three:
Techno in Europe – a huge melting pot for something new
At the same time, people in Europe were not exactly inactive. From Italy and Spain to Scandinavia, more and more young producers were discovering new possibilities. The USA and Europe were going their separate ways, but thanks to the elimination of borders and the possibility of buying records from other continents, they inevitably influenced each other.
While Berlin and Frankfurt were the big strongholds in Germany, in the Netherlands, for example, a rivalry between Amsterdam and Rotterdam developing for the hardest sound. In addition, there is a greater division into every new sub-genres. Gabba originates in the Netherlands, breakbeats in England, from which drum & bass arose, and trance comes to life and with the worldwide hit "Children" by Robert Miles.
Robert Miles – Children
Minimal techno – from Robert Hood to the Sound of Cologne
In the early '90s, Minimal Techno, a reduced variant, emerged from techno. The focus is on minimalist arrangements. The DJ and producer Robert Hood became one of the most influential pioneers of this genre, especially with his album "Minimal Nation". Just one year later, in 1994, Gerrard "Gez" Varley (aka G-Man) published his EP with the piece "Quo Vadis". The piece, considered a milestone, has been reissued several times.
Robert Hood – Minimal Nation
One of the pioneers from Germany is Wolfgang Voigt, better known to the general public as "Mike Ink" (as well as other pseudonyms). He is co-founder of the Cologne label "Kompakt". There are a number of other minimal techno stars but Wolfang Voigt is the godfather for the terms "Sound of Cologne" and "Cologne School".
At some point it began to annoy people in the scene that almost anything in 4/4 time with a tempo between 128 and 130 bpm was called "minimal techno". The name became a buzzword and an overused label.
Acid Techno – the unmistakable sound of a synth
Where the name Acid Techno comes from exactly can only be guessed. This sub-genre emerged from the American acid house in England and Germany, one of the most famous formations is the German group Hardfloor. As with its predecessor, one of the typical features is the modulated bubbling and chirping of another very special synthesizer: the Roland TB-303. Incidentally, this bass line synth is the only requirement for this genre, without it it's impossible! You can play rock and pop on guitar, piano  etc. Acid without 303 does not work! Most of the time, only very short acid sequences were taken and further modulated and changed over the course of the tracks. And in contrast to the classic Acid, which usually only consists of a 303 and 808, the TR-909 and often more than one 303 are used here.
Hardfloor – Acperience 1
Hardcore Techno – Hardcore never dies!
With influence mainly from acid house from Chicago, hardcore was developed in the late '80s and early '90s in the Netherlands, thanks to pioneers such as DJ Rob and Paul Elstak. Hardcore / gabberhouse is the loudest and fastest house music with intense bass lines averaging 180-220 bpm. Other subgenres include happy hardcore, industrial hardcore, terror and speedcore up to 250 bpms!
In 1992 Elstak created Rotterdam Records, now recognized worldwide as the first hardcore label, and in the same year ID & T's legendary Thunderdome had their first event. Many other major events followed, among others Masters of Hardcore (M.O.H) Defqon.1, Qlimax and Dominator which made this music and the gabber culture more and more popular.
In 2012, Thunderdome announced their event as the last, but after several years of silence, the hardcore event returned in 2017. Thunderdome's 2019 edition reached nearly 40,000 people from 54 different countries:
Sound of Frankfurt – Pascal FEOS leaves a gap
As already mentioned, one of the German epicentres of techno was and is Frankfurt. The Sound of Frankfurt was shaped here in the 1990s and also shaped the international techno scene. Pascal Dardoufas and FEOS were largely responsible for this. His influence was so great that he was sometimes referred to as the Dieter Bohlen of techno.
Pascal had already started DJing in 1984, for example in the house and techno strongholds Dorian Gray, Omen or U60311. He became a global player long before the term was even known. Pascal, the workaholic, died on May 8th, 2020 at the age of 52 and left a big void in the Sound of Frankfurt.