Hybrid Amp Head for Electric Guitar
Bluetooth function can play music from external source in addition to guitar signal

Sound characteristic: defined high-gain amplifier

2 Channels

Power: 20 watts

Class-D power amplifier

Preamp tubes: 12AX7

Controls: 2x gain, 2x tone, 2x volume

Switch: Clean/OD, Bluetooth

Loudspeaker outputs (min. 8 Ohm): 6.3 mm jack

Input: 6.3 mm jack

FX send & return: 2x 6.3 mm jack

Headphone output: 3.5 mm stereo jack

Foot switch connection: 6.3 mm jack

Dimensions (W x D x H): 163 x 140 x 110 mm

Weight: 1.3 kg

Colour: Black

Includes 1-way footswitch and power supply unit
Available since
December 2020
The Zombie is back - with two channels
Presenting the Zombie II: This updated version of Joyo's compact lunchbox amplifier head delivers the high-gain sound associated with many legendary American amps while adding a second channel. The two channels each feature independent controls for volume, tone, and gain and can be selected using the "Clean/OD" switch on the front or via the included footswitch (the connection for which is located on the rear panel). The Zombie II additionally replaces the original model's 3.5mm headphone output with a much more practical 6.35mm jack while retaining the original's Bluetooth connectivity and effects loop to allow the player to integrate their favourite pedals. And of course the most important thing has remained: The combination of a preamp based around a 12AX7 tube combined with a 20W class-D power stage, which delivers that typical "Californian" sound with enough volume even for gigs.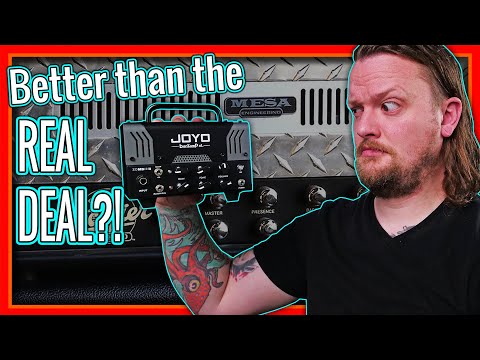 It's no one-trick pony
Despite having gained an extra 100g compared to its predecessor, this "Mark II" version of the Joyo Zombie still tips the scales at just 1.3kg and offers significantly greater sonic flexibility thanks to its two-channel design, which covers everything from warm clean sounds from the first channel through to overdrive with plenty of gain on tap from the second. The Zombie II relies on a single tone control per channel for its EQ settings, but these controls are highly sensitive and even the smallest adjustment will make an audible difference. And best of all, the footswitching option makes the Joyo Zombie II a fully-fledged two-channel amplifier that is great for rehearsals and even gigs - where it will become quickly apparent that 20 watts of output power are much more than they seem on paper.
True US high-gain sounds on a budget
The Zombie II's affordable price of course makes it an interesting option for those who are new to the electric guitar and looking for a versatile and easy-to-use amplifier that delivers both authentic tube tone and high gain reserves. However, this updated lunchbox head is also sure to find favour with more advanced players thanks to its authentic "Californian"-style sound and especially the added flexibility provided by its new two-channel design. And it goes without saying that the Zombie II's compact dimensions and light weight make it extremely easy to transport, so the "heavy-duty" gear can stay at home.
About Joyo
Chinese manufacturer Joyo is focused particularly on guitar amplifiers and effects - and produces an extraordinarily wide range of products. These include tube amplifiers for electric guitars, acoustic guitar amps, and all kinds of effect pedals. Classics like wah-wahs and distortion pedals, but also cab simulations, loopers, and digital wireless systems are always available at reasonable prices. The young company's products have already had success with well-known artists and made a lively circle of "endorsers" for itself, especially in the Metal fraternity.
A lunchbox amp for all occasions
Whether they are practising at home using headphones or a small speaker cabinet, or even running it through a 4x12" cab on stage, the Joyo Zombie II will always deliver the impressive high-gain tube amp tones associated with legendary West Coast amplifier manufacturers, and its series effects loop allows the already impressive sound to be further enhanced by adding delay, reverb, and other modulation effects. Players can even deploy the Zombie II in a recording environment by running the signal from the amp's headphone output (complete with speaker simulation) to their DAW, thus completely eliminating the need for a speaker cabinet. There can still be no doubt, however, that the most beneficial new feature in this updated version is the addition of a second channel, which opens a whole new range of applications for the Zombie II.
This is what customers who viewed this product bought