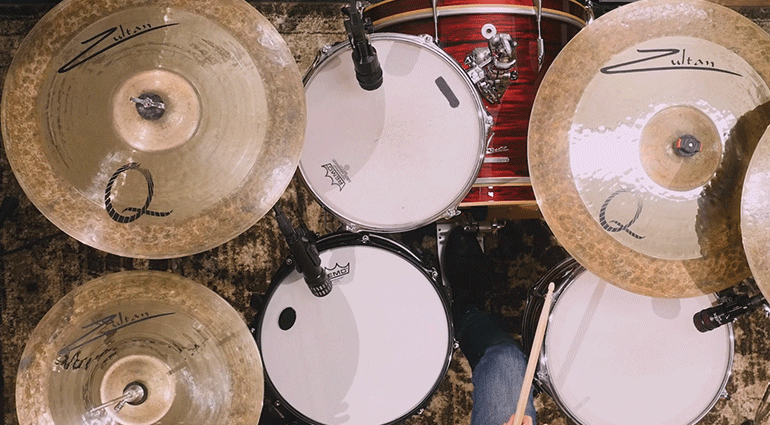 Drummer Warm-Ups For Achieving Smoothness
Drummer Warm-Ups For Achieving Smoothness
#ThomannDrumDays will be happening from March 5th to 11th, 2018, especially on Facebook and Instagram. It's all about the world of drums!
For drumheads and drum enthusiasts we have exclusive deals, VIP artist videos, helpful articles here on the t.blog and entertainment planned for you.
Stop by and visit ??

---
It's showtime – your band is about to step onstage. Now it's full power ahead! You'll need enough energy  because it should primarily be transferred to the bandmates and to the audience. Even if the adrenalin level is high and you are feeling enthusiastic it takes the right warm-up routine so that you can thrash into the skins while preventing muscle cramps and aching joints. Here are a few tips on how this can be achieved:

---
Different strokes for different folks
Some drummers make a very detailed warm-up program for all four limbs on the practice kit, for others a crisp, five-minute drum roll on the practice pad is enough to get the blood flowing to the fingers and wrists. It also depends on the style of music played, the jazz and pop drummers must have their hands and fingers ready, for the metal drummer, warm ankles are just as important as the hands. How long you need for your personal warm-up is best to find out for yourself. Trial and error.
The important thing is not to start the warm-up too late. If there's something to be reworked shortly before the gig, or if your esteemed bandmates come up with small changes to the setlist in the short term, it's better to be warmed up, otherwise it may be time-consuming. Find a quiet place, where you can warm up undisturbed (and for the sake of annoyed bandmates).
Slow & Steady wins the race
If you have no idea what to warm up with, use the standard rudiments such as Single Stroke, Double Stroke and a few Paradiddle variations, you can easily get into the "warm zone". Play it easy in an eight-bar change and not too fast, because it's all about warming up steadily and evenly instead of exhausting your energy before the gig. Make sure to keep this energy for the stage. With your hands, you can switch back and forth nicely between wrist and finger strokes (German, American and French grips). Build a few accents and dynamic changes to make things more interesting. The same figures can also be transferred to your double kick pedal and completed simultaneously or alternately with hands and feet. If you feel like you're really relaxed on your hands and feet, finish off with a few stretching exercises on your arms and legs – or in advance and in between.
Essential warm-up tools
If you want to start small, a compact, travel-friendly practice pad with rubber surface, a matching tripod and a pair of drumsticks of your choice are all you need. For the feet, you can either buy a separate bass drum pad to which you then push your bass drum pedal, or you can supplement your luggage with a practice kit with which you can practice entire grooves with fills. With a metronome or smartphone metronome app, it's easier to find the right warm-up tempo. Some drummers like to play with heavier pad or marching sticks, such as the Ralph Hardimon Vic Firth, and pads with a very soft surface like the Moongel Workout Pad which work out the muscles of the hands in less time. With the little Sticky Practice Pad you can turn any flat surface into a practice pad.
How to freshen up the warm-up routine
We humans are creatures of habit so if you have found a solid exercise routine that optimally warms you up, you should stick to it (no pun intended). Of course, there is nothing wrong with adding a few variations and new figures to make things more interesting in the long term. For inspiration I can recommend the Tommy Igoe DVD program "Great Hands For A Lifetime". It contains three warm-up programs for beginners, advanced and professional drummers to discover, which you can practice alone or with other drummers.
---
Advice / consultation
If you have any questions or need advice we are more than happy to help! Join us in the Drum Department in Treppendorf or contact us by e-mail or by phone at (09546) 9223 40 to chat with us! ?
More reading material can be found here…
QUIZ – HOW WELL DO YOU KNOW YOUR DRUM GEAR?
WHAT ARE THE BEST MATERIALS FOR DRUMS?
10 MUST HAVE DRUMMER ACCESSORIES