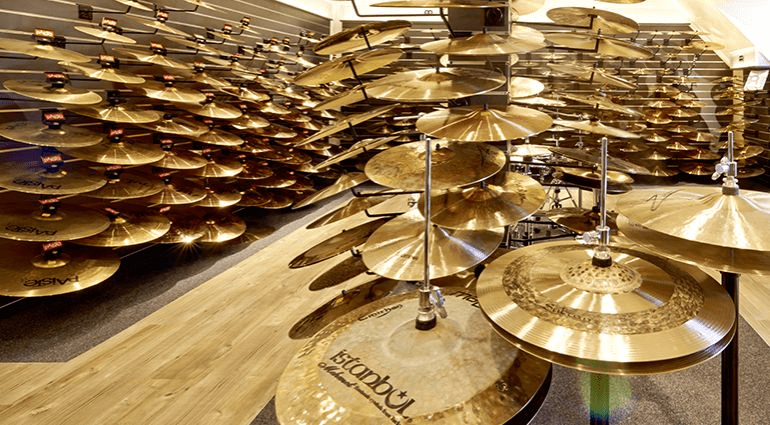 Cymbals: a practical guide
Cymbals: a practical guide
In addition to the snare, cymbals can decisively determine your drum sound. The choice is so vast that it is often difficult for drummers to quickly find the right model. This becomes even more complicated when you consider personal taste, styles of music and playing locations. In this guide, we compiled some useful information about cymbals to help you on your search.
---
Material: brass, bronze B8 or B20?
The alloy from which a cymbal is made from, has a major influence on its sound. Most professional models are made of a bronze alloy with a tin content of 20%. This alloy is called B20 and is used by almost all manufacturers. B8 cymbals made of 8% tin are visually different to the B20 models because of their reddish tint. The B8 versions produce a clear bright sound whereas the B20's produce a warmer and softer sound. While manufacturers such as Zildjian and Sabian produce their higher and mid level sets with bronze B20, the Swiss manufacturer Paiste is renowned as a pioneer for using B8 bronze. Their legendary 2002 series is based on this alloy. Brass on the other hand, is used exclusively for entry-level models. This material is cheaper and can be formed with little effort. In professional setups, brass cymbals are usually used as a sound effect.
The heavier it is, the louder it is!
Weight is a very important factor in terms of volume, presence and feel and playability. Terms such as Heavy, Power, Rock or Metal correspond to heavy models, whereas the terms Medium, Medium-Thin, Thin or Jazz suggest moderately light- to light-weight models. A heavy cymbal tends to sound metallic and louder than a light cymbal of identical construction. At the same time the response is slower and the resonance is longer. Therefore heavy cymbals are more suitable for vigorous drummers playing in louder bands.
Heavier cymbals are also more audible on larger stages. But be careful: going overboard with the weight, runs the risk of the overall sound becoming too heavy and annoying to all. If you play Rock, Pop, Funk, Soul or Hip Hop, you will certainly be more than satisfied with average weight models. The current trend for these musical styles are the very thin models which respond quickly and fade just as quickly. If you often play in small venues, accompany a singer-songwriters, or consider yourself a Jazz drummer, you may find that thin cymbals that require little impact energy to achieve their fullness of sound to be more appropriate.
The size of the diameter
Does a 14″ Crash match your music more than an 18″ Crash? This depends on what type of drummer you are. If you like to play powerful, then cymbals below 16″ may not be the best choice, this is because they saturate quickly and sound less full than larger versions. Sound diffusion is usually better with a large cymbal, which is important when the environment is noisy and vast. Whereas drummers who play softly generally prefer thin cymbals for their round and soft sound. If you are not sure about your musical style, you can't go wrong with 14″ hi-hat cymbals, 20″ Ride and Crashes between 16″ and 18″.
The size of the bell
Even if you don't often play the bells, they still have a significant impact on the sound of cymbals. They add harmonics which ensures the presence and the ability to concentrate the sound through the cymbal itself. Drummers who played flat-rides know what we're talking about. Compared to Normal Rides, these models are more passive, less powerful and fade quickly. You can hear a similar effect when you put your hand on the bell of your Ride while playing it. A heavy cymbal with a large bell is therefore more powerful, with more "ping", and richer in harmonics than a thin cymbal with a small bell.
To buy separately or as a complete set
Generally the price of a complete set of cymbals is more beneficial. However, if you already have an exact idea how your cymbals should sound, there's the possibility that one of the cymbals in the set won't match your taste. The set can still be worth it if you simply sell that cymbal and replace it with the cymbal of your dreams. Here are some suggestions in different price ranges:
A reasonable set, very well processed and suitable for various styles of music at less than 200 euros.
At just 370 euros, this cymbal set offers a virtually unbeatable quality/price ratio and can be used professionally.
Istanbul Mehmet Samatya Cymbal Set 1-18
A bestseller among cymbal sets. These handcrafted Turkish cymbals deliver a warm and complex sound.
Zildjian K-Series Profi Promo-Pack
This set meets the highest requirements in terms of sound and versatility. The K series is one of the most legendary series with a warm and classic sound.
Meinl Byzance Thomann Edition Set
This set is not only for fans of Benny Greb. Achieve dark sounds and fast response on these cymbals, that consist of a special sand-blasted surface.
We offer a large number of exclusive cymbal sets composed by our specialists, which includes best sellers, and cannot be purchased elsewhere. This set is extremely versatile and is priced well below the total sum of the individual cymbals.
Effect cymbals
You have your basic set and are wondering how to broaden your sound palette with interesting sounds. Twenty years ago, the answer would have been easy: get a China or a Splash! Other than hi-hats, crash and ride cymbals, there was nothing else. Today it's different. Here are some of the effect cymbals available today.
Dave Weckl is one of the first well-known drummers that used "O-Zone" cymbals with customized holes developed by the company Sabian. It was mainly Crashes, Splashes and Rides that were provided with holes, but even Chinas and hi-hats are no longer safe from the drill. The holes on the one hand provide for a lower weight, and on the other hand a trashy and raw sound with much less resonance, and also a less brilliant finish than a normal cymbal.
Stacks: These are not only popular among progressive rock drummers like Mike Portnoy (Sabian HH MAx Stax Low), but also in rock and soul such as reputable dummer Ash Soan, who often replaces the Ride with a Stack. You can also build your stacks yourself and create your own sound by using two cymbals from your set or with broken cymbals. Of course, there are also commercially paired versions which have the advantage of sounding great off the bat, such as this combination, Paiste PSTX Swiss Flanger Stack
Other effects: Other interesting additions for fans of individual sounds, include the Zildjian Spiral Trash, which consists of a spiral cut Crash cymbal and produces a deeply modulated sounds. A very inexpensive and effective way to change a cymbal sound is to use a Meinl Ching Ring. This simply rests on the bell of a Hi-hat, Crash or Ride, and in no time you have the combination of a cymbal and a tambourine.
Paiste PSTX Swiss Flanger Stack
Zildjian 18″ A-Series Spiral Trash
---
More reading material: 
WHAT ARE THE BEST MATERIALS FOR DRUMS?
DRUMMER WARM-UPS FOR ACHIEVING SMOOTHNESS
10 TIPS TO EXPAND YOUR ACOUSTIC DRUM SET
10 MUST HAVE DRUMMER ACCESSORIES