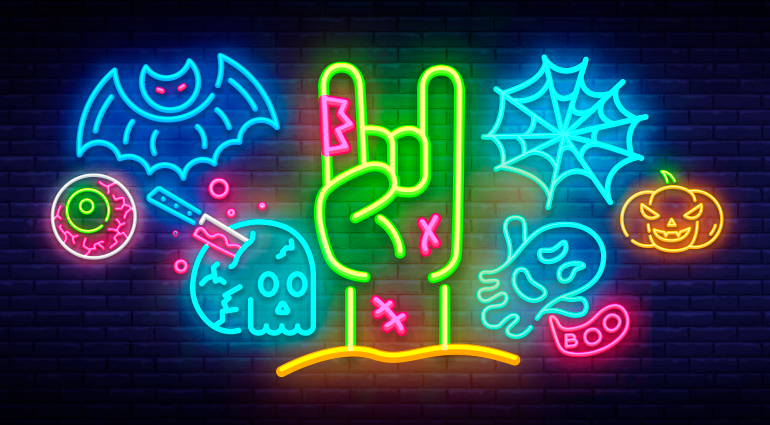 8 Bands for your Halloween Playlist
8 Bands for your Halloween Playlist
Costumes, fake blood, shocking and often provocative lyrics: these "shock rockers" live Halloween everyday of the year. All the more fitting to take a look at some of the most prominent representatives of this controversial genre at the Big Pumpkin Festival! Here are some recommendations for your seasonal playlist:
? Hear the Spotify playlist! ?
Alice Cooper – King of Shock-Rock
Alice Cooper's career as a "shock rocker" began with a … rumour. It's 1969, a fan throws a live chicken on stage during a performance. Cooper, thinking the chicken had wings, tosses it back into the crowd. The chicken, of course, doesn't fly, and the press takes the opportunity to create a scoop: "Alice Cooper bit off a chicken's head on stage." Obviously he didn't, but fake blood, creepy make-up and his black humour have become, riding the wave of gossip, his trademark. In addition to "School's Out" we also recommend "Welcome to My Nightmare".
Misfits – Pioneers of Horror Punk
Make–up that recalls the appearance of a typical decomposed corpse and themes from horror films: these are just some of the characteristics of the Misfits. With their brilliant refrains and their attitude (and image) they made history as the founders of horror punk. Provoke every limit: Frontman, Glenn Danzig, started a fight in a bar during a support date for the British band The Damned and was subsequently put behind bars. And it is from this experience that "London Dungeon" takes its name.
King Diamond – Horror + Cinema
To use a particularly exaggerated euphemism, it could be argued that King Diamond's performances with Mercyful Fate can be called musicals … horrific ones! Considering the various props, the gruesome stories narrated by King (in his signature falsetto voice), there was little to cheer about. The themes are anything but happy for King Diamond, a trait on which he has built an entire career. "The Puppet Master" is simply a classic.
Gwar – Social criticism from another universe
Gwar have a long history behind them: since 1985 that the band amazes fans with onstage costumes, irreverent lyrics and sci-fi / horror themes. Unfortunately, the singer and latest founding member of the band Dave Brockie (aka Oderus Urungus) died in 2014 at the age of 50 (if we talk about earthly life … he was actually 43 billion years old;)). The band regularly (and cheekily) ridiculed politicians and celebrities onstage, a trademark of their very intense concerts. Tonight, have a listen to "Go To Hell"!
Marilyn Manson – A deviant who pops like Bowie
By the '90s, figures like Alice Cooper were well established and it was hard to make music or concerts that scared people. It was at that moment that the sick and deviant character of Marilyn Manson emerged, bringing with him criticism, amazement and gossip. He has pushed himself beyond all limits, album after album, becoming an artwork himself. How does the now 51-year-old still amaze us with each of his works? Meanwhile, his new piece, "We Are Chaos", has been released, in which the eccentric Manson seems to play Bowie-esque pop… Just listen to it.
Slipknot – maschere e status quo
We usually dress up only on Halloween and Carnaval. Slipknot have been doing it non-stop since 1995! Their particular stage presence has often been (erroneously and ignorantly) associated with Satanism, praises of violence and "occult" practices. Slipknot's lyrics simply speak of social unease and introspection.
'Knot's latest work, "We Are Not Your Kind", released in August 2019, was a commercial success. One of the highlights is "Unsainted", and in our opinion deserves to be on this playlist.
Lordi – A… voyage through time?
The latest work from this peculiar Finnish band that gravitates around its frontman, Mr. Lordi, is a curious album. "Killection" is literally a sort of "best of" album which reaches back to the '70s (all made up, of course), including vintage sounds, vinyl effects and other goodies to make it all very believable: in essence, they pretended to be a band active since the '70s with its historical record (artfully built in the modern era). "Scream Demon", from the album mentioned above, is perfect for a halloween-themed night.
The Mummies – Costumes as work uniforms
Halloween, as a concept, is similar to chance: living and dead coexist and their lives intertwine during this notorious night. The garage / surf punk band "The Mummies" was BORN for Halloween. Made up of prominent members of the San Francisco punk scene, they used to dress up as mummies for every concert. The singer, Trent Ruane, is a fervent supporter of stage "costumes", which go hand in hand with the irreverent – almost arrogant – attitude of the band. Their specialty? Surf punk covers of '60s songs. "The Fly" deserves to be on the playlist.
---
When you think of Halloween, what band or song comes to mind? Let us know with a comment!