10. Inline G vs Offset G
Boehm's original design, as well as having closed holes, also had offset G keys. It was made in this way to better fit the shape of the player's hands. However, it's thought that the French Flute maker Louis Lot saw this as reducing his profits - two extra posts, extra silver strapping, an additional internal rod and more barrel tubing were needed to manufacture a flute with offset G keys – this translated into extra cost! However, if the G keys were made to be in line with the rest of the mechanism, the extra materials could be saved, and labour and manufacturing costs also reduced.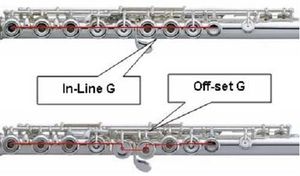 An offset flute is more ergonomic though, and also avoids overloading the core mechanism of the flute. Although inline flutes are traditionally preferred as more aesthetically pleasing, this preference is slowly being eroded as flute players place more importance on comfort and fending off repetitive strain injuries, and as the reason for the inline flute's existence becomes common knowledge.
in de ‹berblick