3. Basic Features
In the first instance, headphone amps are defined primarily by their intended area of use. Most obviously, the priorities for studio and live models are rather different: sound quality is usually the most important factor in the studio, whereas high quality is of little use in a loud live situation if there is not enough volume. Of course, many units are intended for general use in both areas, particularly in the lower price range.
The simplest headphone amps enable a single listener to use headphones in conjunction with equipment that lacks a headphone output. This is often the case with audiophile hi-fi components. Also, some equipment (including budget/mid-range hi-fi amps and many budget mixers) is let down by headphone outputs which are of poorer quality than the main outputs. This type of headphone amp usually has a single pair of phono or jack inputs, one or two stereo headphone outputs and a volume control.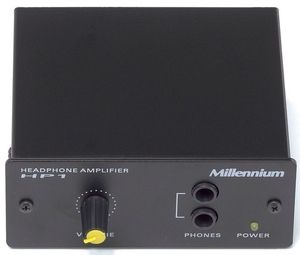 Headphone amps are also defined in terms of number of channels (inputs) and number of outputs, and the two must not be confused. In the studio, most mixing desks (and computer audio interfaces) have a single headphone output; occasionally there may be two. This is often perfectly adequate in a home/project studio; the main reason for equipping a studio with a headphone amp is to enable several people to use headphones at once. This defines the next-simplest type of headphone amp, which has a single stereo input but several (typically four or eight) headphone outputs. Controls are usually limited to a volume control per output. In the studio, this makes it easy for each musician to control the volume in his cans, but does not help when a singer asks to hear more of herself and less of everything else while the other musicians want just the opposite…
A multi-channel headphone amp may help in this situation. At its most basic, such a unit simply comprises several stereo headphone amps within one box, each with its own input and output. To keep the singer and musicians happy in the above example, the recording engineer would have to create several different mixes (usually using aux sends) and feed each to its own headphone amp channel.
This often works well enough, but still means that the engineer constantly has to deal with requests for more of one instrument or less of another. A more sophisticated variety of multi-channel headphone amp which solves this problem is essentially a simple mixer, but with the controls grouped by output rather than input. In the case of a typical '4x4' unit (four ins, four outs), four headphone output sections each have four volume controls corresponding to four inputs. The engineer simply sends separate instruments (or submixes) to each channel; each musician has total control over how much (if any) of each input he wishes to hear.

Many designs can be switched between these modes of operation. Of course, the sound engineer can also achieve a compromise appropriate to a particular session, for instance by sending the main mix to one channel while reserving three channels for particularly important components. He could even phase reverse these so that while the musicians all get the same basic mix, they can turn an individual channel knob up in order to hear less of a particular instrument!
As with many other pieces of equipment, attention to specifications can be important. In particular, make sure that any headphone amp under consideration is designed to match the impedance of your headphones. While most budget/mid-range headphones and amps will all work together happily, some high-impedance studio headphones (400-600ohms) will not be driven properly by consumer-grade headphone amps and will sound very quiet as a result.
Headphone Amps overview