Turntables: Which Is Right For Me?
Turntables: Which Is Right For Me?
Eat, sleep, rave, repeat! 🙂 Vinyl is more popular than ever. A record doesn't convey a momentary, digital impression of the music, but preserves it for all time as a physical groove cut into vinyl. You can touch it, collect it, and pass it along, and it's simply fun to play! But you'll need a turntable, and there's a wide variety available for any application. We'll help you find the right one!
---
1. Turntabels for DJs
For authentic mixing and scratching, you'll need two manual (non-automatic) turntables with pitch faders, direct drive, and powerful motors. The Technics SL1210 – the "mother of all DJ turntables" – was recently reissued as the MK7 version, after Technics had surprisingly withdrawn from the turntable business for several years in 2010.
The Reloop RP-7000 MK2 is also an excellent turntable with an exceptionally powerful motor. For smaller budgets, the Reloop RP 4000 MK2 or the Audio-Technica AT-LP140XP are affordable alternatives. And it goes without saying that you'll also need a mixer with at least two channels.
---
2. DVS
DVS stands for "Digital Vinyl System", which refers to controlling DJ software such as Serato, Traktor, or Rekordbox using vinyl records that output a timecode signal instead of music. Many modern DJ mixers are now DVS-certified. If you don't own one of these, you can use a dedicated DVS interface like the Reloop Flux.
DVS DJing is most fun when you combine the traditional art of turntablism with the modern version – "controllerism". As an alternative to special controllers for the cue points, loops, and effects of your DJ software, you can use the Reloop RP-8000 MKII. While it's mostly identical to the RP-7000 MK2, it offers a set of RGB pads for controlling your software as an extra feature.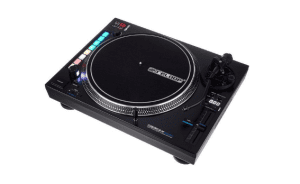 Reloop RP-8000 MKII
---
3. Turntables: Home Listening
Many vinyl enthusiasts simply want to listen to music in the comfort of their home in the best possible quality. For this, you don't need a pitch fader or a plethora of colourful buttons. This is where an automatic turntable comes in handy, which automatically returns the tone arm to its resting position when the stylus reaches the end of the groove. Turntables in an exquisite walnut finish like the Thorens TD 1601 or TD 1500 are a perfect fit for the living room. Another option: the Thorens TD 402 DD black.
Pro-Ject Debut RecordMaster turntable, which is available in black, red, and white finishes in addition to walnut. High-quality hi-fi listening is the domain of fancy, elliptical diamond styluses. While they're not suitable for scratching, they deliver an especially high degree of fidelity for home listening.
---
4. Digitisation
If your goal is to digitise your record collection in the highest possible quality, the best option is to use a high-quality turntable and a separate audio interface, as these are usually superior to the built-in interfaces of certain turntables. But if you're on a budget, you can use a DJ turntable such as the Dual DTJ 301-1 USB or the American Audio TTD 2400 USB MKII. As their names suggest, these feature built-in USB connectors, so you can hook them up directly to your computer and digitise your vinyl collection to your hard drive.
---
5. Portablism
"Portablism" is a relatively new subgenre of turnablism that makes use of portable record players. These compact players are also great for travelling, browsing flea markets, or simply hanging out with your friends in the park. They run on rechargeable or alkaline batteries, can be connected wirelessly to any Bluetooth speaker like the Reloop Spin, or output a digital signal via USB like the Numark PT-01 Scratch or Stanton STX. While you shouldn't have overly high expectations in terms of the sound quality, these portable turntables are great fun!
---
6. Turntables: The right Cartridge
Any turntable is only as good as the cartridge! Whether it's mounted beneath the headshell like the Audio-Technica AT-XP7 or sports a sleek single-body Concorde design like the Stanton DS4 or the especially affordable Fun Generation Scratch: The needle of a DJ turntable must be able to handle cueing and scratching. The Concorde design was invented by Ortofon, whose Concorde MKII series comprises a wealth of cartridges for various DJing applications. They also come in pairs for equipping two decks with identical systems.
Ortofon also offers the highly acclaimed 2M and MC Quintet series, which are highly recommended for home listening. These styluses feature an elliptical cut, which ensures a larger contact surface in the groove, resulting in better high-frequency response and less wear. The selection ranges from the affordable 2M Red to the MC Quintet Black S, which costs a bit more and boasts a superfine Shibata stylus. Audiophile enthusiasts certainly won't mind the price, as the precision-cut Nude diamonds guarantee utmost fidelity.
---
7. Phono vs. Line – the right Preamp
Many modern turntables feature a line output in addition to the phono output, which means that they're equipped with built-in preamplifiers. But there are many – even professional ones like the Technics SL-1210 – that still require a mixer or amplifier with a phono preamp. No, the "phono" input isn't meant for your smartphone – as one could be led to believe these days – but serves to boost the level of a connected turntable to line level.
Virtually every DJ mixer offers this type of input with RIAA equalization. But if you want to listen to your records at home without using a DJ mixer, you'll either need a hi-fi amplifier with a phono input (a near-extinct species) or an external phono preamp that outputs a line-level signal. Caution: There's a significant price difference between budget models and high-end hi-fi devices. Some tried-and-true models are the Millenium PHP 2 and the ART DJ Pre II Phono Preamp. The latter is also suitable for use with high-quality moving-magnet cartridges.
---
---
Advice on questions about DJing and turntables
Do you still have questions about turntables and DJing? Do you need advice on finding the right turntable or DJ gear for you? Our team in the DJ department will be happy to advise you – without obligation, of course. Just contact us!
Email: dj@thomann.de
Tel: +49 9546 9223-441
You are also welcome to browse the DJ category in the Thomann shop to find the right equipment for you!
---
 Feedback turntables
We hope that we were able to give you some useful tips for choosing the right turntable and cartridge. How do you listen to your records and which turntable do you use? Let us know in the comments!