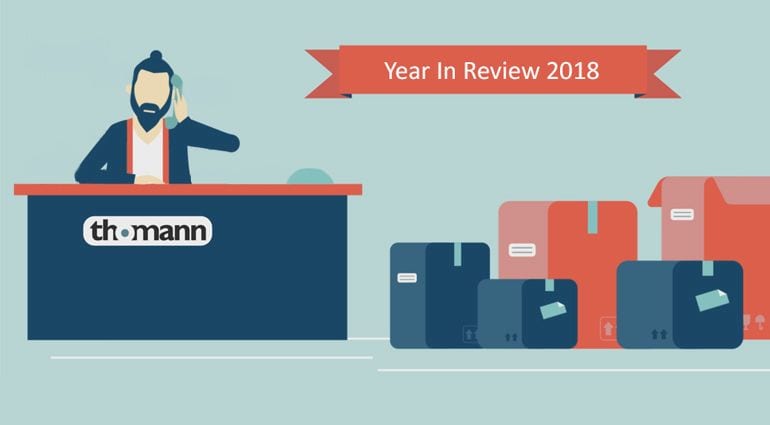 THOMANN 2018 – THE YEAR IN REVIEW
THOMANN 2018 – THE YEAR IN REVIEW
What an incredible year! We've set our own shipping record, to be specific: 26,875 packages in just a single day. Also in 2018, we were able to welcome our ten millionth customer! That's just great. To celebrate that, we've collected even more interesting facts and impressive numbers referring to 2018, a great year for Thomann…
---
---
~ 1,380,000,000 visits to the Thomann website:
In numbers, that's the total population of China – or, in other words: every German citizen has visited the Thomann homepage 16 times this year.
---
Mean time spent on the Thomann website: 5 minutes, 10 seconds
That's the exact length of "You've Got Another Thing Comin'" by Judas Priest.
---
Most orders on a single day (Black Friday 2018): 27,874
If we stacked the boxes shipped on this single day, the cardboard tower would be about 11,150 meters high … that's 13.5 times the Burj Khalifa, the tallest building in the world – or: 1.26 times Mount Everest, the highest mountain in the world. 
---
Eye candy:
In 2018, we've uploaded 167,153 new product photos for you.
---
Something for your ears:
We've uploaded 16,249 new audio samples as well. Sounds good! 
---
Your opinion counts:
You've been quite busy this year… we've received 267,166 new product reviews and a total of 2,685,159 new stars for the products in our assortment – so the night sky over Treppendorf is glowing brightly ;-). Thanks for that.
---
Well insulated:
In 2018, we've sold 196,063 products in our "Acoustic Treatment" category. If we assume an average of half a square meter per absorber plate, this adds up to around 98,000 square meters. We could cover 14 football fields with that.
---
Well wrapped:
"Stage Tape" has been sold 191,244 times this year. Assume an average of 50 meters per roll and we could tape down the route from Treppendorf to San Francisco.
---
Well filled:
85,725 canisters of fog fluid have been sold … that's about 430,000 litres – or: 33 tanker trucks with 18 tonnes each.
---
Well fed:
Our t.Kitchen has continued to cook at full speed for our customers and all Thomann employees in 2018. We served:
~18,200 portions of "Currywurst"
~1.5 tonnes of chicken nuggets
~9,000 schnitzels
~20,500 sandwiches
~Over 32,000 "'Leberkäsbrötchen"
~A sensational 8.1 tonnes of French fries!!!
In addition to these, customers have downed around 65,500 cups of coffee and over 8,000 litres of energy drinks. Cheers to that! 
---
We are growing:
In 2018, we've had 2,500 applicants to open positions. 215 of them are now part of the Thomann family! 
---
Surprisingly, for a music store, we employ:
4 professional climbers

10 photographers

3 gardeners

2 architects

5 cooks
---
Store visitors:
150,000 people visited our beautiful store in Treppendorf.
---
Parcels sent:
5,587,420 parcels have gone on their musical journey to you and your loved ones. 
---
And in the end, something strange:
2018, more precisely on 26th July 2018 at 16:17:21, precisely one customer searched our webstore for the "Flux capacitor". Sorry, Doc Brown, already sold out! No time travelling this year … ¯ \ _ (ツ) _ / ¯
---
The Thomann team wishes you a happy new year! Come back in 2019 and rock on! ??