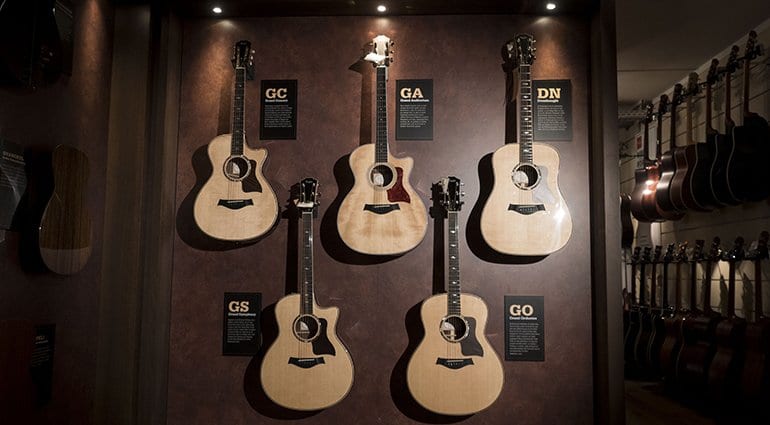 New Taylor area in our guitar department
New Taylor area in our guitar department
We now have a new area in our store dedicated to Taylor! Over 48 guitars are displayed, including information about the different models, from the Dreadnought to the Grand Symphony: shapes, materials used and sounds, with a detailed look at all the characteristics of the guitars!
The guitars are not just there for the pleasure of your eyes, but also for the pleasure of your ears, as of course you're free to play them as well! Among others, you will find that the 200, 600 and 700 series are ready to be tested.
Photos of the Taylor display area
About Taylor
Taylor was founded by Bob Taylor and Kurt Listug in 1974, and is now one of the world's leading guitar manufacturers of premium acoustic guitars. Based in El Cajon, California with over 900 employees, they produce hundreds of guitars a day, distributed to 60 different countries.
Widely recognized for their notable innovations, such as the patented "Taylor Neck" and "Expression System"(ES2) pickup, their innovative approach to guitar designs and outstanding craftsmanship, was quick to catch on among guitarists, capturing their hearts with their clear sounds and smooth playability.
Popular models
In October, Andy Powers master luthier at Taylor, visited Thomann and spoke with us about the latest Taylor models and his passion for guitar! Enjoy the video!