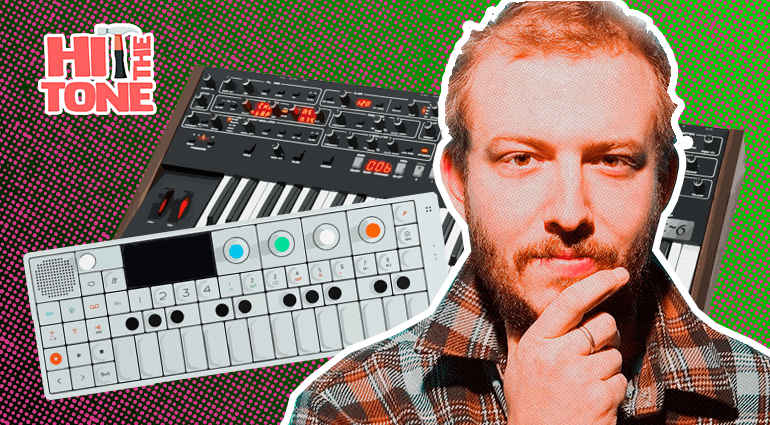 HIT THE TONE! Inside Justin Vernon's head (Bon Iver), the "techie-folkie" 
What's this guy been up to lately?!
Well, he simply got tired of being (just) a dude with a guitar. Even if his new purists make some old fans shed a tear, what Justin Vernon has done on his last two albums is nothing more than giving a twist to his musical upbringing. And that's what it was all about, isn't it? The artist must evolve according to her/his feelings and experiences without being stuck in the same creative rut all their life. For him it would be very easy to make Skinny Love-inspired songs for the rest of his career. But where his brilliance resides is in the songs, so no matter how many technological twists Vernon makes there are always sensational songs underneath. He;s great at creating exquisite cocktails of folk, Americana, soul, electronica, ambient and art pop. On his latest album, i, i (Jagjaguwar, 2019), the Wisconsin-raised bearded man refines his aim and delivers an organic and balanced repertoire which borders on genius on several occasions. So, let's talk about "technological Vernon"...
His new "guitar"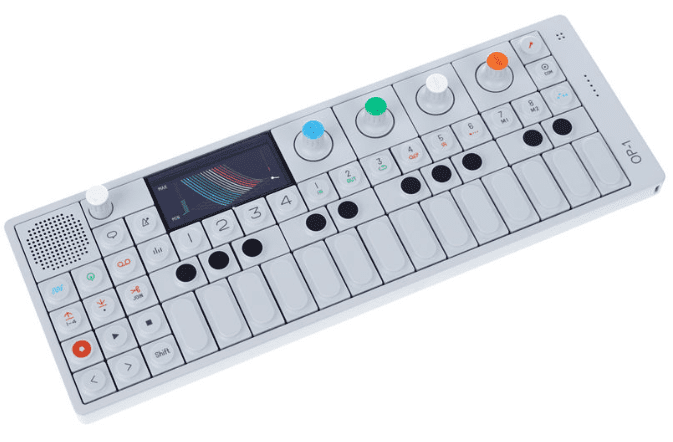 "I think the instrument I work with the most is the OP-1. I would say that it is the most important instrument that has come into my life since I picked up a guitar when I was 12 years old. I'm not exaggerating. I never leave home without it. In fact, I no longer travel with my guitar, I travel with my OP-1. That change has been a bit strange, but I love making music with OP-1. I like to use it as an extension of my writing, it's a very special technology: essentially, what a guitar is to me".
These are the words of Justin Vernon, who captures his interpretation of things and uses the OP-1 to mould and manipulate sounds. Then it's just a matter of dressing up the songs. But let's go back to the origin: What the hell is this Teenage Engineering OP-1? It's a mini synthesizer that offers a lot of tools (synthesizer, sampler, multi-track recorder, an FM radio to sample what you find) unheard of for its format. It has eight built-in synthesizer engines, multiple effects, LFO and sequencers. The recording function is especially important with its four-track tape (to which textures can be added) and the ability, for example, to match the tape speed with the sequencing clock and create overdubbing effects with pitch shifting. Finally, its G-Force sensor allows you to work with motion-controlled effects (if you turn this on and tilt the synth it warps the sound).
This list of features, in addition to the great autonomy of its battery and its size, make the OP-1 a device that is difficult not to fall in love with. We understand, Justin.
---
Other options?
Of course. We already forgot about small formats, because Justin Vernon also uses standard-sized synthesizers. Another of his favourite instruments is the Sequential Prophet 6. We're talking about a synthesizer with 49 keys with aftertouch, 6 voices, analog routing, discrete voice filters, an arpeggiator with several modes (versatility is one of its greatest assets), sequencer with up to 64 steps, a multitude of effects and analog distortion. Its accessible learning curve and the power, warmth, subtlety and balance of its sound also stand out.  
Another interesting option in this field would be the Moog Subsequent 37, which improves the musicality of the celebrated Sub 37 Tribute Edition and gives you twice the headroom (the available space in dB [decibels] between your loudest peak level [transients] and 0 dBFS [decibels full scale]. This detail, apparently minimal, gives the synthesizer greater flexibility. It stands out for its great power in bass and mid-range, as well as a greater harmonic impact in saturation, which translates into a stronger tone and richer in nuances. In addition, the Multidrive circuit has been improved, leading the Subsequent 37 to unexplored distortion levels in a synthesizer.
And of course, if we're talking synthesizers, Dave Smith Instruments will have something to say. Two more interesting proposals from the Californian firm can be the Prophet REV2-16 and the OB-6. In the case of the former, we are talking about Dave Smith's reinterpretation of the great Prophet '08 poly synth. As is common in these revisions, the REV2-16 retains the best of '08 and improves it: it has double the modulation, more digital effects per layer, a polyphonic step sequencer per layer… madness! In addition, it allows you to download the '08 sound library and add them to the already huge collection it includes. In the case of the OB-6, it's a six-voice polyphonic analog synthesizer, which includes two discrete VCOs per voice, a two-pole filter per voice and a four-phase envelope generator. It stems from the collaboration between DSI and Tom Oberheim (famous for his hyper-defined sound), two of the most prestigious brands in the history of polyphonic synthesizers.
We end this review with Behringer DeepMind 12, a somewhat more economical but equally interesting and competent synthesizer. It's analog with 12-voice polyphony, arpeggiator, sequencer, two oscillators, 2 LFOs, three envelope generators, eight banks of 128 presets each…a tremendously useful instrument. Although its learning curve is somewhat more complex than that of other synthesizers, its somewhat lower price and competitive performance level make it a highly valued instrument.
---
It's time to sing!
Vocal treatment is another change that has taken place in Bon Iver's music, although more subtle. And we're not just talking about microphones, but that's where we'll start…
The Sennheiser MD431II Profipower is frequently used by his touring sound engineer, Xandy Whitesel. This is a microphone that is often used for high-pitched voices and excels when rejecting feedback and nearby noises. The Shure SM57 LC, on the other hand, has been used by Vernon in sessions for capturing ambient sounds and any instrument he wanted. This is one of the most versatile microphones out there: it can record almost anything. The third microphone we highlight here is the Shure SM 7 B. In 22, A Million (Jagjaguwar, 2016), his previous album, in which Vernon began to separate more from orthodox folk, he used this microphone a lot. It is a device that offers a very compensated and brilliant response in all sound spectra. Vernon explored different distances (sometimes blending tracks with different distances) from the microphone to generate different textures and to add depth.
And, well, we said it wasn't just about microphones. We present the AMS Neve 1073LB Preampmodule 500er API, a microphone preamplifier that Vernon has been using since he locked himself in a cabin to write what would be his first album. This is a replica of the classic Neve 1073, but adapted to current times. The 1073 LB extends the features of its predecessor, adding adjustable Trim control, switchable microphone input impedance, gain control with LED presence signal, intelligent phantom power switching and intelligent Audio Processing Input design, manufactured by Neve.
Anyone who has listened carefully to i,i and 22, A Million will have realized that Vernon is tending to use his voice as another instrument and applying, in coherence, the same treatments and tools that he uses with the rest of instruments. This is where the TC-Helicon VoiceLive 3 Extreme comes into play, a vocal harmony effects pedal that includes features such as a loop with three separate phrases, vocoder with polyphonic synthesizer (controlled by voice), wide selection of voice and guitar effects, harmony control for guitar, playback-import to automate effects and 24-bit stereo recorder. It is an intuitive, versatile and very complete pedal board.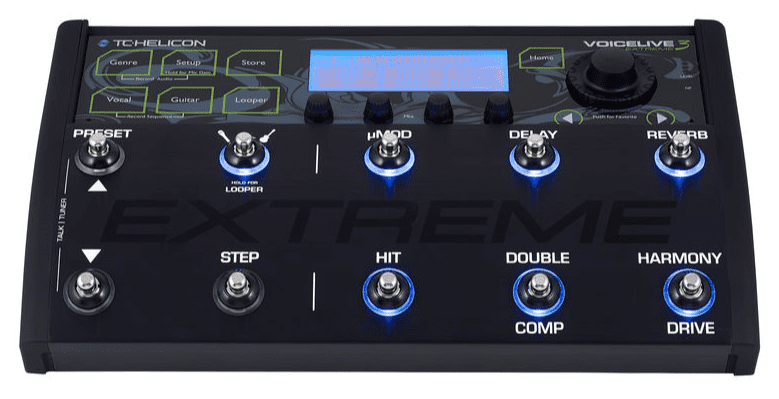 ---
Woah, still more?
Yes, but we're almost done. In fact, this section will serve as a sort of tickle trunk for some of the other tools Justin Vernon usually uses.
The one on the left is the Antelope OCX HD, a universal high definition master clock with sampling frequencies up to 768 kHz and an Acoustically Focused Clocking (AFC) jitter handling algorithm. It has ten configurable Word Clock outputs, BNC connectors, four AES/EBU outputs and two S/PDIF outputs. It is considered one of the most versatile and reliable audio master clocks on the market. Yes, this is very nerdy stuff but important if you want that professional edge in your music. The one on the right is the Bricasti Design M7, a stereo reverb processor (100 presets) that provides many options when playing with the density and intensity of the reverb, allowing many nuances to come into play.
Now, let's talk software. The Eventide H3000 Factory is a plugin that includes many of the mythical effects of the H3000 Ultra-Harmonizer.  It includes, among others, delays, amplitude modulators, envelopes, pitch shifters, LFOs and a generator function, which offers 19 different waveforms, a pink noise generator, as well as MIDI control and sidechain input.
The Ableton Live 10 is a MIDI audio sequencer that lets you produce, mix and compose. In any of its two versions – the Suite and the Standard – it offers a series of functionalities prepared to record at the moment, and in a very intuitive way (session view based on clips with clip automation, classic track view and browser with preview functionality based on tempo), any idea that comes to your mind.
---
Conclusion
It's clear. Justin Vernon's trajectory sends a clear and concise message: it is the artist's obligation to turn evolve in his/her sound, to go deeper and escape from what s/he handles with ease, to take it further. This evolution has been propelled by two factors: the clairvoyance with which the bearded Wisconsin has decided to face a path conceptually and his expertise and curiosity for technology. Without either, Bon Iver's last two albums would be… more of the same, and likely "watered down". It's the things that separate the very good from the indispensable. And Justin Vernon is striving to be one of the indispensable ones.