Guitars for Kids – According to age and height
Guitars for Kids – According to age and height
The acoustic guitar is one of the instruments with which children of all ages can enter the music universe. Small and large beginners alike depend on easily playable instruments of reasonable quality so the dimensions of the guitar must be chosen to match their size. We have a practical online tool that can help you choose the right guitar, more on that below. First of all, here are our general tips on what to consider when buying a guitar for kids. 🎸
---
A wide variety of student guitar sizes
The 4/4 size of the classical guitar – the general standard – is designed for a person with a height of 1.8 m. We are already noticing that even smaller adults can reach their limits with such instruments. Fortunately, however, guitars are built in a variety of different sizes that are suitable for children and young people. The most common of the smaller sized student guitars are the 7/8, 3/4, 1/2 and 1/4 sizes . It gets really cute with the 1/8 size. Get 'em started early! Here you can find all classical guitars on thomann.de .
Note: Tables and our tips provide parents with guidance. Children ultimately decide for themselves which instrument he or she feels comfortable with. Since every child is different and has a different physique, the young musician knows best.
Full-fledged instruments, not toys
Importantto keep in mind: Even with the smallest guitars we are not talking about toys, but rather full-fledged instruments that are qualitatively equal to adult instruments. And with a 1/2 size, the instrument is not completely shrunk in half. Rather, it is mainly about the scale length, the length of the free-swinging strings, which in turn affects the number of frets and the distance between the frets. The fact that the instrument body is smaller means that the sound will be quieter and a little less bass-heavy.
Small classical guitars vs. western guitars
For starting out, acoustic guitars with a classic design – concert guitars / classical guitars – are best suited. The necks of the guitars are relatively wide (compared to western guitars ). This makes it easier for beginners, in particular, to grasp. In addition, the nylon strings used are gentle on the fingers. Nylon strings are not only much softer than the steel strings used on western guitars but they also have a lower tension, so that pressing down is easier. You can learn about the different types of classical strings in the video below: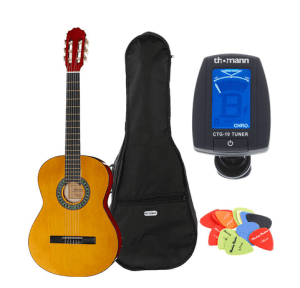 General recommendations can only be approximate
But how should parents – and the children themselves – find out the right guitar size? We can certainly approach the topic with a good portion of well-founded background knowledge. There are extensive papers and specific recommendations, for example from the European Guitar Teachers Association EGTA, which are based on decades of experience and sometimes complex calculations. However, the general recommendation tables must be read with caution, especially since they cannot reflect the individuality of the kids. So a child can be small but have longer arms and fingers, or vice versa.
The trusty "elbow test" by Ekhard Lind
The so-called elbow test by Ekhard Lind, the former concert guitarist who taught at universities in Salzburg and Stuttgart for around a quarter of a century, has also proven its worth. With the Lind elbow method, the guitar is turned upside down. Then the guitar student places his elbow on the body and holds his arm parallel to the guitar neck. As a result, the lowest knuckle of the wrist should be level between the first and second fret.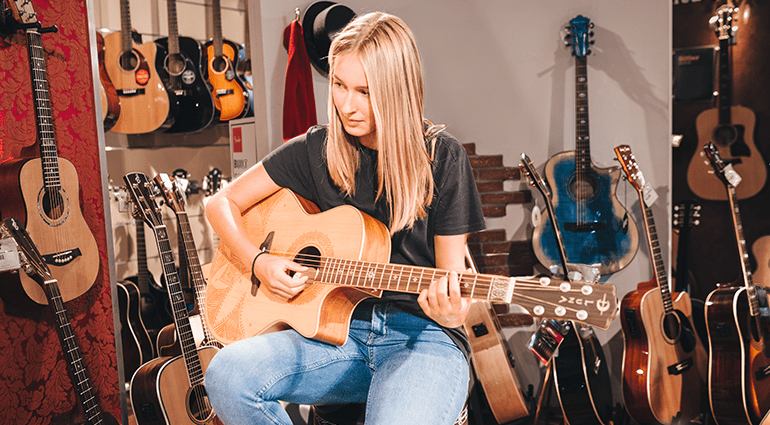 Practical guidance: our online tool
However: if you just want to buy a bread roll, you don't train to be a baker beforehand. We have integrated a practical tool with recommended sizes and ages of acoustic guitars in our shop so that you have an uncomplicated as well as accurate opportunity to orientate yourself in advance when choosing an classical guitar . Just one click on the corresponding button and you will immediately be shown suggestions with the right guitars of the respective size.
Which guitars are useful for which age and body size?
It goes without saying that the classification based solely on the age of the child involves certain pitfalls. After all, the kids grow at different speeds and it's actually more about body size and especially about the length of the arms. The age is therefore a rather general reference point. Or to put it another way: If your 15-year-old child towers over you by two head lengths, they are not automatically older than you. Don't digress, back to the topic. Here are a few specific suggestions as to which guitars make sense for which age and body size:
---
4 to 6 years
For the age group of 4 – 6 years with a height of approx. 110 cm, 1/8 guitars are particularly suitable. For example Micki von Hellweg , which is characterized by its solid spruce top.
---
5 to 8 years
5- to 8-year-olds with a height of approx. 110-130 cm can find their way around on a 1/4 guitar. The 1/4 size La Mancha Rubinito CM / 47 is the 2017/2018 model recommended by EGTA. The concert guitar is equipped with a solid Canadian cedar top.
---
7 to 9 years
1/2 concert guitars are recommended for kids between the ages of 7 and 9 with a height of 120-140 cm. The Cordoba Requinto 1/2 Classical Guitar combines a solid top made of Canadian cedar with back and sides made of laminated mahogany.
---
10 to 13 years
3/4 guitars are aimed at students aged 10-13 years with a height of approx. 130-150 cm. Instruments such as the Ortega R122G-3/4 from the Family Series Hochglanz-Edition correspond to these dimensions . Solidly built, great sound and a high-quality gig bag included.
---
11 to 14 years
Kids aged 11-14 can already play 7/8 guitars. The recommendations assume that the children are around 140-160 cm tall. In fact, many women like to play these instruments too. A good example is the Gewa Pro Arte GC100A with a solid spruce top in a high-gloss natural finish.
---
For adults / adult teenagers
And finally, the 4/4 concert guitars. In fact, quite a few young people are already towering over their parents so maybe we prefer to speak of instruments for adolescents than for adults. A well-playable beauty in 4/4 standard size is the Thomann Classic-CE 4/4 Guitar Black .
Alternatively, we recommend the Harley Benton CG200 in elegant high-gloss black, scale length: 650 mm, maple fingerboard.
---
Tip: get advice in person or by phone
Only in the rarest of cases will you have measured your children to the nearest centimeter. That is also not necessary, because even that would rarely lead to the goal. Ultimately, the main thing is that the kids have to feel comfortable playing the instrument. If you don't have a clear result, ideally let them try out different sizes. It is absolutely beneficial to seek advice from colleagues in the guitar department and on the hotline. They know their way around, ask the right questions and give you the insightful answers you want. Whether on site in our shop in Treppendorf or by phone – our team will be happy to advise you without obligation!
📞 09546/9223 20
🗨 Chat on thomann.de
🎸 To the guitars on thomann.de