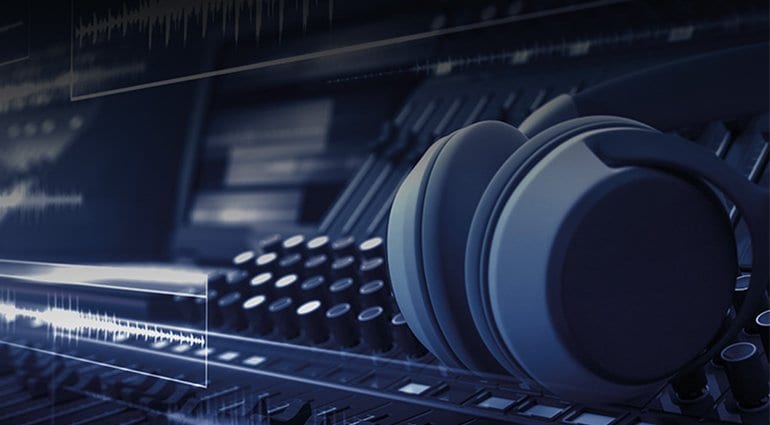 An audio interface is an integral part of any modern recording setup. It is the indispensable link between physical sound transmission and virtual processing or sound generation in the computer. Be it only for high-quality playback via speakers of electronic music or to record "real" sound sources in the classic sense: microphone → preamp → convert!
? Click here for the audio interfaces at Thomann
In the following overview we present four typical examples with their advantages and disadvantages. Here we start with the cheap – and thus relatively simple – examples and work our way to the higher-quality interfaces. Before we start, let's learn a few basics about the technical structure of an audio interface.
BASICS
In the simplest case, an audio interface has a stereo output to provide monitor speakers or headphones with a signal. In most cases, both output paths will be present and their volume can be regulated separately.
In the better case, all outputs are addressable separately, which means that they have separate converters. This makes it possible to play a signal through speakers, while listening to another through the headphones. This is practical, for example, for DJs who in most cases want to "mix" over the speakers and "preview" the next song through their headphones. And producers use the separate addressability to offer their artists an individual headphone mix while controlling the "overall mix" across the monitors.
All interfaces presented here have at least one stereo input with built-in preamps. Thanks to these preamps, even quiet audio sources such as microphones can be recorded noise-free.
An additional bonus is the so-called "bus power". This means that the power supply and the transmission of the audio signals takes place via a single cable. An additional power supply is therefore not needed. An iOS support is also advantageous because the interfaces can be used with an iPad or iPhone. This can be done without additional driver installation ("Class Compliant").
---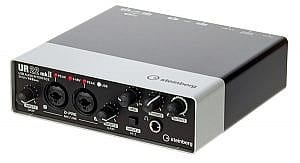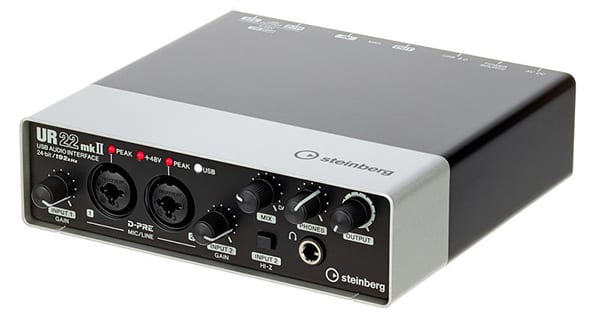 The Steinberg UR22 MK2 is a classic entry-level interface. It is suitable for both in-the-box computer producers and singer / songwriters who just want to record themselves.
The interface has a stereo and a headphone output. Both are separately adjustable in volume – but not separately addressable. But that's enough for anyone who works alone, in most cases. And just in case a guest musician should be in the studio, the producer and the musician all hear the same signal.
The built-in preamps are good and amplify microphone signals reliably, clearly and noise-free. The supplied software is also not to be despised: Cubase AI offers a good start in Steinberg's DAW world. With this program, the first recordings can be created reliably, provided with plenty of effects and then exported to all major formats. Also interesting: The interface is compatible with iOS devices and even has an additional MIDI I/O to connect other devices, such as a master keyboard or hardware synthesizer to the computer.
---
The Scarlett 2i2 2nd Gen is also a classic beginner interface. It offers a stereo output, a headphone output and a stereo input including two preamps. It costs a bit more than the UR22 MK2 from Steinberg, but by and large the two interfaces are pretty much identical. Only in the details do they differ.
For example, in the Focusrite interface both preamps are equipped with high-Z inputs and can thus process DI signals from guitar and bass. In the Steinberg interface, only one preamp is provided with a corresponding switch. The gain-potentiometers of the Focusrite regulate linearly and are thus more finely resolved at the end, which makes the leveling a bit easier. Steinberg does not offer this "luxury", but it is compatible with iOS. The Scarlett 2i2, however, doesn't get along with iPad and Co. Finally, the direct monitoring is a little easier to regulate on the Steinberg thanks to an additional potentiometer whereas the Focusrite only has a switch for this purpose. Tie, I would say.
The most important difference should therefore be the supplied software. The scope of delivery of the Focusrite interface is particularly extensive here: Entry-level versions of Ableton Live and Pro Tools, two really excellent DAWs and completely different programs, are included. Especially for beginners, who don't know yet which musical path they will take, these are great DAWs to show them what's out there. Furthermore, some high-quality plug-ins are included and offer real added value. The UR22, on the other hand, comes with only a simplified version of Cubase.
---
The RME Fireface UC is a professional audio interface and offers plenty of ports and options on a half 19-inch rack unit. The transducers and preamps sound much better, are less noisy and offer more amplification than the cheaper interfaces.
Also regarding the routing, the RME Fireface UC is extremely versatile: Not only is the headphone output separately addressable, but the two preamps can also be used separately from the two DI inputs. Furthermore, the interface has a total of eight analogue outputs and inputs that can be used simultaneously. There are also Digital S / PDIF and ADAT interfaces for another ten optional channels! On the software side, the "virtual mixer" TotalMix is included, with which any input can be routed to any output and a variety of monitoring options can be used. In short: a lot is possible here.
In contrast to the cheaper interfaces presented here, the RME needs an external power supply. It also offers a MIDI I/O via breakout cable.
---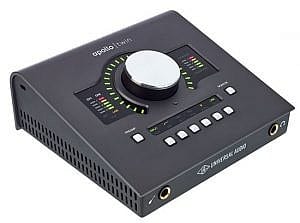 Unlike the RME interface, the Universal Audio Apollo Twin MKII Duo is designed more for the musician than the sound engineer. For the same price, although there are significantly fewer inputs and outputs, you get more ease of use and very important: high-quality DSP effects! For years, the UAD2 plugins have been very popular when it comes to the authentic emulation of real hardware – and without consuming too many resources (memory & CPU power) from the host computer. The selection of plugins these days is gigantic, albeit not very cheap. There is also the option to use the plugins during recording and monitoring. Due to the architecture of these DSP effects, this is possible with almost no latency, which greatly increases its practicality for musicians.
---
? Take me to the audio interfaces on thomann.de
? More information, explanations and tips about the topic in our online guide