Rode Rodecaster Podcast Bundle 1
Bundle offer comprising:
available since
February 2019
incl. Nearfield Monitor
No
Plug in the mic and go
The Rodecaster Pro is Rode's all-in-one solution entirely dedicated to podcasts. This aptly-named Production Studio can simultaneously record up to four microphone signals, while storing the sound files either on an SD card or directly on a computer. But there's more: This bundle includes the Rode PodMic, a large-diaphragm dynamic microphone that is specifically designed for speech applications such as podcasts and radio. Thanks to its flexible swivel mount, the PodMic can be fixed directly onto the supplied table microphone boom arm. And to get you started right away, a microphone cable and a pair of Superlux HD-660 headphones are also included. These headphones are in a closed-back design to ensure that recordings are as free as possible from crosstalk and other interference.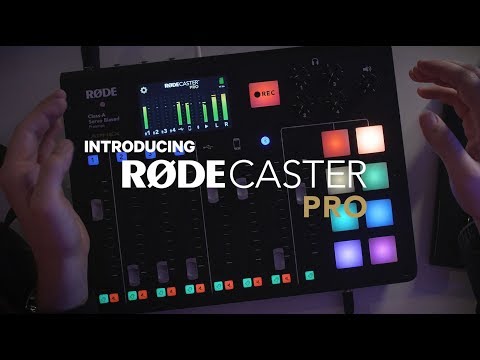 Convincing broadcast sound
Under its bonnet, the Rodecaster Pro is equipped with four high-quality microphone preamps, as you would expect from Rode. Each channel individually supplies phantom power and is equipped with a number of useful processing options. These include a compressor, a de-esser, a noise gate, and a ducking function, all of which ensure that the input signal remains under control in every situation. Moreover, the integrated APHEX effects provide that unmistakeable radio sound. The Rodecaster can be connected to a mobile phone, thus allowing telephone interviews to be conducted. The latter can be connected using a TRRS cable or via Bluetooth, another useful feature. Both of these inputs can be controlled by separate faders on the Rodecaster's control interface.
A genuine total package
The target group at which the Rodecaster is aimed is clear: This complete solution is perfectly tailored to podcasters. The Rodecaster is a real bargain, especially if you need to record more than one person at a time. What is more, the on-board mix minus, ducking, and auto monitor mute features are generally found only on much more expensive professional radio consoles. The Rodecaster is thus well suited to the production of radio reports and interviews. The eight sound pads, which can trigger pre-assigned jingles and sound bites, neatly round off the package. The Rodecaster is operated via a modern high-resolution touch display, making its workflow very intuitive.
About Rode
Founded in Sydney, Australia in 1990, Rode is a specialist in high-quality studio microphones. With its very first in-house, completely Australian-built model, the NT2 large-diaphragm microphone, the company created a classic which is still produced in its current and enhanced version, the NT2-A. An extensive range of studio and live microphones has also been added, regularly updated, and expanded over the years. These new additions include a variety of professional microphones which are designed for video and mobile applications and can be connected directly to SLR cameras or smartphones.
Everything you need, right out of the box
The Rodecaster packs a punch: Four channels with high-quality preamps and comprehensive sound-processing options, four headphone outputs, recording and interfacing functions, a sample player, a telephone switching function and, last but not least, ducking, mix minus, and other specific broadcasting tools – all are included in this compact and robust unit. The included Rode PodMic perfectly complements the Rodecaster Pro and provides an excellent vocal sound that easily compares to industry standards, and the table microphone boom arm, headphones, and cable mean you can get started right away. Bottom line: This is the perfect all-in-one and easy-to-use package for both budding and advanced podcasters and radio journalists.