5. Mixers
This is where it all comes together. All the different signals come in, levels are balanced and effects applied, before forwarding the treated signals to the amplifier, and also to the monitors. Once again, remember to give yourself as much capacity as you can afford.
The key considerations are:
The number of channels you will need.
The number of aux sends you will need for effects and 'foldback'.
Storage, protection and portability - include some sort of flight case in your budget, with castors if you want an easy life!
Analogue or digital?
This has always been more than a question of budget, but since the price differential between analogue and digital mixers has fallen, it has now become a choice that many are facing.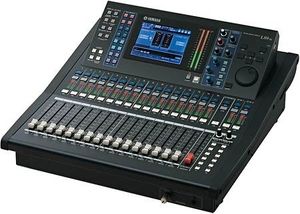 In terms of audio quality, there's no clear winner here – there are plenty of digital consoles that sound better than many analogue consoles, and vice-versa – other than cost, the real issue is one of functionality versus user-interface. Digital consoles will typically offer the ability to store all their settings in 'scenes' which can be switched between instantly (or sometimes faded), and most offer a plethora of built-in effects, dynamics processing and routing possibilities. However this is normally at the expense of the user interface, where the analogue console is the clear winner, having one knob, button or fader for each and every function on the desk – digital models on the other hand will generally have multi-function controls, master controls for EQ etc which have to be pre-selected per channel, and multi-layer menus accessed via small screens. As a rule of thumb though, the bigger the system becomes, the more the advantages of digital shine through.
Choosing a PA System overview