Thomann SL 5 Trombone B-Stock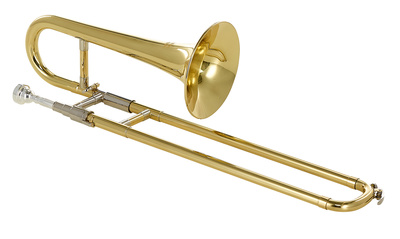 B-Stock with full warranty
​Slight traces of use​
Thomann SL 5 Slide Trumpet
Bb- Soprano trombone

ML-bore Ø: 11.5 mm

Brass bell Ø: 120.5 mm

Brass slides

Coated with clear lacquer

Includes case, trumpet mouthpiece and accessories
Text ratings for this product are available in another language only so far
Unfortunately there was an error. Please try again later.
– Assumed from Thomann SL 5 Trombone
Lässiges Instrument!
| | |
| --- | --- |
| Total | |
| response | |
| sound | |
| quality | |
| features | |
deus ex machina, 29.01.2011
Ich habe die Thomann SL 5 ZUGTROMPETE vor etwa einem Monat erworben und bin damit sehr zufrieden!

Vor meiner Bewertung kurze Stellungnahme zu den anderen teilweise unseriösen Bewertungen:
Bei diesen Bewertungen gilt es zu beachten, dass oftmals nicht über das Instrument Thomann SL 5 ZUGTROMPETE berichtet wird, sondern über Zugtrompeten/Sopranposaunen allgemein, was zur Folge hat, dass einige Bewertungen schlechter ausfallen, da viele Musiker mit diesem Instrument nicht zurechtkommen, weil man das Spielen einer Zugtrompete sowohl als Trompeter als auch als Posaunist erst erlernen muss. Negative Aspekte, die auf mangelndes Können der Musiker zurückzuführen sind, haben eigentlich nicht direkt etwas mit der Thomann SL 5 zu tun und in den Bewertungen des Instruments nicht wirklich was verloren!

Als Trompeter und Flügelhornist kann ich folgendes zur Thomann SL 5 ZUGTROMPETE sagen:

Lieferumfang:
Wenn man die Zugtrompete erhalten hat, kann man sofort loslegen, das heißt es ist alles vorhanden, was man zum spielen braucht. Sprich: der Koffer (Coolness pur, schon der extrem schmissige Koffer vermittelt genau den selben lässigen Eindruck, den man auch vom Instrument hat), dann das Mundstück (tadellos), ein Tuch und sogar originelle weiße Handschuhe!
Es sollte lediglich der Zug noch in Gang gebracht werden (siehe Verarbeitung).

Ansprache, Sound bzw. Klang:
Für Ansprache und Sound habe ich je 4 Sterne gegeben. Diese beiden Eigenschaften sind für diese Preisklasse tadellos, dass es sich aber nicht etwa um ein Profi/High-End-Instrument handelt, ist auch klar.

Die einzigartige Klangcharakteristik der SL 5 ist vermutlich zurückzuführen auf die spezielle Mensur: Sie entspricht weder der von Trompete und Flügelhorn, am ehesten aber tatsächlich der Posaune. Sie ist eigentlich eine Kombination aus allen.
So hat die Bohrung eine Durchmesser von 11,5mm, was mit einem Kornett vergleichbar wäre. Dann verläuft das Rohr wie bei der Posaune zylindrisch (mit dem Zug nicht anders möglich) und mündet dann in einen recht stark konischen und relativ wenig ausladenden Schalltrichter, ähnlich wie beim Flügelhorn.
Der Sturz hat dann allerdings einen recht kleinen Durchmesser.
Aus diesen Faktoren lässt sich in etwa der Klang ableiten, der einige verschiedene Klangeigenschaften aufweist, aber alle nur in gringem Maße.
So bewirken der zylindrische Verlauf und der kleine Sturz die Schärfe und Helligkeit einer Trompete, die Bohrung sowie vor allem der stärker konische und wenig ausladende Schalltrichter sorgen aber für einen weicheren und volleren Klang.
Positiv auf den Klang wirkt sich natürlich auch die Bauform aus, da es keine Ventile gibt die den Klang durch die zusätzlichen Windungen ermatten lassen. Die Luftsäule durchläuft also lediglich 2 weite Kurven.
Alles in Allem verleihen diese Faktoren der SL 5 also wirklich den runden Sound einer 1.45m langen Zugposaune. Da unserem Gehör aber aufgrund der Seltenheit dieses Instruments der Klang einer Posaune in Sopranlage nicht bekannt ist, neigen wir natürlich ohnehin dazu, ihn mit der Trompete gleichzusetzen.

Verarbeitung:
Die Verarbeitung ist einigermaßen okay, wobei es naheliegend ist, dass der Instrumentenbauer hier nicht nach Perfektion strebt. Beim Vergleich zweier Thomann SL 5 habe ich folgendes festgestellt: Das obere Ende des Mundrohrs, in das das Mundstück geschoben wird ergibt keinen exakten Kreis, sodass das Mundstück nicht 100% vom Mundrohr umschlossen wird und darin etwas (minimal) zu wackeln vermag. Aus diesem kleinen Defizit ergeben sich aber beim Spielen keine merklichen Beeinträchtigungen. Wer handwerklich geschickt ist, könnte die Form des Röhrchens auch durch Nachbearbeitung ganz leicht perfektionieren.
Der Zug flutscht mit etwas Fett und Wasser tadellos auf und ab (Achtung: wenn ihr die Hand vom Zug nehmt, vergesst stets die Sperre nicht ;-), die Wasserklappe funktioniert ebenfalls einwandfrei.
Der Abstand von Unterkiefer und Schalltrichterbogen beim Spielen ist meiner Meinung nach grenzwertig (gerade noch in Ordnung). Man sollte also unbedingt ein langes Mundstück verwenden, das möglichst wenig tief im Mundrohr verschwindet. Ein solches ist auch im Lieferumfang enthalten! Wenn man die Zugtrompete zudem noch so adjustiert, dass sich zwischen Zug und Schalltrichterbogen ein Winkel von ca. 135 Grad ergibt, ist auch ein ausreichender Abstand zwischen Unterkiefer und Schalltrichterbogen gegeben und man berührt den Bogen nicht. Dies ist aber sicher bei jedem Musiker unterschiedlich, gute Trompeter sind mit den Lippen ohnehin so locker auf dem Mundstück, dass sie den Bogen nicht berühren.
Für ein Instrument dieser Preisklasse ist also auch die Verarbeitung voll okay!

Gestimmt wird die Zugtrompete übrigens, indem der Zug nach Bedarf weiter oder weniger weit in den Schalltrichterbogen geschoben wird. Das tiefer- oder höher- Ziehen der Zugs, um die Stimmung zu verändern, ist nämlich keine ernstzunehmende Lösung (sowohl theoretisch aufgrund der Zugpositionen 1 und 7, als auch praktisch nicht umsetzbar). Trotzdem bin ich froh, dass die Stimmung auch ohne Verlängern der Rohrlänge schon verblüffend genau passt.

Features:
Die Thomann Zugtrompete hat wirklich Stil und kommt in Sachen Optik wirklich lässig rüber; die Farbgebung ist so gestaltet, dass die einzelnen Bauteile und Komponenten gut sichtbar und zu unterscheiden sind.

Gesamteindruck/Fazit:
Die Thomann Zugtrompete ist meiner Meinung nach nicht als Spielzeug, sondern sehr wohl als vollwertiges und qualitativ hochwertiges Instrument zu sehen. Sie ist durchaus für Zwecke nutzbar, die über den Gebrauch als Scherzartikel und Faschings-Gag hinausreichen! Mit diesem Instrument ist es möglich, dasselbe zu erlernen und auch damit aufzutreten.
Natürlich handelt es sich um kein Profiinstrument aber das Preisleistungsverhältnis ist sehr gut (man bedenke, dass die 2 in Bremen (Deutschland) ansässigen High-End-Hersteller solcher Instrumente horrende Preise für ihre Erzeugnisse verlangen). Unter den Herstellern, die Zugtrompeten in Serie produzieren, bietet Thomann mit der THOMANN SL 5 ZUGROMPETE eine preiswerte Zugtrompete ohne qualitative Einschränkungen.

Ich persönlich bin mit dem Produkt sehr zufrieden.
Unfortunately there was an error. Please try again later.
– Assumed from Thomann SL 5 Trombone
Mehr als ein Spaß-Teil
| | |
| --- | --- |
| Total | |
| response | |
| sound | |
| quality | |
| features | |
Michael S. 523, 03.07.2012
Seit zwei Wochen habe ich die SL 5 Sopranposaune, seit 30 Jahren spiele ich Tenorposaune und besitze bisher eine Monke-Barockposaune und eine Conn. In unserem Posaunenchor hat die kleine Posaune einiges Aufsehen erregt, so etwas hatte noch niemand gesehen.

Eine "Zugtrompete" ist sie ja nicht, so bezeichnet man ventillose Trompeten, bei denen zwischen Mundstück und Rohr ein weiteres bewegliches Rohrstück sitzt, so dass man die Tonhöhe durch Verschieben des gesamten Instruments verändern kann.

Im Großen und Ganzen kann ich mich aber den Worten von "deus ex machina" nur anschließen, die von ihm beschriebenen Fertigungstoleranzen kann ich nicht bestätigen, bei mir passt das Mundstück sauber ins Mundrohr hinein, ohne dass es zu unerwünschter Nebenluft kommt. Der Zug gleitet sauber ohne Widerstände und erzeugt keine störenden Geräusche.

Der Klang ist einwandfrei, mehr nach Trompete als nach Flügelhorn, (ich muss mich nur noch an die kurzen Zug-Wege gewöhnen, da hat man schnell mal den Zug zu weit rausgezogen).

Einen Stimmbogen hatte ich zunächst vermisst, aber bei der kurzen Gesamtlänge reicht der Spielraum der Verbindung von Zug- und Schalltrichterbogen vollkommen aus, um das Instrument stimmen zu können, so dass auch Platz 0 sauber intoniert werden kann. Die Verbindung von Zug- und Schalltrichterbogen ist mit seinem winzigen Flügelschräubchen allerdings ein bisschen fummelig, geht wohl nicht anders.

Nicht ganz sauber angepasst ist die Wasserklappe, da musste ich eine neue Dichtung einsetzen, die besser passt und wirklich luftdicht abschließt.

Der Ansatz ist einwandfrei, selbst für jemanden, der ein 7C-Posaunenmundstück gewohnt ist.

Alles in allem ein Instrument, mit dem man ernsthaft musizieren kann. Den Ausschlag, es zu kaufen, gab bei mir, dass unser Posaunenchor in den Unterstimmen überproportional stark, in den Oberstimmen nur einfach besetzt ist. Fällt dort jemand aus, sind wir nicht spielfähig. Jetzt kann ich in Notfällen eine Oberstimme übernehmen.
item is sold out
item is sold out
Unfortunately this item has sold out. Please contact us to see if we can source stock with our suppliers or to see if we have a B-Stock or suitable alternative available.
Standard Delivery Times
| | |
| --- | --- |
| item number | 285213 |
| sales unit | 1 piece |
| available since | May 2012 |
sales rank
in this category
Rank 16
at thomann.de
Rank 47051
Your Contact People
Phone: +49-9546-9223-26
FAX: +49-9546-9223-24
Offers include
24% Greek VAT
and are valid as long as stocks last.
Shipping costs
to Greece are 20 EUR,
free shipping
on orders above 298 EUR. Please
click here
for international Shipping rates. We do not accept liability for typographical errors or inaccurate information of any kind. *RRP = manufacturer's / distributor's recommended retail price in Germany
Payment & Security
Shop
Sitemap
Contact & Service
For our groupies...

Payment can be made safely and securely with Credit Card, Bank Transfer, PayPal or Amazon Pay.

+49-9546-9223-55
international@thomann.de

Thomann GmbH
Hans-Thomann-Straße 1
96138 Burgebrach
Germany




Shop

Fine print
ID: 285213
© 1996 – 2017 Thomann GmbH
Thomann loves you, because you rock!