18" active subwoofer system
With QuickSmartDSP and Bluetooth

1200 W class D amplifier

Max. SPL level: 132 dB

Frequency range: 47 - 105 Hz

Connections: XLR / 6.3 mm jack combo and XLR

Integrated mounting plate for threaded poles with M20 threads

2 handles

Dimensions: 636 x 598 x 518 mm

Weight: 29 kg

Wooden housing

Colour: black

Suitable cover: Article Nr 427333
available since
November 2017
Multi Cannel Power Amp
No
Construction Type
Bassreflex
Power (Manufacturers Information)
1200 W
Frequency Range from
40 Hz
Frequency Range to
145 Hz
Manufacturers Cover
427333
18" active subwoofer system
With the EV ELX200-18SP, you get a modern active speaker that can be seen as a system extension for DJs and solo entertainers, musicians, and bands and that also represents a solid investment for rental companies. Equipped with a 18" woofer, it is the biggest model in the series and, with up to 1200 watts of peak power, it is ready for a variety of scenarios. The functions of the speaker and up to six additional top units or subs from the series can be conveniently remotely controlled via Bluetooth and a mobile device. Forgot your smartphone or ran out of battery power? Don't worry — the back offers control options for the QuickSmart DSP directly on the device display.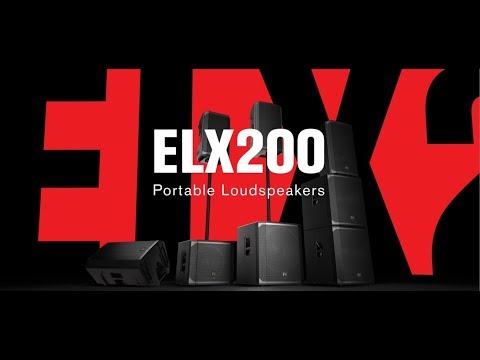 Less weight, more power
Electro-Voice has given the EV ELX200-18P a 1200 W Class D power amplifier and its own EVS-18L 18" woofer. The frequency response ranges from 47 to 105 Hz. The maximum sound pressure level is 132 dB. There are two lockable XLR/jack combo sockets for input signals on the back panel. In addition, it features two XLR link outputs for controlling speakers such as the Electro-Voice ELX200-15P, with the crossover frequency being adjustable to 80 Hz, 100 Hz, 120 Hz, or 150 Hz. Also very practical is the fact that the peak limiter algorithm, adapted from the EV concert sound systems, prevents damage to the speakers and protects both the performance and your investment.
Hardware for professionals and discerning users
The Electro-Voice ELX200 series is tailor-made for professionals who don't want to make any compromises on sound and handling on the road or in the installation environment. The configuration options of the QuickSmart DSP also score points here, including sound adjustment using three-band EQ and three ready-made presets (Music, Live, and Club) and sub/top system match. In addition, it features five user slots with save and recall functions, as well as input/output level controls and displays, including visual monitoring options with warning messages sent directly to your smartphone. Incidentally, EV uses a 15 mm plywood chassis with powder-coated steel front grilles for the ELX200 subwoofer series, resulting in a moderate weight of 29 kg, which can be easily transported to the gig using the two side handles.
About Electro-Voice
Electro-Voice was founded in 1927 and has been dedicated to building sound reinforcement systems and microphones since the 1930s. The firm, originally based in Indiana, USA, is considered one of the industry pioneers and has developed many new technologies still in use today. For example, their hum-cancelling coil was not only a milestone for microphone construction, but also was at the origin of the humbucker pickups still used in many guitars. In the long history of the company, Electro-Voice has constantly expanded its offer and today sells a wide range of products for sound reinforcement tasks from entry to professional levels.
Sound amplification the easy way
The EV ELX200 subwoofers are recommended for bands, musicians, entertainers, and DJs who want to add more power and expression to the sound in the low frequency range. As a top model, the EV ELX-200-18SP, for example in combination with the ELX200-15P top units, brings some decent power to the stage. For smaller dance events and gigs, on the other hand, you are already well equipped with an ELX200-12SP setup and two ELX200-10P or ELX200-12P speakers. The DSP offers setting options for the ELX, EKX, ELX200, and ZLX tops. For larger concerts, permanent installations, or extensive live setups, the EV system can easily be expanded with additional top units and subwoofers and managed via app. It starts on a small scale, if you want to make a quick adjustment via the app, and ends in more extensive setups, where nearby, ready-to-operate speakers can be identified and dynamically combined into groups with the installation location. This is where top-of-the-line sound and low end meets user-friendly speaker management.