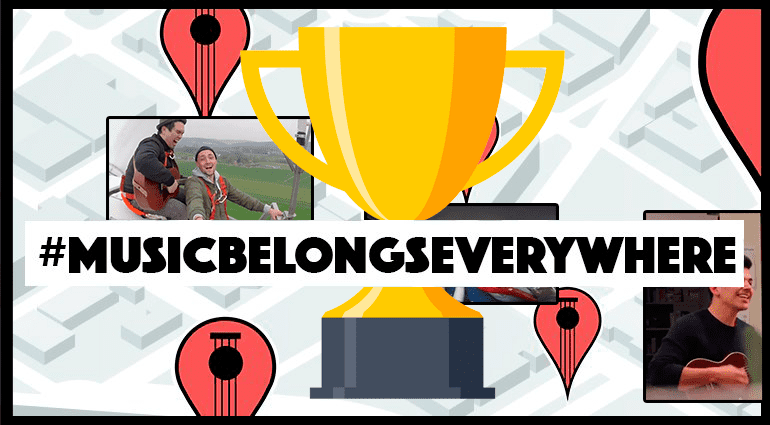 #MusicBelongsEverywhere – Winners & Top 10
#MusicBelongsEverywhere – Winners & Top 10
Music inspires people all around the world. In recent weeks, music was heard in the most unusual places, as part of our #MusicBelongsEverywhere contest. It was an absolute pleasure to watch all the videos. Thank you all for taking part and bringing music into the world! You rock! ?
---

And the winner is …
?

It is now time to announce the winners: first place goes to Ernest Pratcorona with their video LIVE MUSIC is the BEST MEDICINE! Congratulations on winning the €1000 voucher!
1st. Prize
€1000 voucher
Ernest Pratcorona - Live Music is the Best Medicine
2nd. Prize
€500 voucher
Senmy - Twingo-Beats
3rd. Prize
€250 voucher
Arrows to the Mountains
Special Jury Prize
€100 voucher
David Fazakas - Under construction
Dear winners, please check your inbox and private messages. We sent you all the instructions and information in order for you to claim your well-deserved prize!
Top 10
?
Here are the results that made it into the official charts of #MusicBelongsEverywhere:
1. Ernest Pratcorona – LIVE MUSIC is the BEST MEDICINE
https://youtu.be/wcJ6zxlvzb0
https://www.facebook.com/748133715292838/videos/1103344376438435/

3. Arrows to the Mountains – MusicBelongsEverywhere (even on top of a windmill)

4. David Fazakas – Under construction

5. Insane Pineapples – Harmonic Voodoo


8. Julian Floegel – Fahrstuhlmusik

9. Der mit Gitarre – Am seidenen Faden
https://youtu.be/4u5K-74ZFiY

10. Salomon 6
https://www.facebook.com/SalomonSix/videos/293346171116379/