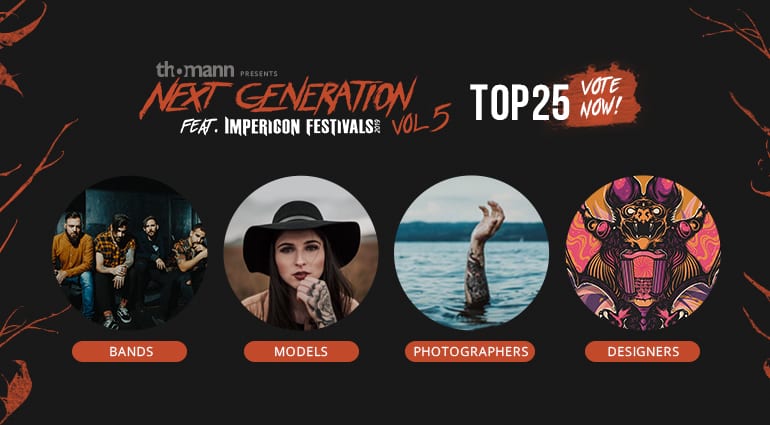 ?+++ UPDATE +++ ?
? 17. 04.2019 ? We Have Winners!
In the category "Bands" we congratulate the following winners:
Voting prize (€1000 Thomann voucher): YVET GARDEN (FR)
Jury Award (Slot Impericon Festival Leipzig + € 500 Thomann voucher): RISING INSANE (DE)
Jury Award 2 (Slot Impericon Festival Munich): LETTERS SENT (DE)
Enjoy your Thomann voucher and bring the house down at your performance!
And we would like to thank all those who have applied or diligently voted! Thank you, rock on! And thank you to our partner Impericon! We wish you and all visitors fantastic, epic festivals!
---
---
Together with Impericon, we are looking for talented up-and-coming bands at the Next Generation Contest Volume 5. The winning bands can look forward to some exciting prizes: One band has the chance to win a 1000-Euro-Thomann voucher. A jury prize will also give a band the opportunity to rock out in front of over 10,000 visitors at the Impericon Festival 2019 Leipzig ? and share the stage with heroes from the hard and metalcore scenes.
---
+++ UPDATE +++ ???
? 01/03/2019 Voting starts!
Voting amongst the 25 jury-selected favourites has started – Let your voice be heard! Click on the image below to vote:
---
Show us what you've got!
Round I – Application
Application is now CLOSED! The 25 best entries have been selected by our jury. See below for Round II, voting!
Round II – Fan Voting
Now it's time to animate your loyal and new fan base online and offline so that as many people as possible can vote for you and catapult you to the top of the list.
Why? The final winners will be determined by fan voting for 3 weeks starting March 1st. On April 1st you'll find out who made it.
---
? The prizes in the "BANDS" contest category ?
1st place prize: a 1,000-Euro Thomann voucher
Additional jury prize: a slot at the Impericon Festival + 500-Euro Thomann voucher
The contest winners will be performing at the festival in good company: As 2019 headliner, "Hollywood Undead" from California will make the crowd thrash with a new album and a mix of metal and hip-hop. Further top acts await you with Jesse James' hardcore punk and metalcore group "Stick To Your Guns" and the Detroit melodic death metal band "The Black Dahlia Murder". Various other acts from hardcore and metalcore genres are confirmed for the lineup, for example The Donots, Caliban, Deeznuts and more.
---
A bit of fame?
This much is clear: Even with the entry into the semi-final, i.e. the jury's choice among the 25 best, you can make a huge step for your band's career. Your logo will be seen on the Impericon homepage as well as on our Instagram account, Facebook page and here on the t.blog. We're also sure that among the visitors will be organizers, bookers, talent scouts and/or producers. So with a little luck this could be a win-win situation for everyone involved.
Creativity & talent also in demand in other disciplines
In addition to bands, the Next Generation Contest is also looking for talented models, photographers and graphic designers. Cool prizes await the winners and runners-up in all categories. Detailed information can be found on the Impericon website at www.impericon.com/en/next-generation/
We wish you the best of luck!  Rock on! ?