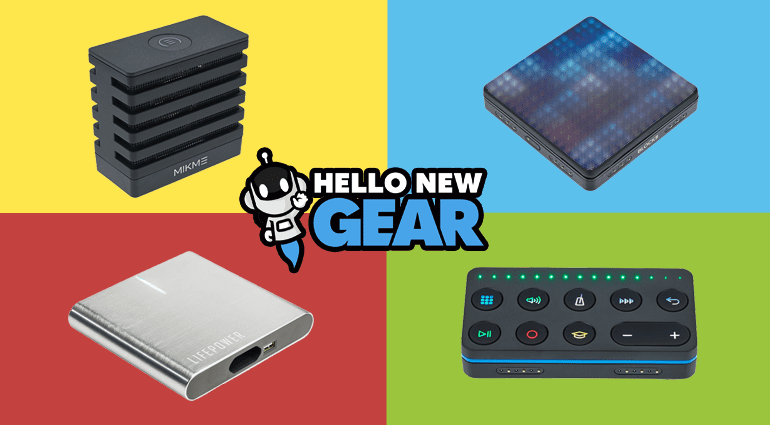 Introducing hot and innovative products that can help you raise your music to the next level… ?
---
---
Combine the expressive power of the Seaboard Block, Lightpad Block M, and Loop Block, and make your music with a kit that's more than the sum of its parts. Unite two state-of-the-art, touch-responsive playing surfaces. Play melodies with the Seaboard Block, a super-powered keyboard. Play drums and control effects with the Lightpad Block M. Record loops easily with the Loop Block. Everything's right there for building any style of track, anywhere.
The Songmaker Kit is a tried and tested configuration of three Blocks that work together in inspiring ways. But you can break down this setup or build it up — any way your want. The award-winning Seaboard Block and Lightpad Block work independently. Mix and match them. Add more Blocks. Build the instrument that's right for you.
---
---
The guys at Subpac believe that sound vibrations deepen our connection to music. They created a wearable technology that pulses sound through your body. A patented, high fidelity, full-body experience designed for professionals, made for you. Once you feel sound, you won't go back to just hearing it.
Today, SUBPAC is pioneering a revolution in physical audio by enabling experiential sound to improve all forms of entertainment – not only music, but also video games, virtual reality, and cinema.
Technical specs

Frequency Response: 1hz-200hz
Wired Input: 3.5mm stereo
Wireless Input: Bluetooth 4.0 with A2DP Streaming
Headphone Out: 3.5mm stereo
Rechargeable Battery: 10.8V, 2300mAh Li-ion battery (7+ hours per charge)
Dimensions: 430 x 300 x 40 mm
Weight: 2,3 kg
---
---
The MikMe captures songs, speech & videos in studio-quality. The wireless smartphone microphone records audio in standalone with the push of a button thanks to his built-in 16 GB audio recorder.
Record your next hit song on the fly, capture an interview with ease or create a viral video in an instant. With Mikme it's simple ! Mikme works seamlessly with your iPhone. Use it to control your audio recordings. Or start filming your next story with your phone's camera. The Mikme App automatically syncs the audio from the wireless microphone with your iPhone's video.
Technical specs
Directional characteristic: Cardioid
Gold-plated 1″ condenser capsule (phantom powered (48V))
Analog / Digital converter: 24-bit, 44.1 / 48 / 96 kHz switchable
Recording in WAV format
Signal to noise ratio: 78 dBA
Analog 3.5 mm mini jack output (mix balance adjustable)
Dimensions: 70 x 35 x 73 mm (L x W x H)
Weight: 162 g
Incl. micro USB cable
Made in Germany
---
---
The A2 L is the King of Batterypacks. It packs 99.9 Wh of energy (27000mAh) using similar lithium ion battery technology as Tesla. A plug & play Wall Outlet On-The-Go, the essential backup battery that will power your life. The design is top-notch, finished with a brushed aluminum casing, ensuring a premium look & feel.
https://www.youtube.com/watch?v=F0ct-eZwviM
Technical specs
Dimensions 15 cm x 15 cm x 2.5 cm (5.9″ x 5.9″ x 1″)
Weight 800g
AC Power Output 100W continuous
[Global model] AC output: AC 230V / 50 Hz / max. 120W peak
[US model] AC output: AC 120V / 60 Hz / max. 120W peak
Conversion efficiency 85~90%
USB output DC 5V / 3A (15W)
Charge input 19V / 2.1A
Recharge time 3.5 hrs
Battery Capacity 99.9Wh (27'000mAh at single cell V level)
---
---
The OMEC Teleport interface is a universal connection device (IOS, Android, Mac, PC) without any specific drivers or software requirements. It features high quality ADC/DAC converters – through a USB B connector – housed in a small effect pedal enclosure.
The Teleport allows you to convert both analog audio signals (an instrument for example) to digital to be processed with the many applications available. Additionally, the Teleport gives you the ability to convert digital audio signals to analogue (through mixers, D.I. boxes, amplifiers, etc.).
With this versatility the Teleport can be used for a wide range of applications: musicians that want to play, record, mix or process their sound, with the autonomy provided by mobile devices; Bluetooth connected musicians, like keyboard players or DJs employing the same devices for their sessions; even the amateur music lover who wants to convert music stored on their devices to analogue with renewed quality.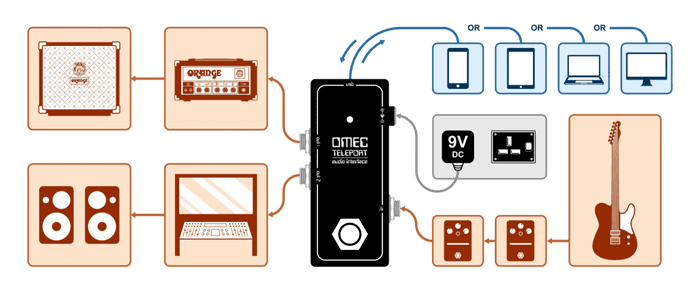 Technical specs
1-in/2-out audio interface with 16-bit delta-sigma adc and dac (adc: 48 khz – dac: 48 khz), 44,1khz / 48khz sample rate audio quality
High signal – noise relation snr = 96 db
Low harmonic distortion thd+n = 0.01%
Buffered bypass
Input: 1/4" high-quality buffered input with 120db of dynamic range (mic compatible with a xlr-jack adaptor)
Output: 1/4" pro grade stereo outputs for connecting to studio monitors, , PA system, pedals, amps, etc.