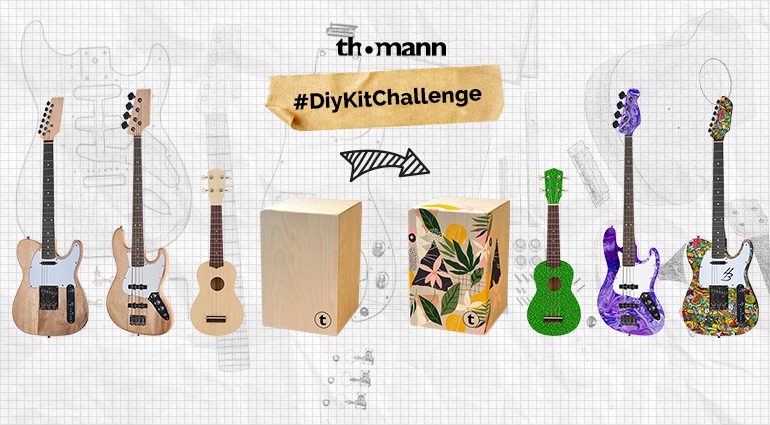 #DiyKitChallenge: We have the winners!
#DiyKitChallenge: We have the winners!
Update: 26-05-2021
WE HAVE THE WINNERS!
It's confirmed yet again: We have have the greatest customers in the world and the most fantastic participants for our contests! We cannot stress this enough: you blew our minds with the creativity, hard work and enthusiasm you put into your DIY instruments for our #DiyKitChallenge! Wow! 
Needless to say, this was the hardest contest for choosing winners. All of us, being musicians ourselves, couldn't help but marvel at all the little details you put into these magnificent creations. There were simply too many great entries… but, as it goes with all contests, a decision had to be made. Our jury, made up of Kris, Guillaume and Joe chose the following winners: 
https://youtu.be/S3hvtySYaFQ
Kris: "Incredible job! Built so clean and it's such a beautiful design. I'd love to play this thing. Ohhh… and that headstock!" 
Guillaume: "Honestly, I'd buy that guitar. Like.. really. It's rare to see an original shape looking so natural and just plain beautiful. Félicitations ???"
Joe: "Wow, a clean-cut masterpiece from the hands of someone with real skills. Great job, congratulations and, please, continue making guitars!"
---
2nd place 350€ voucher: Dylan Dognon (@system.dd)
View this post on Instagram
Kris: "Now THIS is creativity. I'm dying to know how you did that with the telephone dial-stutter."
Guillaume: "What Kris said! How and also how you got that idea is just mind blowing! Such a fun guitar."
Joe: "Now that's some unique control over your sound! Pretty punk rock! Long live the rotary tele(phone)!"
---
3rd place 200€ voucher: UkuLEDle
Kris: "I admire your patience and precision. Gorgeous body top and fun idea with the LEDs."
Guillaume: " I really would have put your uke in here just for the incredible work you did on the top, but the LEDs just sealed the deal. That's really impressive!"
Joe: "This is real innovation, I would never even think of putting LEDs into a fretboard, let alone know how to do it! Great application of your skills. Thumbs up!"
---
We couldn't choose just 3 winners, it was impossible. So we decided to add more winners:
Extra winner 30€ voucher: TNT cajon by

SkizzenMonster
View this post on Instagram
Kris: "Beautiful paint job! First I could even say if that's 2D or 3D. Great work!" 
Joe: "A clever idea for a cajon… You're giving the listener not only an explosive sound but a visual bang too. Congrats!"
---
Extra winner 30€ voucher: Bass by

@whats.next.otto
View this post on Instagram
Kris: "I absolutely LOVE the custom pickup covers, the tuner bushings and the knobs. And the body with the top and the plywood layers in it. Now it's time to get a bass amp and rock out! Haha! Extra point for the swäbisch from me, ich liebe es." 
Joe: "I love the smoothness of all this sanded wood! It makes you want to get it in your hands immediately. Fine fine work, sir!"
---
Extra winner 30€ voucher: Back to the Future Tele by @martperguitars
View this post on Instagram
Kris: "I love the attention to detail and the guitar's theme obviously. Mad respect for your hard work!"
Joe: "Wow, inspired by one of my favourite films of all time (no pun intended), this guitar-machine is museum worthy!"
---
Extra winner 30€ voucher: 3D-printed Cherry Blossom by @andreirosuofficial
View this post on Instagram
Kris: "I love seeing modern technology being used in designing guitars. This instrument is a piece of art and that neck plate… that's the sweetest thing ever. Thanks Sylvia and Andrei!"
Joe: "Sylvia and Andrei used new technology to do things that most luthiers would think is impossible to do on a guitar. Great work and nice overall presentation of your project!"
---
---
Musicians are sound makers, no question about it. Not only that: Most of the time, they like to let off steam creatively on their own instruments or equipment. For our #DiyKitChallenge if you design an instrument with a DIY kit from Thomann and have the chance to win a 500-euro Thomann voucher. Do you accept the challenge? ?
Win a 500-euro voucher!
Impress us with your homemade design and win great prizes. You have the chance to win one of three Thomann vouchers:
️1st Place: €500 voucher
2nd Place: €350 voucher
3rd Place: €200 voucher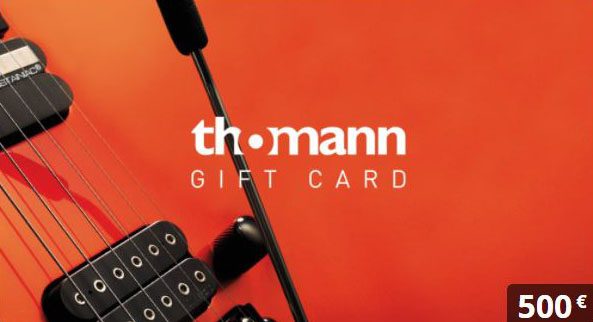 There are no limits to your creativity: To take part in our #DiyKitChallenge, create an instrument of your choice with a DIY kit from Thomann (all kits can be found below) and present it in a video. Your instrument must be both visually convincing and playable. Upload the video to Instagram, Facebook or YouTube using the hashtag #DiyKitChallenge.
Important: Please note that your profile must be set to "Public" and must include #DiyKitChallenge in the video title on YouTube. Also, link our profile on the platform you have chosen, so that we can find all your entries.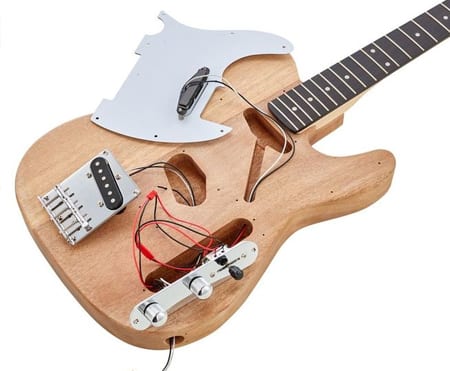 Our jury, consisting of our YouTube hosts and other Thomann employees, awards the best submissions. It selects the winners on the basis of the following criteria: originality, overall visual impression, quality and cleanliness of the workmanship and special craftsmanship (e.g. special visual designs, applications, decorations). As mentioned above, the instrument must also be playable.
You can read the complete conditions of participation for this competition under this link.
Contest running time
The #DiyKitChallenge starts on Wednesday, April 21st and ends on Sunday, May 23rd, 2021 at 11:59:59 PM. Unfortunately, we cannot take into account any videos that are published before and after the specified period. The winners will be notified via the respective social medium shortly after the end of the competition.

If you should still need a DIY Kit for participation, you can find it at thomann.de*. The following kits are eligible for participation:
ST style
T-style
Single-Cut style
DC style
Ukulele Soprano
Ukulele Concert
P-bass style
J-Bass style
Cajon
*While stocks last, kits are not provided by Thomann, you have to purchase them yourself.
---
Julia's new bass…
Kris Barocsi built a bass from a DIY Kit for his colleague and co-host Julia Hofer. You can find out in the video what he has come up with, especially for the headstock design…
The bass was sent to Austria: Julia received Kris' DIY bass. Check out here reaction in the video below. The special bass was, of course, tested out right away. Enjoy!
The cyberpunk guitar from a DIY Kit
Our friend Jennifer James built this cyberpunk guitar for us from a DIY kit from Thomann, wow! ?You can find out what this extraordinary piece sounds like in the video below. Kris played it for us to hear:
??