Stairville DMX-Master I Bundle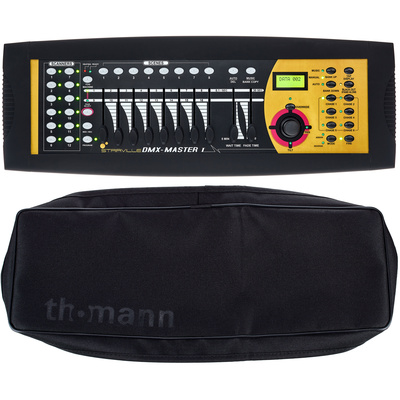 Text ratings for this product are available in another language only so far
Unfortunately there was an error. Please try again later.
| | |
| --- | --- |
| Total | |
| features | |
| handling | |
| quality | |
– Assumed from Stairville DMX-Master I
Full-fledged, award-winning 192-channel DMX console
DJ-Reiner, 23.12.2009
First of all, I would like to revise the statement in many evaluations and descriptions that the controller can only be addressed with 12 devices with 16 channels.
Depending on the addressing and modes of the DMX effects, this can be much more. The subdivision in 12 devices probably serves the simplification. For example, I am running two ADJ megapixel LED BARS in full-fledged 28 channel mode, which gives me complete freedom over all patterns. The first bar is located on switches 1 and 2 (ie channels 1 - 32, here, however, I leave the unused channels 29 - 32), the second bar on switches 3 and 4 (channels 33 - 64). This makes the programming a bit more complicated and confusing, but I have created for the channel assignment an excel table and see thereby at a glance, which channel for which function is responsible. On the remaining channels I could, for example, control 25 (in words twenty-five) LED PAR 64 with 5 DMX channels each.

For DMX novices this may sound very complicated, but it is easier than it sounds.
The difficulty in programming is usually the functions or addressing of the individual DMX effects (eg scanner, moving head, par 64 etc.) understand and not these in the DMX controller to program.

Thus, for example, each channel has a range of values ??from 1 to 255, to which various functions are assigned, whereby functions on another channel are enabled first. The value can be read in the display. In the case of the PAR 64 LED, this could be, for example: Channel 1 has a value of 0-63, thereby enabling channels 2, 3 and 4 (intensity from 1 to 255 for RED, GREEN, BLUE). If channel 1 has the value 192 - 255, the triple changer is activated, the speed of which is controlled by channel 5. Channels 2 - 4 have no function!

If one has to deal with the capabilities of its DMX effect, which is heavier or lighter depending on the manual, one can deal with the programming in the DMX controller. This is nothing but the fixed saving of a single function of the effect in scenes. These are combined into 8 scenes in the DMX Master in banks. In addition, there is the possibility to fill 6 chasers with up to 240 scenes or the corresponding number of complete banks.
An example of programming a scene for the above PAR 64 LED:
1. Press the Program key (flashes)
2. Set channel 1 (controller 1) to value 40 (value between 1 and 63)
3. Set channel 4 to value 150 (green is medium-strong)
4. Press the MIDI / REC button
5. Press scene button 1 (all LEDs flash)
6. Press the Program key (programming completed)
That's it, first scene in the box and always available. Before step 6, of course, additional scenes can be recorded.

The scenes, banks or chasers can then be played music-controlled or automatically. For automatic playback, the DMX Master has two additional controls that control the crossover speed between two scenes as well as the overall speed of the process.
I would like to emphasize once again that it is important to know the channels and their sub-functions of the individual devices, because only then does the DMX Master do what you want. In any case, he is not responsible if no reasonable result comes out.
This includes preparing the correct addressing and setting the channel modes on the device itself. There are also devices that can be controlled with different numbers of channels. The ADJ LED BAR is factory set to 24 channel mode. This allows only the individual colors to be dimmed. If you want to use the Sound to light or Strobe function, you have to set the 28 channel mode. Thus, the bar occupies the channels 1 - 28. If you now have an additional connected LED PAR 64 set to the initial address 24, the control collides naturally with the bar and there is no more reasonable result. The initial address must be 29 or higher for this device.

For the beginner, it is a good idea to actually place the effects directly on the scan buttons, but then please set only one channel mode under 17 channels on the device.
It must also be noted that the second half of 16 channels can only be selected on the DMX Master by pressing the Page Select button (LED flashes). This partly requires a certain calculation, but at this price one can not expect a more comfortable solution (eg 192 Schieberegler). Channel 27 is, for example, to be addressed with scanner button 2, page select and controller 3 or 11.
The experience report has been quite extensive, but I have only described the problems that I had at the beginning and I hope to prevent possible sources of error or improper assessment of this device in advance.

For me the Stairville DMX Master is unbeatable for this price with 192 channels and these programming functions.
Unfortunately there was an error. Please try again later.
| | |
| --- | --- |
| Total | |
| features | |
| handling | |
| quality | |
– Assumed from Stairville DMX-Master I
Definitely worth the money!
Backdraft, 23.03.2011
I have to say that the DMX-Master-I will be difficult at first. This changes however after 3-4 days. Then you start to understand and after 2 weeks you can almost blind everything. Programming, which is initially complicated, goes over to the blood in a short time.
(For the small initial difficulties 1 star at the operation trigger)

The processing is very well done, no complaints. For the info: Unscrew the outside parts and you can already build the thing into the case (Rackohren available).

With the features you get a clear idea, but I wonder if 6 chases are not a little (1 chase contains up to 240 freely programmable steps and can be run as a program, speed adjustable via fader). I'm still with my 4 bar and the chases. Otherwise you can also "play" the 30 banks with 8 freely adjustable scenes individually. The speed is freely adjustable via fader.

One thing I noticed however directly: The DMX master I has NO master fader for the master brightness! This is, however, the only real defect in the DMX-Master-I. So very recommendable for small to medium sized events ...
Available immediately
| | |
| --- | --- |
| item number | 277653 |
| sales unit | 1 piece |
| available since | February 2012 |
sales rank
in this category
Rank 71
at thomann.de
Rank 33059
Your Contact People
Phone: +49-9546-9223-45
FAX: +49-9546-9223-443
Offers include
21% Belgium VAT
and are valid as long as stocks last.
Shipping costs
to Belgium are 2,50 EUR,
free shipping
on orders above 49 EUR. Please
click here
for international Shipping rates. We do not accept liability for typographical errors or inaccurate information of any kind. *RRP = manufacturer's / distributor's recommended retail price in Germany
Payment & Security
Shop
Sitemap
Contact & Service
For our groupies...

Payment can be made safely and securely with Cash on Delivery, Credit Card, Bank Transfer, PayPal or Amazon Pay.

+49-9546-9223-55
international@thomann.de

Thomann GmbH
Hans-Thomann-Straße 1
96138 Burgebrach
Germany




Shop

Fine print
ID: 277653
© 1996 – 2017 Thomann GmbH
Thomann loves you, because you rock!