7. Stands
Don't underestimate the value of a good, sturdy snare stand. Snare drums tend to be expensive and deserve an adequate stand. First, it must be stable. Snare drum stands come with double or single-braced legs. Double-braced legs offer a little more weight at the bottom of the stand and may help keep a heavy drum in place. Single-braced stands are often cheaper and are better suited for average weight snares. Hardware comes in different weights, often checked by comparing the diameter of the tubes and the thickness of the legs. Some double-braced hardware is actually medium weight gear. If you flail around a lot when you play, you may require a more expensive but sturdy, heavy-duty double-braced stand.
You should be able to adjust the stand into a comfortable playing position. Most snare stands can accommodate a 14-inch diameter drum. If you have other size snare drums or plan to purchase one, check that the drum will fit in the stand. How low will the stand go? If you use deeper drums and like to sit low, a snare stand that goes low may be necessary. How high will it go? If you're playing standing up in a concert band, a concert-style snare stand will position the drum at a comfortable playing height.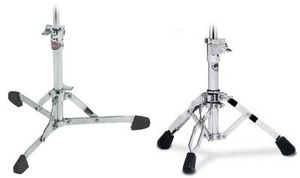 Snare stands use tilters to set the playing angle of the snare drum. A ball-and-socket joint allows a fast an infinitely variable tilter, though over years of use they can become grooved and require replacement. Other styles of step-free tilters are available too. Ratchet-style tilters are more common on less expensive models and use teeth on two disks to set predetermined angles of adjustment.
Anatomy of a Snare Stand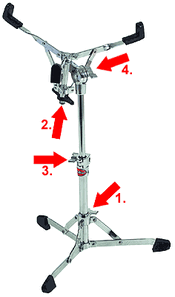 - Adjusting screw for feet (1) is set to hold the feet in place, or loosened to allow the legs to fold flat against the stand in transport.
- The clamping screw (2) closes the arms of the snare basket to securely hold the snare drum.
- This screw (3) allows the stand to be raised or lowered for different playing heights.
- When loosened the ball joint (4) is used to tilt the snare drum desired playing angle and when tightened, it holds the drum in that position
Snare Drums overview