4. Frame Drums
Asian, Arabic, Indian and Irish music all use various frame drums. These consist, as a minimum, a frame and a drumhead, traditionally made from animal hide. They can produce a wide variety of tones from deep bass notes (in the centre of the head) and higher pitches rich with overtones (nearer the edge). The frame may have holes or cross-bracing underneath to make for ease of holding - especially important with larger frame drums such as the Irish bodhrán. They can be played with the fingers and hands or sometimes with small sticks or mallets.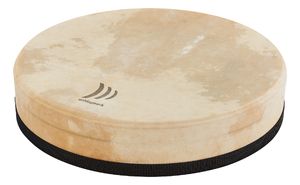 The table drum is often played simultaneously by several people. This is a large drum similar in size and shape to a table, with a drumhead stretched across its surface, which may be played with hands or mallets. Because several people can play it together, it is popular in music therapy.
Another relative of the frame drum is the tambourine. This is a small hand drum with one or two heads and sometimes string or animal gut stretched across the head. The instrument spread across Europe around 1500 and has been popular ever since for many reasons, among them its portability. Some tambourines have metal jingles within the frame to enhance the rhythms that are played.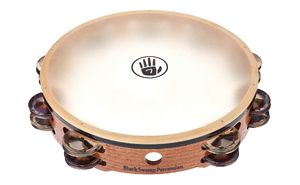 Often used synonymously with the term tambourine is the jingle ring, which is a ring with clips. This type of tambourine doesn't have a drumhead and is played by striking the ring against one's hand or leg or by shaking it rhythmically. These instruments sometimes have a bracket that enables them to be attached to a percussion stand or a drum set and can be played with a stick. The number and type of jingles vary from model to model and the sound varies accordingly.
The tamborim is another type of frame drum used in salsa music. These drums are small (14 – 18cm) and usually made of metal to support the tightly stretched head. It is the highest percussion instrument of the batucada. The tamborim is often hand-held and played with fingers or a small timbale stick that bounces over the head in a whipping motion enabling surprisingly fast tempos. As with all frame drums, percussionists can vary the tones by muffling or pressing the head to change its pitch. Sometimes the drum is spun back and forth to aid playing fast tempos or to create other musical effects.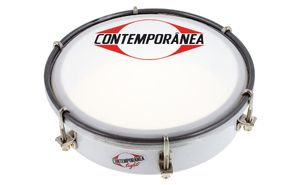 Percussion Instruments overview