9. Changing Strings: E-Guitars with Tremolo
The ordinary Strat-type tremolo unit has very little effect on string changing procedure, however it's important to note that since the total string tension is counter-balanced by the tension of the tremolo springs, changing string gauge will always necessitate spring adjustment, or even replacement. This sort of work is generally best left to a technician.
Floyd Rose/Floating Tremolo
This type of tremolo unit usually incorporates a locking nut and fine tuners at the bridge.
Step 1: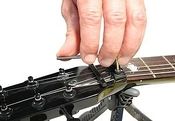 The strings are locked at the nut by means of Allen bolts. These must be loosened so that the old strings to be removed. On most locking nuts, each bolt clamps two strings to the nut. It's usually easiest to remove the clamps completely.
Step 2: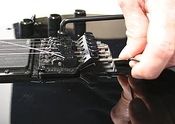 Each string is clamped at the bridge. Loosen the Allen bolt to free the old string, remembering to slacken the string first.
Step 3: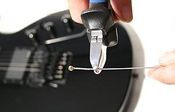 Most floating tremolo units clamp the bare end of each string in place at the bridge. The ball must therefore be removed from the end of the string by cutting it off.
Step 4: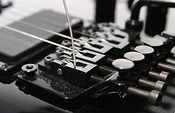 Feed the string into the clamp, and use an Allen key to tighten the grip.
Step 5: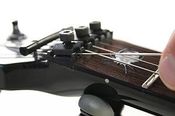 Feed the other end of the string through the corresponding slot in the locking nut. Do not tighten the screw yet.
Now complete the string change procedure (refer to the previous pages). After stretching the string and tuning it to somewhere near the correct pitch by turning the machine head, tighten the nut clamp. Leave any fine tuning at the bridge until all the strings have been changed.
Guitar Strings overview