All the world's a stage
Roundback guitars are the epitome of the electro-acoustic guitar. They traditionally come from the USA and are usually handsomely priced - a perfect reason for Harley Benton to develop their own interpretation of this classic design: the HBO-850BK. Of course all the essential features and adornments are to be found, such as the off-centre and richly decorated sound holes and the rounded bowl. Pickups are integrated, making the HBO-850BK an ideal choice even for the most devoted electric guitarists.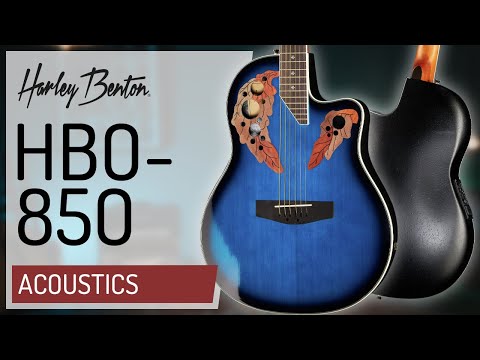 Round sounds different
For once, the focus is not on the front of the guitar but rather on its ABS shell. Beyond its inherent technical advantages (i.e. excellent feedback rejection), this design also has a strong influence on the acoustics since the sound waves behave differently from inside flat-backed guitars, and create its characteristic tone. The front of the guitar is very flat however, and includes a cutaway for optimal playing comfort. The soundboard is lacquered in black, made of spruce and is X-braced. The sapele neck offers a 65 centimetres long scale length and has up to a full 24 frets on the higher strings.
Rock stars love it
Yes, the Harley Benton HBO-850BK is the right instrument for acoustic-savvy electric guitarists. The slim neck, flat finger and sound boards, cutaway and, last but not least, factory-wound .011 strings will make every electric guitarist feel at home in an instant. In addition, the piezo pickup with its three-band EQ will deliver the exact desired sound in any circumstances – i.e. the one you have heard in countless performances by trendy stadium rockers. And needless to say, this complete package comes at a sensational price.
About Harley Benton
Since 1998, the Harley Benton brand has been catering for the needs of numerous guitarists and bassists. In addition to an extensive range of stringed instruments, Thomann's house brand also offers a wide choice of amplifiers, speakers, effect pedals, and other accessories. In total, the range includes over 1,500 products. Built by established names in the industry, all Harley Benton products combine quality and reliability at attractive and affordable prices. The continuous expansion of the range ensures that Harley Benton always provides new, exciting, and innovative products that keep players perfectly in tune with the musical world, day after day.
Can be quiet, but doesn't have to be
Of course, one can play the Harley Benton HBO-850BK purely acoustically. The thin body delivers rather thin yet concise basses and the sound feels well-rounded and 'grown-up'. However, this guitar really thrives on stage – and the louder, the better. This guitar is pretty much feedback-proof thanks to its rounded ABS shell and the insulated top. Incidentally, it is recommended to play this guitar strapped while standing up. Not only does it look good, but the guitar naturally leans into the player which allows an excellent view of the fingerboard.
This is what customers who viewed this product bought