19" Rack Mixer
32 Channels

16 XLR Mic/Line inputs

8 Stereo FX returns

25 Buses

6 Matrix buses with insert

6 Mute groups

8 DCA groups

8 XLR outputs

6 AUX inputs via 6.3 mm jack (optional: 2 via RCA)

6 AUX outputs via 6.3 mm jack (optional: 2 via RCA)

Adjustable headphone jack

32 x 32 USB audio interface

Talkback microphone input (XLR)

4-Band fully parametric EQ on each channel

Adjustable delays on all channels

Virtual effects rack with 8 FX slots

Built-in stereo USB recorder

Remote control via Ethernet

5" TFT display

Compatible with the Behringer P-16 personal monitoring system

Format: 19" / 3U

Dimensions: 132 x 483 x 287 mm

Weight: 6.5 kg

Optional expansion cards are available separately (not included, must be purchased separately)
Available since
September 2013
User Interface
Physical/remote
Digital stagebox connection
AES50
integratated Player/Rec via USB/SD
stereo
Soundcard interface
USB-B
Separate Personal Monitor system
Optional
A powerhouse mixer for live and studio racks
The Behringer X32 instantly became a milestone among mid-priced digital mixing consoles when it first appeared, and it has lost none of its appeal since then. Its clear workflow and interactive user interface together with the sheer wealth of features on offer made a lasting impact on the market and delighted countless users along the way. The 3 HU "Rack" version of the mixer essentially provides the same connectivity as the X32 Producer, without the physical fader and channel section. The X32 allows 16 mic or line inputs and six AUX signals to be easily mixed in an intuitive fashion – whether live or in the studio. The X32 Rack's internal plug-ins and modern network connectivity come into their own when mixing live acts with extensive lineups, proving that it has the performance to match its looks. As a front-of-house mixing desk, it is easy to use and can be operated in conjunction with AES50 and Ultranet-capable devices such as stageboxes, monitor mixers, and speakers.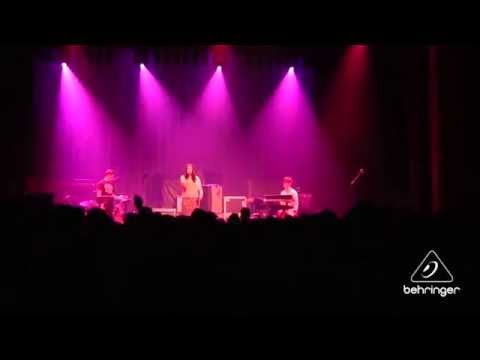 A digital genie
The Behringer X32 Rack is a ground-breaking digital mixer that comes at a budget-friendly price and has fulfilled a wide range of needs for many years. You need XLR outputs? The X32 Rack has eight of them. Backlighting for the key control elements? Done! And the digital mixer also allows engineers to record using an external USB drive, control remotely from an iPad, and view their parameters in detail on its 5" TFT colour display. The Behringer X32 Rack is also ideal for use as a studio mixer thanks to its 32-in/32-out USB audio interface with DAW connectivity.
Complex lineup? No problem.
The Behringer X32 Rack is a fully equipped workhorse for small to medium-sized venues where the front-of-house mix and a selection of monitor mixes are needed from a single source without unnecessary complications. The X32 Rack also provides "cue lists" in which sequences of mix scenes can be stored and recalled – particularly helpful when it comes to complex and recurring mix setups, e.g. concert tours with multiple bands and performance productions in which the cast on stage is constantly changing. The mix workflow is also made easier by DCA groups, which allow key channels to be controlled with a single fader using the free X32 Mix und X32 Edit apps. The mix engineer can thus leave many organisational concerns to the X32's clear workflow and concentrate fully on the sound.
About Behringer
The company, which was founded in Germany by Uli Behringer and now manufactures its products in China, has been known for affordable and great-value equipment since its very first product, the Studio Exciter F. An array of mixing consoles (such as the Eurodesk MX8000), signal processors, and later sound amplification and monitoring equipment, has made it possible for countless musicians to fit out their home studios, practice rooms, and mobile PAs within budget limits that were previously unthinkable. The acquisition of other companies, including Midas, Klark Teknik, and TC Electronic, meant that new product groups were added - and also resulted in the technical expertise of these companies being incorporated into product development.
The "most wanted" features
The Behringer X32 Rack is an impressive front-of-house mixer which covers virtually all of the "most wanted" features that are offered by digital rack mixers in its price range today. It also goes without saying that the channels' "Send" outputs can be used to create monitor mixes, which means a second mixing console for the monitor sound is no longer required, and because the majority of the controls are backlit, this all-in-one tool is easy to use when mixing in dark surroundings such as clubs and concert halls.
In the spotlight
Ultranet
Ultranet is a transfer protocol that is used by Behringer and allows audio signals to be transferred between compatible devices via Ethernet connection. The X32's Ultranet output is suitable for connecting category 5 Ethernet cables with RJ45 connectors, which means that up to 16 audio channels can be sent to devices like the Behringer P16-D distribution hub, PA speakers like the Turbosound IQ15, and wedge monitors like the Turbosound TFX 122M-AN. The Behringer X32's routing menu can be used to specify which signal is assigned to which Ultranet channel. And for maximum flexibility, the position of the signal tap can also be set to either pre-fader or post-fader.
This is what customers who viewed this product bought