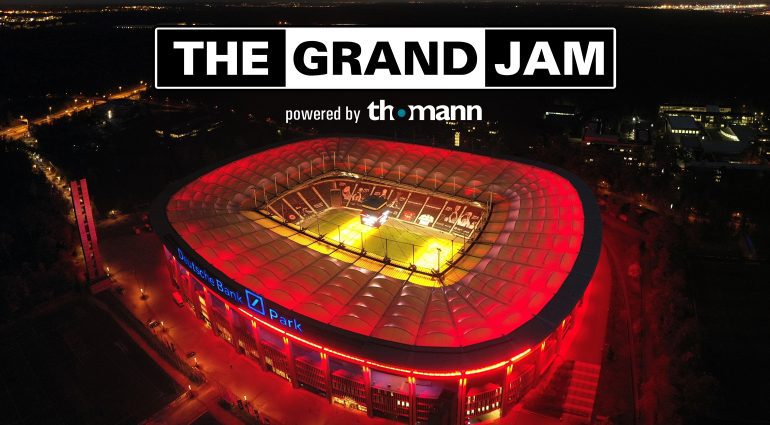 +++ Update +++
June 10, 2022
Dear Jammers. We've been informed to our regret by the organiser PK Events that The Grand Jam 2022 has been cancelled and postponed to 08.07.2023. We were also just informed about this decision and would have been happy to rock there together with you. According to the organisers, the main reasons are the long-term effects of COVID-19 on event attendance. If you have any further questions, please contact the advertised email address on The Grand Jam website. We apologise for any inconvenience caused. Keep on rockin', your Thomann Team.
May 5, 2022
Are you ready for a unique musical experience that you'll remember for years? On June 25th, the spectacular live show THE GRAND JAM will take place. And you can be there. Play as one of the hundreds of musicians on the biggest stage of your life: In the German Bank Park Arena, where Ed Sheeran and other top-class stars have performed. Or you can simply cheer on, and enjoy a great concert, in the stands.
---
Imagine hundreds of musicians coming together for a gigantic stadium concert in front of 25,000 spectators, playing your favorite songs, being part of a large family of musicians… This is exactly what will happen at THE GRAND JAM on June 25th in Frankfurt. 
Complete beginners, professional musicians, Thomann employees and our Thomann YouTube hosts: Everyone can participate! Register and take part in the biggest jam in the world!
---
Our YouTube hosts will be at the Grand Jam!
Drum roll: We're excited to announce that many of our YouTube hosts will be participating! Namely:
Guitar: Kris & Guillaume
Bass: Julia
Drums: Domino & Simon
Saxophone: Alexandra
Vocals: Marcela

Join the biggest jam in the world! 
Music connects. Would you like to be part of the 1,000-strong band and heat up 25,000 fans in a huge stadium? Would you like to play together with your idols? You can still apply.
---
---
16 songs are played, national and international pop & rock hits like Don't Stop Believin' by Journey, Uptown Funk by Mark Ronson feat. Bruno Mars and many more. Let's rock!
Mr. Brightside by The Killers is the song Thomann dedicated to the event. You have the chance to be on stage in Frankfurt with our YouTube hosts and perform the song alongside others. In the video below, our hosts and Thomann staff perform Mr. Brightside. Enjoy. Caution: May cause earworm!
THE GRAND JAM: 10% discount on tickets
Be at the biggest concert of the year and experience unforgettable moments: Book your ticket with a 10% discount by clicking on this link! You can sing along, dance and play air guitar in the stands.
The dance formation SHAPGANG from Frankfurt will perform the songs Dynamite by BTS and Uptown Funk by Mark Ronson feat. Bruno Mars, at the Grand Jam. Preparations are underway, in the video you get a little glimpse of how rehearsals are coming along:
Whether as a jam member or as a spectator – we wish you a lot of fun at THE GRAND JAM!
---
---
Make music in a huge stadium – powered by Thomann
Experience the extraordinary atmosphere and international flair at the record event on June 25, 2022 in the Deutsche Bank Park in Frankfurt am Main. It's going to be a spectacular show and you can be part of it. You will never forget this highlight in your life, we can promise you that. ?
At THE GRAND JAM, Thomann is on board with active support as a partner. With around 1,000 live performers you will stand together on this extraordinary stage and serve up to 25,000 fans in the stands a spectacular experience. Play the world's biggest jam and register now:
---
---
The Grand Jam Band will be made up of:
Vocals (female / male)
Guitar
Keyboard
Bass
Drums
Wood and brass players (alto and tenor saxophone / trumpet / trombone)
Strings (violin, viola, cello)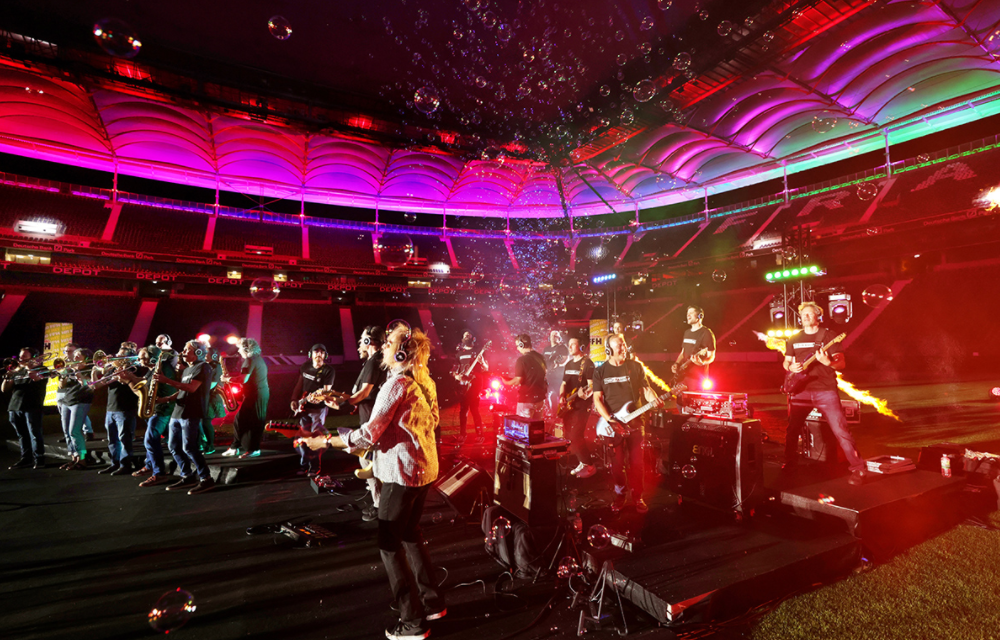 Registration & Login – so you can be there
You register here using the online form for an instrument or your voice. You add a video link from your performance to the registration data. After the coaches have checked your video material and given their go, you can be there.
You can already start preparing for the songs from the pop and rock genre. Professional coaches then guide you using online tutorials and prepare you for the big moment.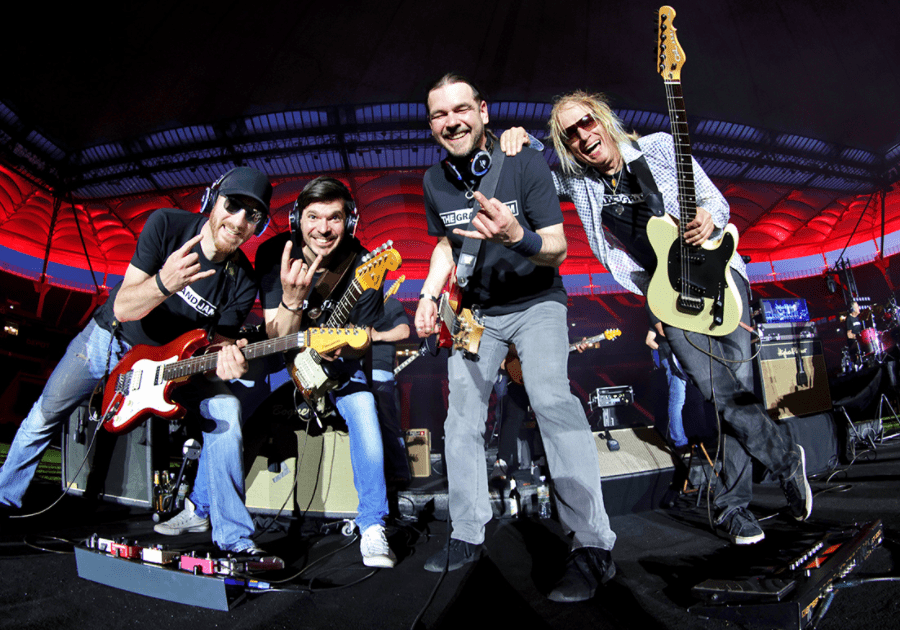 Be part of something really special
At THE GRAND JAM, the focus is on making music regardless of who you are! You don't have to be a professional to take part in this musical event: every beginner can be there to meet musicians from other countries, make contacts and much more. It will be the gig of your life, no restraints, record-breaking culture happens when you go!
Not to be missed
Don't forget that you will be supported by the community singing along, partying and playing air guitar in the stands, unforgettable interaction of a special kind. And what's a show without atmospheric lighting equipment, bombastic lighting effects, pyrotechnics, fire and artistic interludes? At THE GRAND JAM, your stadium concert dreams will come true, where you will be welded together to form a large family of musicians.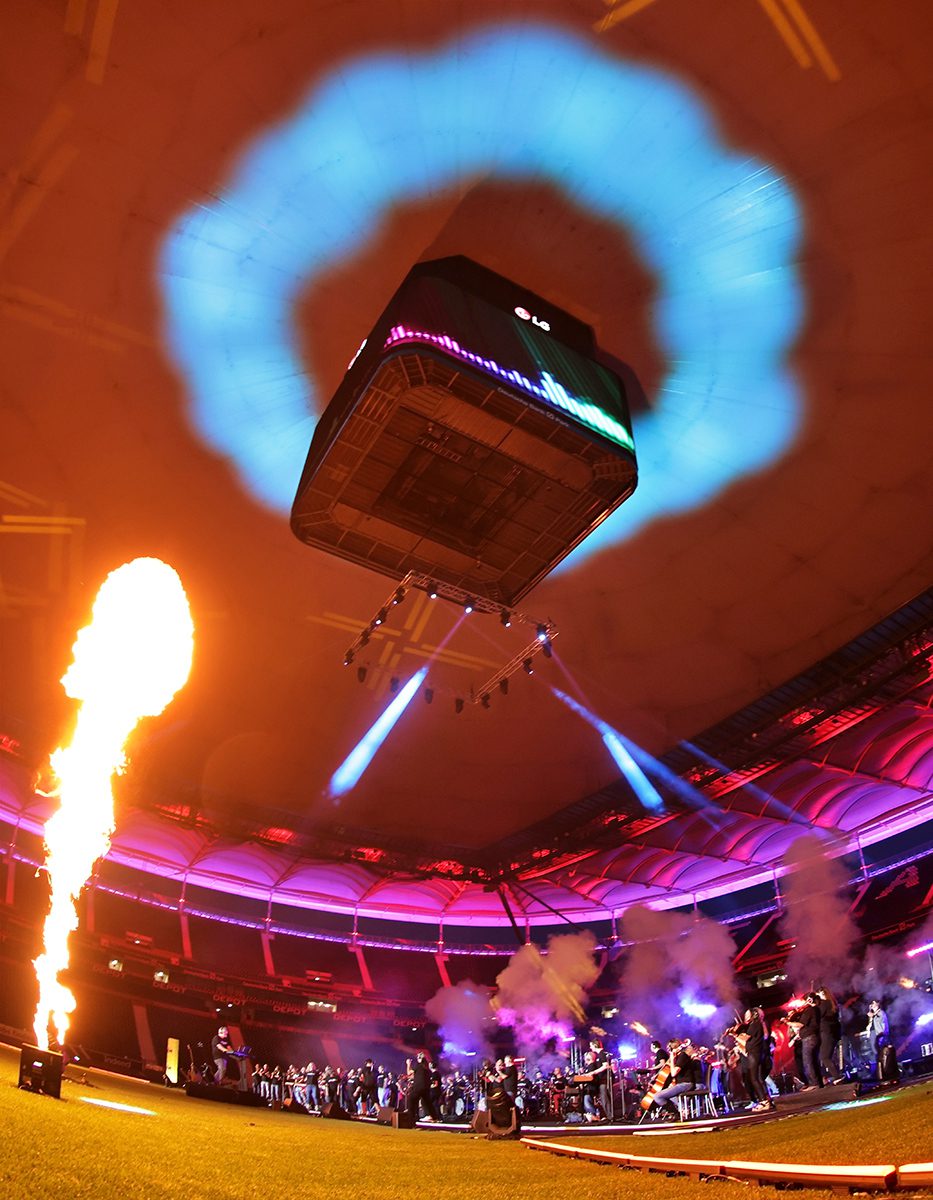 Credits Photos & Video: The Grand Jam