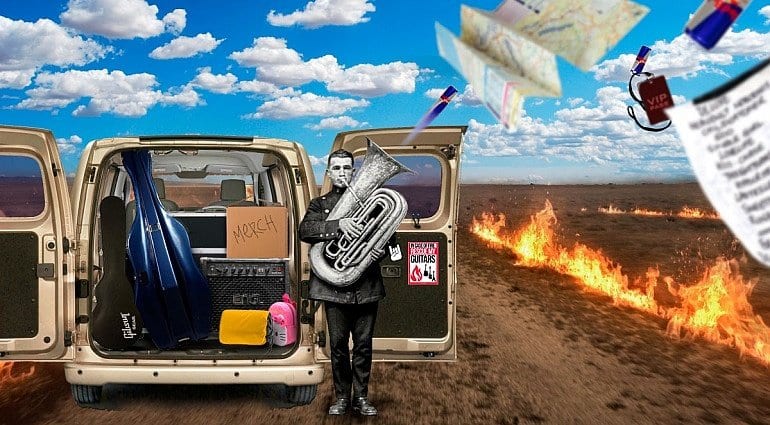 10 tips on how to survive life on tour
10 tips on how to survive life on tour
Practically every band on earth dreams of going on tour. Traveling, visiting new places, playing in front of hundreds of people every night and feeling the energy from the various crowds.
But not all is fun and games… as those who've already dealt with the touring life may know too well! So here we prepared a list of the best tips on how to survive life on tour as harm free as possible 🙂
Road trippin': There's always a possibility that your tour van could break down. So remember to have it checked before leaving. Rock n Roll all the way, but safety first!
The co-pilot: aka "navigator," plays a very important role. They are responsible for the GPS coordinates, supplies, the radio and most importantly to keep the driver awake 🙂
Food: recent studies have shown that musicians are human and may need to eat to refuel. Stock up on energy bars, pasta, rice, water and snacks before departure: this will prevent you from spending all your earnings at the overpriced gas stations!
Sleep: musicians are nocturnal creatures who only sleep a few hours a night, it is scientifically proven. Beware of sleeping arrangements: you'll often be promised a bed, but without mentioning that you'll be sharing with the bassist … be mentally prepared for sleepless nights and bring a decent pillow!
Recovery: Ibuprofen, Aspirin, vitamin supplements and water bottles. A tour is not a holiday and the weight of fatigue can take its toll.
Hygiene: never, never, never refuse the opportunity of having a shower… you never know when you'll have another chance!
Equipment: be fully equipped with extra strings, gaffer, picks, cables, sticks. Someone always forgets or loses something. Also make sure to send a list of requirements to the organizers.
Parking: you're traveling with a lot of expensive equipment, the result of many sacrifices and not to mention of great sentimental value! So do not leave your precious musical equipment unattended and always park in guarded parking lots when available.
Bureaucracy: all terms, fees, negotiations with managers should be confirmed well in advance. Too often, bands find themselves to be paid only in beer after the show.
Communication: Timeouts are good opportunities to maintain contact with your fan base by keeping your social networks updated with posts and photos of your road trip. So don't forget to bring your phone chargers and travel adapters. A fully charged phone also may come in handy with access to information or in cases of emergencies, especially when you're in unfamiliar territory.
Do you have any tips or experiences you'd like to add?