Hamaril Keyboard Set
Bundle offer comprising:
Illuminated Push-Button
No
available since
January 2018
Dimensions
955x360x145 mm
The perfect starting point for keyboard players
The Startone MK-300 provides an extensive range of sounds as well as useful practice options, making it a very good point of entry into the world of keyboards. The 61 velocity-sensitive keys provide a five-octave range and a high C, and the sound selection is rich and varied. The Startone MK-300 features an integrated metronome and a removable stand for reading sheet music. Different learning modes allow you to approach all kinds of musical scenarios with ease. The front panel includes a sustain button, and a connection for an external sustain pedal (available as an option) is provided on the back. The Startone MK-300 thus provides everything you need to get playing in no time at all. This HAMAril bundle comes complete with headphones, a keyboard stool, and a stand.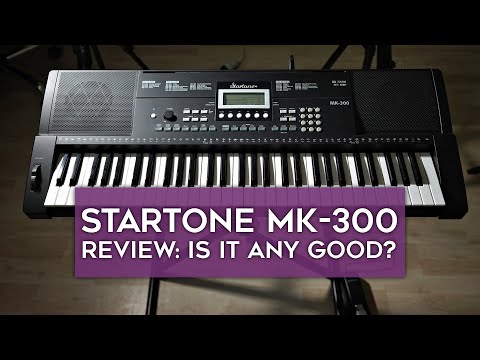 Nuanced and detailed with different learning modes
The Startone MK-300 delivers complex sound generation with 399 different voices and makes even nuances audible – an important factor when it comes to practising with attention to detail. It has a 64-note polyphony, more than the number of keys on the keyboard. This feature is particularly useful when using the Dual mode, which allows you to play two voices simultaneously. The Lower mode allows you to assign a different voice to the left hand, e.g. for playing bass notes separately. The Keyboard Split function means that each hand can play a different voice, which is particularly useful for practising and performing complete pieces. Finally, a drum kit playable from the keyboard is included for practising rhythms with more precision. The height of the keyboard stand and seat included with this bundle is adjustable.
Pure playability for beginners
The variety of sounds and rhythms offers beginners a wide range of different settings with which to play and learn. The control panel is clearly laid out and includes rotary controls for volume and for voice and song selection. Unlike a weighted keyboard, that of the MK-300 is easy to play thanks to its low resistance. The sensitivity of the velocity response can be set to soft, normal, and hard, or even switched off completely. Weighing just 4.5 kg, the keyboard is easy to transport – and since it can run on AA batteries, it can also be played cordlessly. The headphone output will allow you to practise late at night, while the two 10-watt speakers can be used for intimate performances. A USB port allows MIDI data to be recorded, so song ideas can be quickly saved and edited on a computer. Since the height is adjustable on both the stool and stand, this bundle will suit both adults and children.
About HAMAril
HAMAril is a music school in Rillaar, Belgium, and offers courses for different ages and skill levels. The name stands for "Het Alternatief Muziek Atelier Rillaar" ("The Alternative Music Workshop of Rillaar"). In order to give students a solid start to their musical life, Thomann has put together affordable starter sets to match the instrument groups taught there. These sets contain the instruments required by the music students, along with a wide selection of accessories such as instrument and music stands, bags for safe transport on the way to the music school, and instrument-specific accessories. An easy start even for newcomers!
Practice makes perfect
As well as offering players a wide range of tones, the Startone MK-300 also includes a library of 110 complete songs and eight demo songs. Some of the songs have extended intros and endings, fill-ins, and transitions, allowing you to practise as you would with a real band. Every level of difficulty is covered, meaning that beginner and advanced keyboard players alike will always have something new to practise and improve their skills. The LCD display shows the names of the chords played as well as the notes in the various exercises. The rhythm, tempo, sound, effect, and mix parameters can be saved using the four dedicated memory buttons so that they can be quickly recalled during later sessions, and songs can also be recorded internally using the integrated recording function. The included headphones are perfect for practising quietly and the keyboard stand neatly folds up, making it easy to transport and store. The various possible height adjustments of the stool mean that this bundle can grow alongside your child.