Studio Earphones
For mixing, mastering and monitoring

Tesla 2.0 technology

Closed-back

Circumaural

Dynamic

Impedance: 250 Ohm

SPL: 102 dB

Frequency range: 5 - 40 000 Hz

Max. input level: 200 mW

Straight 3 m cable and 5 m coiled cable (spiral), both 3-pin XLR connectors

Weight with cable: 440 g

Weight without cable: 376 g

Colour: Anthracite

Incl. 1 pair of ear pads made of faux leather, 6.3mm adapter and hard case
Available since
September 2015
Frequency range
5 Hz – 40000 Hz
Type Of Connector
Mini Jack
Closed-back headphones with Tesla driver technology
The DT 1770 Pro is a pair of closed-back headphones designed by beyerdynamic for studio and monitoring applications. Like its open-back counterpart, the DT 1990 Pro, the 1770 is also equipped with Tesla driver technology. This delivers a powerful and detailed sound reproduction that is free of distortion even at higher output levels. The DT 1770 Pro comes with a number of accessories: In addition to a second pair of leatherette ear pads, two different cables are included (a 3m straight cable and a 5m coiled cable), a 6.3mm screw-thread adapter, and a hard case for safe transport.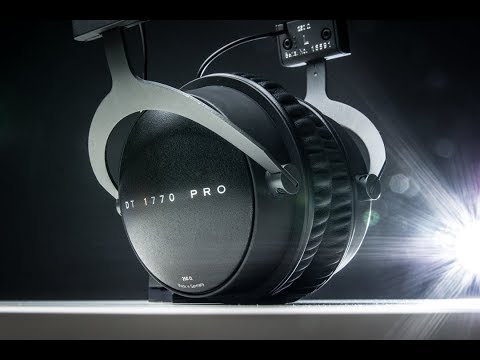 Great spatial sound reproduction and a solid bass response
Despite its design, the DT 1770 Pro boasts a remarkably good representation of spatial acoustics. Particularly noteworthy are the detailed high frequency, the precise impulse response, and the exceptionally solid bass reproduction. The Tesla 2.0 drivers produce a high-resolution sound and their enhanced level of efficiency is particularly advantageous in noisy environments - in live monitoring situations, for example. The DT 1770 Pro's cable is connected on one side via a mini-XLR connector. The nominal impedance of 250 ohms is comparatively high. Nevertheless, there is nothing to stand in the way of high-volume playback - even when the DT 1770 Pro is connected to mobile devices.
Comfy headphones for professionals
In addition to a top-quality sound, the DT 1770 Pro headphones are very comfortable to wear and prevent the onset of fatigue even after long periods of use. The interchangeable ear pads fit perfectly thanks to the padded headband made of spring steel with its optimised contact pressure. The earpads are made of velour and artificial leather and may be used in a variety of different environments. This makes the DT 1770 Pro very comfortable to wear, even during longer studio sessions or live events. The DT 1770 Pro is thus also a wonderful tool for all technicians, musicians, and producers who need to perform on a daily basis.
About beyerdynamic
beyerdynamic was founded in Berlin in 1924 as a manufacturer of cinema loudspeakers. In 1937, Eugen Beyer developed the DT 48, the first set of dynamic headphones, followed two years later by the M 19 dynamic microphone. After the Second World War, the company moved to Heilbronn, Germany, and now also has a US subsidiary with headquarters in Farmingdale, New York. beyerdynamic's most popular products traditionally include headphones and microphones for both live and studio use, and the company also has a strong presence in the consumer and conference technology sectors as well as in the field of installation microphones, interpreter consoles, and tour guide systems.
Professional monitoring and high-end enjoyment at home
The DT 1770 Pro is an excellent choice for professional monitoring - both live and in the studio. Thanks to its closed-back design, ambient noise is extremely well damped, and the included leatherette ear pads provide an even higher insulation value if need be. Its reproduction will please everyone with its punchy bass response and also makes any mix seem more powerful. These features will also make it a top choice for recreational use: Whether it's for tuning out everything but the sound of your favourite band on a the daily commute or at home in your armchair for high-end listening pleasure.