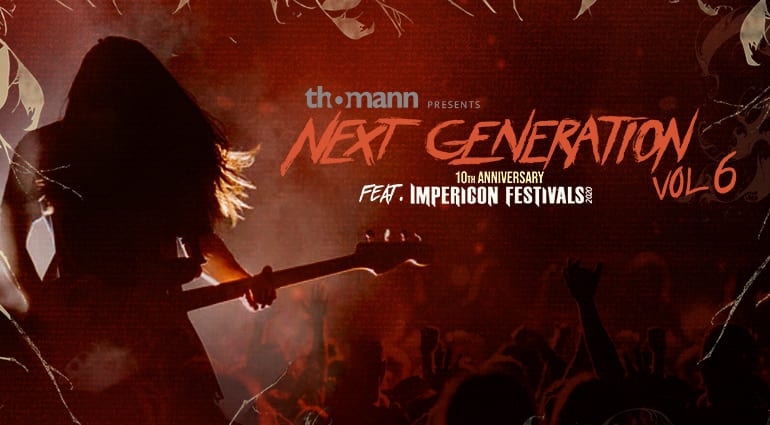 Win slot at Impericon Festival or €1000 Voucher
Win slot at Impericon Festival or €1000 Voucher
Together with our colleagues from Impericon we are again looking for talented newcomer bands (of the harder variety) at the Next Generation Contest Volume 6. 🤘🤘🤘
---
Prizes 🏆
This year is a very special year for Impericon: The festivals celebrate their 10th anniversary. The winners can look forward to these grandiose prizes:
Voting prize: One band has the chance of winning a 1000-Euro voucher from Thomann!
Jury Prize: Two winning bands will make 10,000 visitors move at the Impericon Festival 2020 🎸 in Munich and Leipzig on the same stage as the megastars! One band will perform in Munich, the other in Leipzig.
---
Apply now! 🎸👊
Round 1: Application
The contest consists of two rounds: With a sample of your sound you can apply from February 3rd to 22nd,  2020 under THIS LINK. The jury will select the 25 best entries from the numerous applicants and send the participants to the second round.
Round 2: Fan Voting
Now is the time to animate your fanbase so that as many as possible vote for you in Round 2. The winners of the 1000-Euro Thomann Voucher will be determined by fan voting from March 1st to 22nd, 2020. You will find out on April 1st whether you have made it.
---
⭐Fame, fame, fame!⭐
A huge step for your band's career: With your voting graphics you can be online for weeks, with the band video even permanently on the Impericon homepage. We also cover the battle on our Instagram account, our Facebook page and here on the t.blog. In addition you can also find organizers, bookers, talent scouts or producers among the online visitors. So with a little bit of luck, it could be a rocking win-win spectacle for everyone involved.
---
---
Line-up 2020 🎤🎸
What a lineup for the 10th anniversary: As I Lay Dying, Neaera, Lionheart, Bury Tomorrow, Whitechapel, Eskimo Callboy, Your Demise and many more live in Munich, Leipzig, Oberhausen, Vienna and Zurich! Please note that the lineup may be different in each city.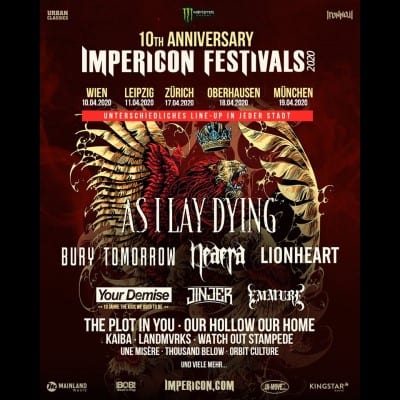 ---
To participate in another category … 🙆📸✍
Besides bands, the Next Generation Contest is also looking for talented models, photographers and music editors. Cool prizes await the winners and runners-up in all categories. Detailed information can be found on the Impericon website under THIS LINK!