5 reasons why you need a SWITCHER on your pedalboard!
5 reasons why you need a SWITCHER on your pedalboard!
A well organized pedalboard is the key to a versatile sound, without signal loss and without parasitic noise. Obviously this involves quality elements, whether we are talking about patch cables or the power supply for your pedals. But did you know that a switcher can also save you a lot of trouble? These are 5 reasons why they are indispensable to fanatics of effects pedals!
---
1. No more tap dancing!
A switcher allows you to activate and deactivate several pedals with a single click! No more tap-dancing from a modulated clear sound to your distortion with delay, no more hesitation on dark stages and unintentional activation of other effects. The switcher allows you to switch from one patch to another with a single click!
2. Better sound quality!
Indeed, even if you use True Bypass pedals, the physical input and output connections remain in the chain even if the pedal is inactive, and generate a load and resistance. This affects your sound signal. A switcher simply blocks your signal from the non-activated pedals and thus preserves the untainted quality of the activated ones.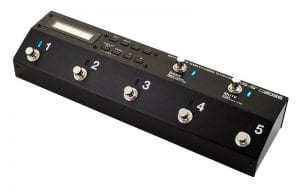 3. Reorganise your effects without touching them?!
Well yes, it is possible! A switcher like the Boss ES-5 above allows you to re-position its loops in the order you want! So if you have a boost and an overdrive and you want to use them in a different order for switching from one sound to another, you no longer need to buy a double pedal or disconnect and reverse anything. A click in the organisation of your individual patch and it's set!
4. A more organised pedalboard
A switcher allows you to forget about functional pedal placement, according to your signal chain. You can place them in any order or configuration you want, whether its the most space-saving solution or simply intended for aesthetics. Then all you need to do is plug them into the switcher in whichever order you want!
5. Solve all your problems
Last but not least, the advantage of a switcher is not to be underestimated. Using your pedals in series means that if any part of your chain is defective (whether it is a pedal, its power supply, or a simple patch cable), all of your sound is cut off and you will have to test everything to find the source of the problem! If you use a switcher, however, each pedal and its connections are isolated in the loops and you only have to disable the problematic loop to keep your signal. A lifesaver for concerts!
---
If you are still not convinced, Guillaume & Andy compiled all these reasons in the video below and added a sixth reason as a bonus 😉
You can find all the switchers in our shop at THIS LINK.