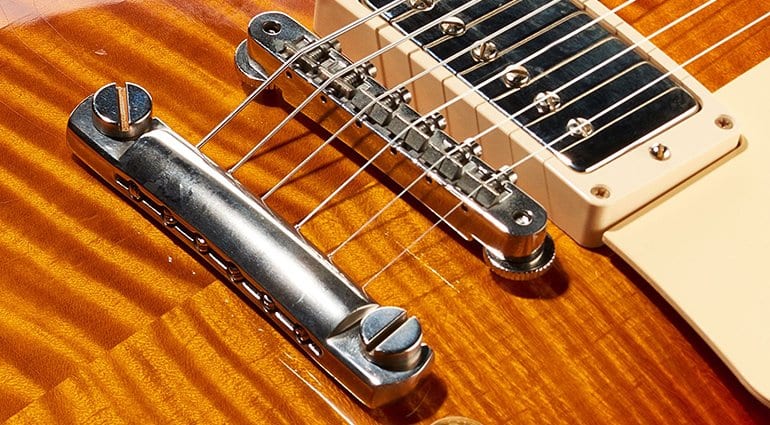 Tune-O-Matic: the lord of guitar bridges
Tune-O-Matic: the lord of guitar bridges
If you ever played a fixed bridge guitar, chances are that you rested your hand on a Tune-o-matic bridge at least once in your guitar lifetime. This little invention dates back to 1953, when only wood-bridges were offered on most guitars. But what makes this piece of metal so popular? Let's find out!
---
History
Before the invention of Tune-O-Matic (often called "TOM") bridge, guitars only had wood bridges (usually a compensated one-piece rosewood with ebony saddles), trapeze tailpieces or simple wraparound screwed into the body. Sure, the strings were kept in place, but it wasn't enough: the guitars weren't fully and precisely intonated.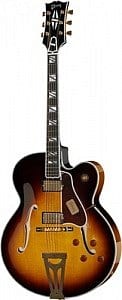 With the TOM bridge, guitarists are allowed to choose the perfect distance from the saddle to the nut for every single string, obtaining a 100% perfect intonation.
The bridge was developed and invented by Gibson's president Ted McCarty in 1953 for the Gibson Super 400 and later, in 1954, for the Les Paul Custom. It was quickly made clear that this piece of hardware did not represent just a "custom" upgrade, but a standard feature that every guitar deserved. Fast forward to this day, a high percentage of fixed bridge electric guitars have a Tune-O-Matic style bridge, often partnered with a separate stopbar tailpiece. (designed starting from the original wraparound design).
---
Construction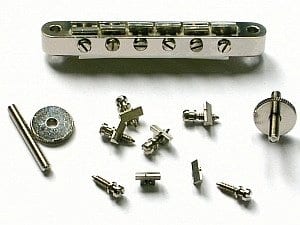 The Tune-O-Matic bridge design is quite simple to understand. The main part sits on two adjustable posts, screwed down into the guitar body. The bar part consists of six individually adjustable saddles, with small grooves notched that should match the string gauge and shape. Saddles can be moved back and forward with a screw to adjust intonation.
After traveling from the machine head, going into the nut, and arriving at the saddle groove, the strings continues his journey to the tailpiece (or the back of the guitar, if you have a string-through-body design), that is responsible for holding the string firmly and tightly in place.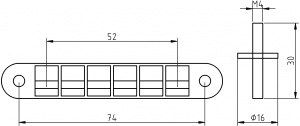 Thanks to his symmetrical design, the bridge can be placed either way round on the two main posts, leading to a little bit of confusion among players. Historically, the "Vintage" (ABR-1) had the screws facing the neck, while the "Modern" (Nashville) screws are facing the stopbar. There's no exact rule, as people may prefer to have the screws on the Nashville side and be able to adjust the saddles position more easily with the screwdriver.
Being the bridge built with metal parts, there's a side effect that surprised Ted himself: a change in tone and sustain, due to the coupling between strings and body. Players today are constantly looking for different materials (especially for the stopbar, but also) in order to achieve tonal varieties, such as brass, nickel and aluminium.
Finally, the Tune-O-Matic bridge should be arched to match the radius of the fretboard. On Gibson style guitar, the TOM has a 12″ radius.
---
Models & Varieties
Throughout the years, Gibson made some variations on their bridges. As years passed by, other companies started to build TOM bridges as spare parts or upgrades, leading to a huge catalogue to choose from.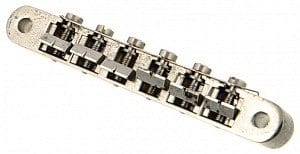 ABR-1 ("Vintage") (1954-1975)
The bridge that started it all, the ABR-1 is a vintage bridge often found on reissue guitars. Thanks to his thumbwheel system, the height on both sides can be adjusted within minutes. The "True Historic" version, that matches the bridges built between 1954 and 1962, doesn't have a retainer wire, so be careful when re-stringing your guitar as the saddles may fall off! You can buy ABR-1 style bridge from manufacturer such as Gibson, ABM, TonePros and Montreux.
Schaller Wide travel aka "Harmonica Bridge" (1970-1980)

This bridge was built by Schaller under Gibson request in order to accomodate lighter strings, as they started to become popular in the 70s. Lighter strings couldn't intonate properly on the ABR-1 due to the travel of the saddle that wasn't long enough. Gibson responded back with this bridge, which is not as popular as the Nashville, and can be found on some vintage SG's. Unfortunately, it's hard to buy the Harmonica Bridge today, but Schaller offers a modern version, with adjustable string spacing.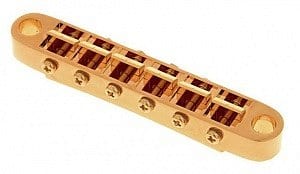 Nashville ("Modern") bridge (1975-)
When Gibson moved their Les Paul production to Nashville, a new bridge was required. Gibson took the ABR-1 design and developed into a bigger and sturdier bridge. Main differences are the extended saddles travel, bigger posts and saddles screws orientation. As today, one of the most popular guitar bridges on the market, is found on virtually every Gibson you may buy. Gretsch issued his own version, called Adjust-O-Matic, virtually identical to the Nashville design. Other manufacturers are offering replacement bridges, such as Gretsch, Gotoh, and Schaller.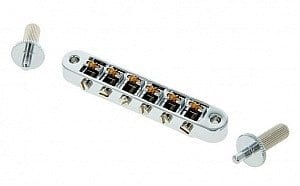 Roller bridge
The roller bridge combines the solid design of the TOM bridge with freely rolling saddles. The concept behind is simple: if the string is able to roll on a moving wheel, there's virtually no chance that it will snap, as there is zero friction. The saddles rolling parts are manufactured from solid milled bell brass. Roller TOM bridges are currently offered by ABM and Göldo.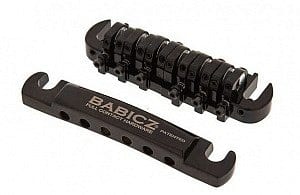 Babicz Full Contact Bridge
Babicz took the tune-o-matic design one step further with their full contact bridge. Just looking at it you clearly understand that there's some big changes from the traditional design. The bridge features a renewed saddle design, called "eCAM", that provides direct contact between the string and body of the guitar. The saddles are also individually adjustable in height.
You can retrofit (or upgrade) a TOM bridge and choose from a varieties of brands offering this particular piece of hardware, such as Gibson, Gotoh, Schaller, ABM, Kluson, Göldo and TonePros. Keep in mind the right stud spacing (metric/asian or imperial) and pre-installed bridge type (Nashville or ABR-1 – more about this topic on the F.A.Q. section below)
---
F.A.Q. & Tips
Nashville or ABR-1? Vintage or modern posts?
One of the main questions we get asked when a customer is looking for a brand new tune-o-matic bridge is the following: "Do I need Nashville or ABR type of posts? Vintage or modern studs?".
Nashville bridges, also called modern Tune-O-Matic, have larger posts compared to the vintage versions. When shopping for a new bridge (vintage or modern style), you have to check your posts and buy accordingly. There are adapters from small to large posts, as well as vintage bridge with factory-provided large posts. Just pay attention to this detail, in order to avoid problems when installing your new bridge.
Locking mechanism?
TonePros has a locking system on their bridges that allows you to tighten up two allen screws (on the tailpiece) and locking the stud (on the bridge part) in order to secure the bridge firmly in place. A neat feature for re-stringing, the locking mechanism is advertised as a tone enhancer, providing more stability and better vibrations transmission to the guitar body.
Topwrap
Topwrap is a technique aimed at reducing the break angle from the string to the bridge. Some says it reduces string breakage, other says that it provides a slinkier feel and more sustain: you have to try by yourself to judge. Topwrap is an easily reversible technique, obtained screwing down the tailpiece into the body and let the strings poke through the pickup side, wrapping around the tailpiece and then proceeding through the guitar bridge.
I can't access the saddles screws properly
If your guitar has an ABR-1 style bridge, chances are that setting up the intonation turns out to be a nightmare. When the screws are facing the neck, is very hard to turn them with a screwdriver without facing serious difficulties. The best way to solve this is to turn your bridge 180 degrees and just set it up that way.
Final words
When it comes to fixed bridge, is hard to take the TOM bridge out of the equation. Instantly recognizable, widely available, this little piece of metal provided solutions for countless guitarist, struggling with intonation problems. And as with every tool related to music, we think that tried-and-proven technologies like this won't become old so soon.

Do you have a Tune-O-Matic bridge on your guitar? What's your preferred model? Tell us more 😉