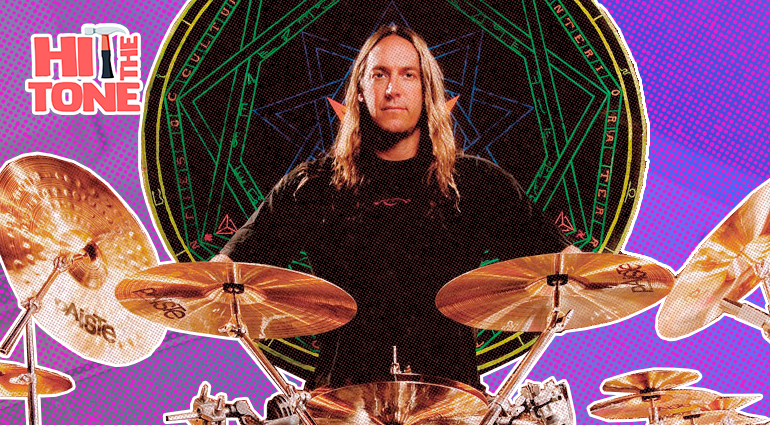 Hit The Tone! Tool's Danny Carey
Hit The Tone! Tool's Danny Carey
If I read this am I going to play drums like Tool's drummer?
Let's cut to the chase: A text like this can have many – and very noble – purposes, but it's absurd asking if it will bring your skills anywhere near those of Danny Carey, to a level where very few have gone, in the personal and inimitable style of one of the re-inventors of drums in rock and alternative metal. Together with Maynard James Keenan (vocals), Adam Jones (guitar) and Justin Chancellor (bass), Danny Carey has shown again in Fear Inoculum (2019, Tool Dissectional) why Tool never disappoints with their compositions and textures. We won't talk about the exact equipment that Danny Carey uses, rather, what this article aims to do is help construct a drum/percussion kit that Danny Carey would not be ashamed of, the closest that an average drummer can get to the Tool drum sound.. A noble purpose, wouldn't you agree?
---
Blind faith in Sonor
Let's remember that we're talking about a guy who ordered a drum and when he was told that its wood belonged to a tree in danger of extinction, he replied (we suppose half in jest, half in earnest) that the world needed to listen to the tree's music. From this example we can now assume how eccentric Danny Carey can be when it comes to the details of his kit(s). Repeating what we mentioned in the previous paragraph: The objective of this text is to configure a kit closest to his taste, without spoiling a dozen ecosystems, so we must talk about Sonor. The German manufacturer, with almost 150 years of history, is very highly regarded when talking about drums. Over the years, Danny Carey has demonstrated a blind faith in Sonor when it comes to configuring the bases of his kit. Therefore, before getting into measurements and specifications, it's a good idea to briefly review of some options that Sonor has to offer…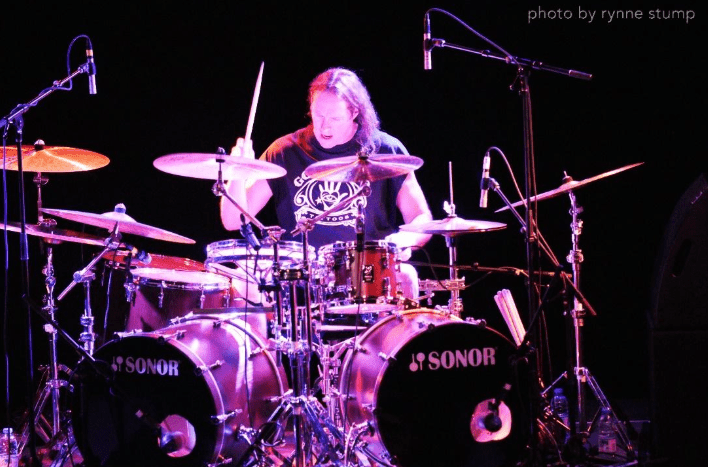 In a range between 500 and 1,000 euros we find several versions of the Sonor AQ2, a shell set characterised by the quality of its materials (maple woods, resistant hardware) and by the great versatility it offers when it comes to adapting to different stages, with special versions for installation in a studio and other more manageable ones, normally for stage use, due to their somewhat smaller dimensions. 
As is always the case in the world of instruments, if we increase the budget, the results will be directly influenced. Thus, if we increase the price range to over 1000 euros, the Sonor sound will continue to maintain its identity -clarity, robustness, luminosity -, but will add much more subtlety in the finishes and in the decay. An example of this would be the SQ2 Shell Set, a drum set in which they continue to bet on maple, which provides a warm sound and balanced dynamics, but the sound, the tone of the drum set, is better. In fact, experts tend to agree that this shell set practically "sings".
Sonor also offers models made with other woods, which substantially changes the sound. In beech wood, for example, and with a very vintage cut, which would undoubtedly delight Danny Carey, we find the SQ2 Shell or the Vintage Three20. FYI: beech wood, due to its greater grain size than birch, for example, offers considerable boosts in medium and low frequencies. This translates into kits with a loud, vivid sound. 
Among the kits made from birch (a very dense and robust wood, which causes an aggressive and brilliant projection in trebles, balanced mids and pronounced lows), the SQ1 and the AQ1 stand out, either in its stage version or in its studio version. 
---
Let's talk about snares, baby!
Danny Carey usually uses 14″ x 8″ snares, although he has occasionally played 14″ x 6″ or even 14″ x 5″ drums. Once again, his peculiarity lies in the materials. His choice, in this case, is bronze. In addition to the manufacture of cymbals, bronze has always been a favourable material for the construction of snares. We're talking about a metal that adds a dark and warm character to the sound, with prominence of mids (especially) and bass over treble. The whole sound is somewhat more moderate than in brass or steel snares. Keeping in mind the Tool sound, it's easy to make the connection.
Some of the snares that offer us these characteristics are the Gretsch 14 "x6,5" USA Bronze, its version with a polished 5 mm phosphor bronze shell (brings a subtle brightness to the sound), the Sonor AS 12 1405 MB Artist, the DW 14 "x6,5" Bronze or the Pearl 14 "x6,5" Sensitone Premium PB. We finish off this section remembering that Carey uses 20-strand snare wires and mentioning his signature snare from Sonor, which, if you can find one, is definitely worth checking out.
---
Now about kick drums & toms
When it comes to kick/bass drums, Danny Carey usually raves about  22″ x 18″ models. A good example of this would be, for example, the Pearl Export 22″ x 18″ Bass Drum in any of its variants, with chrome shell hardware and a mixed shell of Asian mahogany and poplar (which provides a rich and deep sound). And, well, before entering the world of toms, let's note that the double kick drum pedal (an element that became almost a fundamental characteristic of certain metal sub-genres) that you can hear in Tool's music is in fact not a double kick pedal but two single Pearl P-2050C Eliminator pedals (each dedicated to its own kick drum)!
And now let's talk about toms. First of all: Danny Carey says that he tends to tune the toms in D, and this is not gibberish since most of Tool's songs are in the same key. Having said that, let's talk about measurements:
Carey usually uses floor toms ranging from 14 x 16″ to 16 x 18″. Some outstanding models within these parameters would be the Tama 14 x 12″ Superstar Classic, the Pearl 18 x 16″ Export, the Pearl 16″ x 16″ Export and the Pearl 18 "x 16" Export, the Millenium 16 x 16″ MX200 and the 14 x 14″ MX200, the Yamaha Stage Custom 14 x 13″ or the Gretsch 16 x 16″ FT Renown and 18 x 16″ FT Catalina Cl. SWG.
Carey also uses 8″ to 14″ toms, but mainly 8″ and 10″ toms. Within the measurements of the former we can find interesting models by the manufacturers Millennium, Pearl  or Yamaha. With respect to the ten-inch toms, we can, once again, have a look at the catalogues of Millennium, Gretsch, Pearl and the abiding brand for drummers, Sonor.
Carey likes to change it up pretty often, his kit is an ever-mutating monster. He will sometimes use roto toms, of all sizes, as well:
---
Cymbals, please
No beating around the bush, when it comes to rides, Danny Carey chooses 21″ or 22″ models, such as the Sabian 21″ AA Raw Bell Dry Ride, the HH RAW Bell Dry Ride N or the Paiste 21″ Masters Dry Ride, Bronze.  Also, let's not forget his 22″ Paiste signature "Monad" model made of B15 bronze and painted in dark violet. 
Crashes are usually 18″, such as the Paiste 18″ Signature Full Crash  or two Zildjian models, such as the 18″ K Sweet Crash  and the A-Custom Projection Crash.
The China cymbals are usually 16″ or 20″. Two perfect examples would be Paiste's models, Carey's favourite in terms of cymbals. We are talking about 2002 Classic China 16″  and 2002 Classic 20″ Novo China.
As for the hi-hats, always 15″ for Carey, like the Paiste 2002 Classic 15″ Sound Edge , the Meinl 15″ Byzance Medium or the Masterwork 15″ Jazz Master.
A neat gadget that Carey often uses to control his hi-hats is the Pearl RH-2050 Eliminator HiHat Cable which allows him to open and close them from anywhere with either foot (which comes in handy when playing with two kick pedals).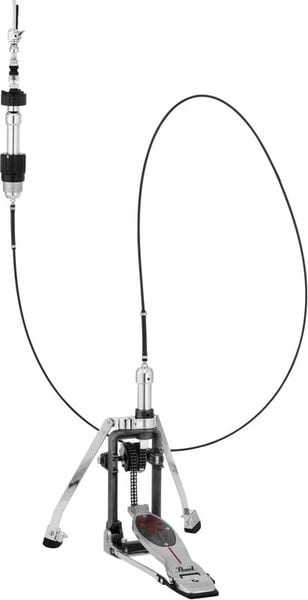 And we finished with the splashes, always always 10″. Two very interesting models would be the Paiste 10″ PST7 and the Zultan 10″ Aja.
---
What about electronics?
Though it may seem so, Danny Carey is not an analog purist. As much as his myth as a drummer is surrounded by a halo of mysticism, an exhaustive search for woods and the perfect metal, his performance also includes digital aspects. Carey often uses Mandala Drum pads, which can be programmed with multiple customised sounds which are then triggered according where you hit on the circumference of the pad. Check out the specs on the Mandala website. 

He also uses this dynamic percussion synthesizer, the Korg Wavedrum WDX, which wins over its competitors when it comes to surface sensitivity and setup options. Obviously, when we talk about Korg we mean a guarantee in quality and professionalism: 400 PCM instruments (200 patches + 200 surround sounds), 400 programs (200 presets + 200 user), 60 DSP algorithms (26 single size + 34 double size), 140 loop phrases…the possibilities are virtually infinite. In addition, its size and durability make it perfect for any type of transport. A real gem, check out the awesome promotional video below:
---
Conclusion
The main conclusion we can draw from how Danny Carey configures a drum kit so conscientiously is that it's essential to do things your way. Clearly you have to draw some inspiration from your musical influences and contemporaries, but you have to believe that amongst all those styles, yours will emerge as uniquely yours and only yours. How? Hours and hours of playing and listening to music. Researching, reading, checking, failing and improving. It's hard, but there are no shortcuts. Remember that "It's a long way to the top".