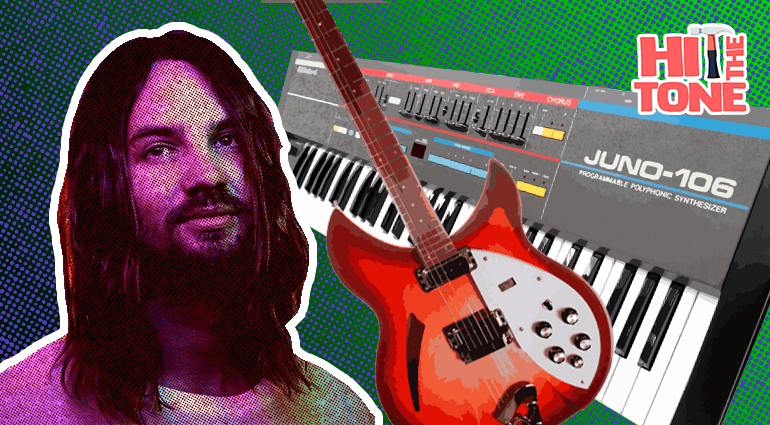 Hit The Tone! Tame Impala & synthesizers
Hit The Tone! Tame Impala & synthesizers
Kevin Parker is the ultimate psychedelic shepherd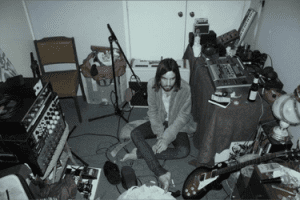 Who?? Kevin Parker, the singer of Tame Impala! Well in fact, he is Tame Impala. In 2010, the Australian one-man-project / band released Innerspeaker (2010, Modular), his first LP. Although the reviews were positive, a certain condescension was perceived. There was talk that it was too closely imitating the sounds of The Beatles' Revolver –as if that were a bad thing! Well, nine years later, nobody doubts that Kevin Parker is a genius and that Tame Impala are here to stay. In his other two releases – Lonerism (2012, Modular) and Currents (2015, Modular) as well as in other projects, from Pond, to production with Melody's Echo Chamber, Lady Gaga or Rihanna, Parker has sublimated a sound that mixes classical psychedelia (Revolver's Beatles, yes, but also neo-psychedelia, and psychedelic pop like The Byrds) with some elements of R&B, hip-hop and urban music. The result is unbeatable and we're going to analyse it here.
---
How does psychedelia sound in 2019?
Basically, it sounds the way Kevin Parker wants it to sound. As we said before, its sound can be summed up as a throwback to the sonic experimentation of the 60s but taken to another level with contemporary technology (as well as an enormous composition talent, of course). His modus operandi can be summed up in a phrase pronounced by himself: "Electronic is not the opposite of rock". From this statement of intentions, one can better understand images like the one above, belonging to Parker's home studio. So, rather than talking about Rickenbackers and amplifiers (at the end we will make a brief tour), it is more interesting to talk about synthesizers. Yes: Parker relies on them to create atmosphere that we never imagined in Pink Floyd, for example, and to bring psychedelia to previously unknown places.
Very often we see Parker frolicking around a Roland Juno 106, an analog polyphonic synthesizer released in 1984, which was the best selling synth of the 80s until it was surpassed by the D-50. Today the closest thing you can get is the Roland Juno DS, one of the most versatile synthesizers on the market. It is available in a 61-key version, a 76-key version and a full-sized 88-key version (shown above). Although in each of the versions its features change slightly, the common denominator of the 3 versions is its versatility (few portable synthesizers offer so much in so little), which makes it perfect for any type of mobility, its wide range of sounds available (more than 1000) in a very intuitive way and the possibility of increasing the sound library through downloads and a wide range to configure divisions within the same synthesizer.
One of the jewels in Parker's crown is the Sequential Circuits Pro One with which we see him in the video above.
This is one of the most sought-after vintage synthesizers along with, among others, the Roland SH-101, the Moog Prodigy and the Sequential Prophet-5.
One of the instruments that comes closest to the spirit of Pro One today is the Sequential Prophet-6 which is basically the big brother of the Prophet-5.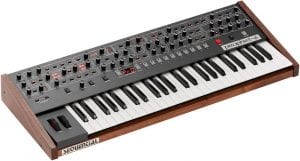 We are talking about a synthesizer that adopts the best qualities of the old oscillators and adds improvements: studio-quality effects, polyphonic step sequencer and an arpeggiator. The effects section is one of its greatest assets, both in terms of variety and quality. We find, among others, many variations for delays (standard and BBD), choirs and a phase shift lever. In addition, it offers a great combination of digital and analog effects: special attention to independent, fully analog stereo distortion.
And before we move on to analog synthesizers, we need to talk about Korg Kronos 61, a workstation keyboard that Parker sadly lost in the Malibu wildfire. Looking at its features, it's not uncommon to imagine that the Australian will soon have another Kronos 61, because this keyboard is overwhelming. We are talking about 9 different sound motors, to obtain, by means of synthesis, piano, electric piano, high definition PCM synthesizer, analog synthesizer, organ modelling, string modeling, VPM synthesis, MS-20 and Polysix. Yes: a real beast! It also has 21 GB of preset waveform data, a very useful set list mode for organizing layers and structures, built-in sequencer with drum rhythms, samplers, 16 built-in effects processors, and so on.
---
Weren't we going to talk about analog synthesizers?
Sure, here we go, and we're starting out strong, too: The Moog Subsequent 37 bases its success on adopting all the classic Moog features to a mid-range synth. When we speak of Moog, we speak, above all, of spontaneity and intuition.  The Subsequent 37 also stands out for the quality of its potentiometers, switches and push buttons. In addition, it expands the options allowed by the original subs. We must not forget that we speak of monophonic synthesizers and vintage cut, but in the Subsequent 37 we find very careful and nuanced effects, it is rare to find in a synthesizer of this range, for example, a distortion so subtle and elegant.
We can't forget to mention the MIDI integration (in high resolution, with 14 bits in each control, plus sysex dump for individual sounds and banks), the duophonic use, the wide possibilities in envelopes and LFOs, or the sequencer. Finally, the software editor included facilitates the distribution and organization of sounds.
The Moog Sub Phatty, used by Parker especially in the Currents album era, is another synthesizer that denotes a lot of style:
As usual at Moog, the Sub Phatty blends the spirit of old synthesizers with the latest in sound design tools. Its powerful, personal sound is a reference, and it's worth the money simply for its synth bass and analog percussion, for example. The Sub Phatty includes two variable waveform oscillators that provide concise, detailed results without the need for a warm up process. As far as sound is concerned, we return to Moog standards: high frequency and sound density. Its optimized interface and wide range of resources make it, according to many, the perfect link between man and machine.
Let's move on. Another synthesizer that doesn't usually fail in Kevin Parker's alignment is the Korg MS-20 mini. This is a tribute and reconfiguration of the mythical MS-20 synthesizer, which was released in 1978. The MS-20 mini fully reproduces the structure of its predecessor, but with a body that is 86% the size of the original. The features, renewed, maintain the essence of the MS-20: thick and robust sound, powerful and personal analog filter and a tremendously flexible patching system.
We end this section with the Korg microKORG, a compact synthesizer valued especially for its versatility. Its powerful oscillator section, filters, amplifications (characterized by density and distortion), its great functionality as a MIDI controller, its charismatic vocoder, its 128 programs for immediate use and its great capacity to improve on its own features, thanks to its wide range of virtual connections.
---
Okay, is there any chance that I can do this at home?
There is, there is. Let's say you have a band with four friends, you work in a more or less precarious job and you want to get closer to the sound of Tame Impala. The easiest thing is to invest mainly in guitar pedals, which can achieve similar effects (although not the same, unless you want to pay A LOT) to those achieved by Kevin Parker. As far as guitars are concerned, two brands that satisfy are Rickenbacker's catalogue as well as the lower-cost options Squier has to offer, especially the Squier Jazzmaster.
If we talk about pedals, a good team could be formed by, for example, the Electro Harmonix Small Stone as phaser, the Electro Harmonix Memory Toy as delay, the Dunlop Silicon Fuzz Face Mini for the fuzz, and an overdrive like the Boss OD-3.
As a compressor we could use the Electro Harmonix Soul Preacher, the Electro Harmonix Holy Grail for reverb and, as a tuner, we could try the super-accurate Korg Pitchblack Custom BK.
---
Conclusion
"Electronic isn't the opposite of rock," says Kevin Parker. We started this article with that quote making it clear that the Australian stands with one foot in tradition and the other on the cutting edge. This is the only way to conceive a sound like that of Tame Impala, a sound that, as we said, has taken psychedelia to places it had never even imagined. It sounds bold but really: Kevin Parker has advanced an entire genre. And that happens in a few days. Beyond his mystical aura and legend, studying his work tools in detail allows us to draw an undeniable conclusion: there is talent, yes, and without it his achievements would be impossible, but there is also a lot of knowledge, a lot of conscientious work, a lot of passion. This part depends only on the individual.