Hearing protection for musicians
Hearing protection for musicians
Possibly the single most important thing for every musician,.. and no I am not talking about the preferred instrument, I am referring to one's hearing. It is of the utmost importance that musicians protect their own hearing to ensure they can avoid tinnitus & Co. In order to do this you need to have some basic knowledge, this will help you select the best hearing protectors for your preferences and usage. In the last few years there has been considerable advancement in this area. Musicians can now look forward to a more even more intact soundscape and nonetheless not having to compromise overly much on any aspect while listening and being able to monitor what is going on very well. All this while enjoying an optimal amount of protection. There are many different types of hearing protectors, below we will discuss some of the best and most common options. Of course a hearing protector that has been made to order for a specific individual is the very best option, however – leaving all that aside: the most important rule, wear your hearing protection consistently else-wise you will benefit little.
Standard type of hearing protection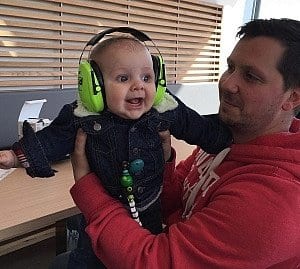 This type of hearing protectors are available, both with and without, filters. This category refers to a type of cover or plug, that you can buy before concerts in the club or at a pharmacy. The units without filter reduce the level of the volume by a large degree, but they also have the most negative impact on the sound, sound will be altered and certain things will be much harder to pick up. The units without filters are recommended for concert visits. They protect against excessive volume. For children one can buy the so called Mickey Mouse types, these are worn over the ears, just like headphones.
Made-to-fit hearing protection
The word Elacin will be frequently encountered within this segment of products. This term has to do with hearing protection in general and is connected with the Dutch company of the same name. This company has done pioneering and innovative work within the range of made-to-fit hearing protectors that are custom made to fit an individual and Elacin has also made other inventions within their field. The made to fit type of hearing protectors are made from vulcanized silicone or an acrylic material, both are available in different levels of hardness. Here too we make a distinction between variants that feature a filter and those that do not. The variants without a filter are primarily suitable for those with sleeping issues caused by noise. These products distinguish themselves by their very comfortable fit as well as their effective reduction of sound and noises. 
A perfect fit, a high level of comfort during use and the best possible sound – individually  made-to-fit (= bespoke) is by far and away the best choice for musicians for playing live. This model and type of hearing protectors can be bought at specialists and we offer them as well. The following filter gradations are generally used and available: 9, 15 en 25 dB. The frequencies within the range of 125 and 8000 Hz are reduced in an even manner.

Process & useful additional info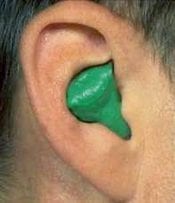 The made-to-fit process of the custom hearing protectors consists of a few steps. First of all the person ordering gets plenty of guidance from a local hearing specialist. In this way the customer is assured he receives good advice and ends up with the best possible choice/item. Subsequently the customer receives a PDF in which it is clearly explained what exactly the same hearing specialist will do in order to make the mold. After this the mold is made, which takes about 15 minutes. The process is really fairly similar to having a mold of a tooth made at the dentist except of course it concerns another part of the body. The silicone material is placed in the ear, the inner part of the ear canal and the eardrum are closed off during this process and hence protected by means of a cotton-ball. Voilà: after hardening of the silicone the mold is now ready.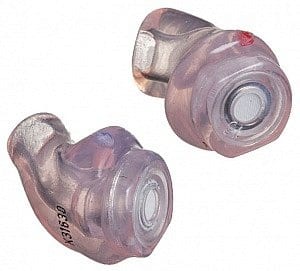 An interesting (but logical) fact is that, when the client is a a singer, a dynamic mold is made. Which is to say: since during singing the jaw has to move and this in turn changes the shape of the ear-canal, this phenomena is accounted for during the shaping of the mold.
After fabrication, by a special laboratory, a second appointment is made with the hearing specialist, during this appointment more adjustment of the product is made on the spot while the customer also receives information about the proper usage and correct way of cleaning the hearing protectors. Taking care of the protectors in the right manner is essential in order for you to enjoy them as long as possible. Once you are actually have your hearing protectors in your possession there will of course be an initial period in which you have to get used to them. Every musician shall have to test their hearing protection under "natural circumstances", and if necessary, will have to have them given a final adjustment by a professional.
This concludes our blogpost and now you know the most important aspects concerning this subject. In the section titled "Ear protection" which you can access by following this link you can check out all kinds of hearing protectors. We offer a big selection and there is something for every budget. If you have any questions you of course are most welcome to ask for additional clarification by contacting our colleagues working at our PA department.