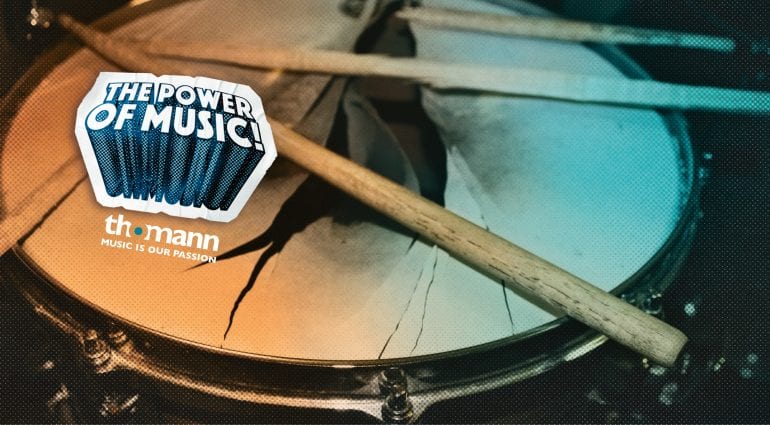 Def Leppard had just made a worldwide breakthrough with their third album "Pyromania", when drummer Rick Allen lost his left arm after an accident. In an unprecedented story Rick became the only one-armed drummer in rock history and from the 80s until this day he remains a rock 'n' roll giant. The crash happened almost 35 years ago. Rick Allen still plays and has impressively shown the world how to defeat a handicap. On November 1st we can congratulate him on his 55th birthday. The Def Leppard Story continues ?
---
1983
The hard rock band Def Leppard makes their worldwide breakthrough with their third album "Pyromania". Having arrived at the Olympus of rock, the "deaf leopards" have secured themselves a place among the greats of that time. Then, on New Year's Eve '83/'84, fate strikes: Drummer Rick Allen drives, with his black Corvette Stingray, at excessive speed, to the New Year's Eve party in Sheffield and gets off the track during a passing manoeuvre. He loses control, slams into a stone wall and the car flips. Rick is thrown out of the car by the sunroof. His seatbelt is not worn correctly and cuts off his left arm.
---
Rescue operation unsuccessful – time to rethink
In the clinic the doctors tried to save the arm and sew it back on, unsuccessfully, and the wound became infected. The arm needed to be amputated at the shoulder: worst case scenario for a drummer. Rick was convinced that he would never be able to play drums again. Not only the doctors, but also other people around him confirmed his hopeless fate. But luckily there were those few special people at his side who didn't let him give up that easily and who helped him reinvent his future path.
---
The courage to go on, musically
Producer Mutt Lange and many others "lit a fire under [his] ass", as Rick himself puts it. His brother brought him a stereo system to the hospital. While Rick was listening to his favourite songs in the hospital bed, he realised that he could do most of what he had played with his left arm with his left foot. He even started practicing with a large piece of foam. And when his band buddies Steve Clark and Phil Collen, both drunk, visited him at the hospital, it was clear that they wouldn't give him up as their drummer. The late Pete Harley then constructed an e-drum kit specifically designed to meet the requirements of the "one-armed" man, the basis for Rick's half electronic and half acoustic setup.
---
Hard-rock determination to get back on track
The doctors gave him the prognosis that he would have to stay in hospital for about six months. Rick saw things differently: after one month he was out! Now it was time to practice. He locked himself in his parents' house again and again and played, played, played. He had to learn a completely new technique and more than once he reached his limits. Just two years later he made his stage comeback on the specially rebuilt drums. Another year later the band's most successful album "Hysteria" was released.
---
Comeback at Monsters Of Rock: A moment for eternity
On August 16th 1986 Def Leppard played on the Monsters Of Rock. From Ozzy Osbourne to the Scorpions, everyone came to wish Rick success and encourage him. Backstage, he was already aware that the gigantic gig would be either absolutely fantastic or a complete disaster. He was nervous and had nearly finished a bottle of whiskey with Joe Elliot before the show to warm up his spirit. When it began and Joe announced him to the audience with emotional words, the crowd roared so loudly that Rick burst into tears. He had made it and didn't let fate throw him off course. To this day "Thunder God" is considered one of the best drummers of all time. ⚡✌️
---
All Epic Stories ?
Below you will find a list of powerful, touching stories of music & people that we would like to tell you. We cordially invite you to browse. Enjoy!
War Called Off
A Solidarity Concert for Nelson Mandela
Legendary Concerts: Wacken 1990
Death 0: Elvis 1
Music Stands Up Against Alzheimer's
---
And don't forget to submit your own story for a chance to win a €200 voucher!
Click here for submission & contest details!
#ThePowerOfMusic #MyEpicMusicStory

---
For more details, Rick tells the story in his own words in this video…
https://www.youtube.com/watch?v=XLNVAWRXbDo