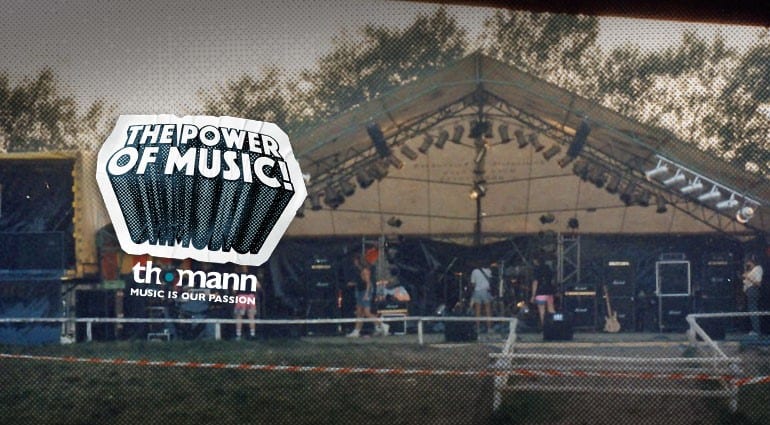 Legendary Concerts: Wacken 1990!
Legendary Concerts: Wacken 1990!
A bassist of a rock band and a heavy metal DJ walk into a pub. One says to the other: "Hey, we should organize a festival sometime." And the other says: "Ok, let's do it!"
???
---
No joke, that's how it actually happened in 1989. Thomas Jensen and Holger Hübner, who were regular "Monsters of Rock" and various other metal concertgoers, were attending the legendary Werner races in 1988. There they were inspired by its accompanying concert of 200,000 spectators where they soon realized that they wanted to organize a metal festival.
The result: Year after year, 75,000 heavy metal fans make their pilgrimage to a small town in Schleswig-Holstein with less than 2,000 inhabitants in order to enjoy their favorite bands for three whole days. Megadeth, Motörhead, Helloween, Judas Priest, Accept, Alice Cooper, Scorpions, Deep Purple, Oomph!, Steel Panther, Kreator, Dream Theater… The annual lineup regularly includes the current who's who of the scene. Wacken calls – and they all come!
When musicians believe in something and put their heart and soul in to it, they can achieve anything. Often it is a rocky road, but with the power of music it can come true. #ThePowerOfMusic
---
The beginnings
But it didn't start big. On the 24th and 25th of August in 1990, 800 visitors found themselves in an old gravel pit to listen to six bands: 5th Avenue, Ax'n Sex, Motoslug, Sacret Season, Skyline and Wizzard. The bands didn't have as many fans as the bands do today, but they certainly had more playing time. By the way, Skyline was the band from the bassist in the pub intro. And even if Thomas Jensen no longer plays, the band still plays regularly in Wacken – except now it's in front of a few more spectators
Fotocredits: Fotos ICS Festival Service GmbH
Holger Hübner says: "It was a rocky road. But we were hooked on the idea, and we had the required enthusiasm to go for it. We put our heart into it with all the consequences that would entail and had ten tough years before it was a success. "
Team spirit was a big factor. Holger: "Everyone did everything in the beginning. Today we have people for it, but back then everyone helped from setting up the stage to collecting garbage. People from the area didn't take us seriously and were wondering, 'what are these guys doing here?', But still many from the village joined in too. There was nothing to earn, but it was fun and we had a good party. And that's how we approached the numbers. Over time it grew larger and more professional, and to this day we're still just as passionate about it."
Fotocredits: Fotos ICS Festival Service GmbH
---
Let's quit our jobs…
Eventually the festival got so big that the organizers quit their regular jobs and concentrated exclusively on the Wacken Festival. And it continued to grow: the record for number of bands so far is 158 bands in 2015.
Holger: "When we started in the early '90s Heavy Metal was dead. Stadium rock a la Guns'n'Roses, Metallica or AC/DC was the order of the day. We were in the wrong place with heavy metal at the wrong time. And we had to rebuild it from the ground up. When the internet came and we got more and more foreign guests, things started to move forward."
From afar, guests can already see where their destination lies. The silo of the local Raiffeisen main co-operative was painted black in 2012, and was given the famous W:O:A logo with the burning skull and now greets the whole world with the legendary slogan "Freu dich, du kannst nach Wacken" (Be happy, you are in Wacken).
Incidentally, an end to the Wacken Festival is not in sight. Co-founder Thomas Jensen confirmed in an interview with the in-house broadcaster WackenTV that W:O:A is planned for eternity
---
Have you ever been to Wacken? Tell us all about it in the comments!✍